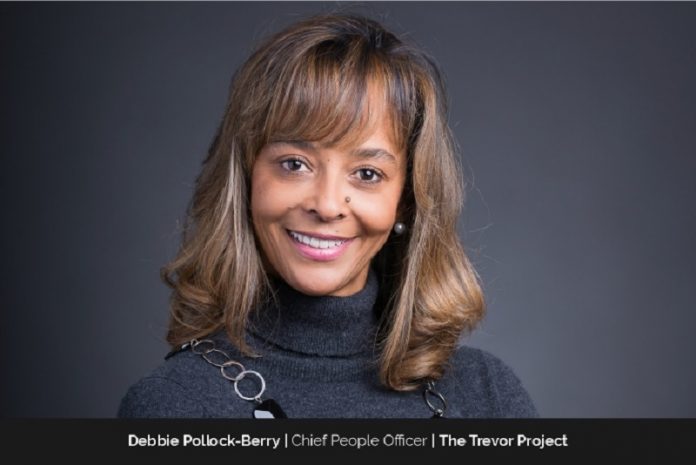 Debbie Pollock-Berry, the Chief People Officer of The Trevor Project, is well known for engaging with employees and improving their experience — spending countless hours connecting with staff and giving them a voice.
In a career spanning over 20 years in the HR field, Debbie has taken "the gift of feedback" (as she's known to say) from staff, and then turned that feedback into action, creating innovative approaches to staff care that have been life-changing. Her hypothesis?  "If I'm able to help create a culture that delights our employees, they, in turn, will delight customers and the community they are serving."
While Debbie is well versed in the many hats worn by a People Leader, with so many responsibilities, how does she define success?  From her view, success does not come from a title or position level. Rather, success means "constantly striving to be the best version of oneself."
Debbie's favorite quote is by Maya Angelou, "Do the best you can until you know better. Then when you know better, do better." This is also reflected in Debbie's leadership style, encouraging her team to put their best effort into each action, but also ensure that work is done with a sense of humility and self-awareness.
"If you do that, you can have success at every turn," Debbie says, adding that personal and professional growth comes from "incremental changes that lead us to transformation." While inspiration for her work and life comes from many different sources, Debbie chooses to focus on these incremental changes that she can personally action every day.
As a People Leader, Debbie's call to action is "One Team!" focusing on clear communication and unified action—so there is clarity of voice, movement together, and celebrating wins as shared victories.  Her team often refers to the "One Team" message when they work together. "When one of us fails, we all fail.  When one of us has a win, we all have a win!".
Of course, Debbie is not one to be satisfied with "close enough." She is always trying to determine how to do better and learn more and encourages her team and her peers to do the same.
It was this desire to learn and do better that attracted Debbie to the Chief People Officer role at the Trevor Project. While she certainly is no stranger to important causes that impact the lives of children, the mission of The Trevor Project was an opportunity to grow her knowledge and appreciation for a critical and very specific need in the US, and all over the world.
The Trevor Project's focus provides 24/7 crisis services, resources, and support to LGBTQ young people, and is the world's largest suicide prevention and mental health organization for LGBTQ youth.  Debbie states that "the organization's mission is about saving young people's lives."
Through The Trevor Project's crisis services, "anyone can call, text, or chat with a trained counselor anytime they need support."  The organization also operates key program areas to help prevent LGBTQ youth suicide: research, advocacy, education, and peer support.
"When I got a call about this particular role, I didn't hesitate because it is an organization that believes that LGBTQ young people deserve a welcoming, loving world," Debbie adds. "We wake up every day dedicated to make that a reality. We focus on making sure that our LGBTQ youth community understands that they are loved and valued."
The Trevor Project is set to expand its mission internationally as soon as October 2022, and the first step of its international journey is to launch life-saving crisis services in Mexico. Debbie is excited about the global expansion of the Trevor Project, "We have a journey ahead. We believe every young person deserves access to our life-saving and affirming crisis services, regardless of where they live or were born," she says.
"Debbie has a strong track record of helping organizations evolve their recruitment, HR, and people operations strategies to positively impact the workplace, as well as cultivate and support a growing staff. We're so excited that Debbie has joined us as The Trevor Project's Chief People Officer as we continue to expand our crisis services in the U.S. and globally to serve more LGBTQ youth than ever before,"
states Amit Paley, CEO & Executive Director of The Trevor Project.
ENTRY IN TO HR FIELD
Debbie's definition of success has evolved over the years.  In the earliest days of her career, "the focus was on what I wanted to do."  She recalls that she originally had dreams of being a sports broadcaster, but that changed once offered an opportunity in Human Resources. After finding this new passion, she never looked back. Her focus was on "learning about how to do her role and be good at it," noting that she didn't reflect much on herself.
Debbie's entry to HR was in retail. Recognizing her people skills, she was informed about a job opening in HR, thinking it would be a great fit. Initially focused on recruiting and hiring, the linkages to compensation and benefits quickly appeared.
"Not only did I enjoy it, I found that there was always more to learn. I was curious about all of the facets of HR.  I think that desire to learn more, and the idea that there were so many avenues to pursue in the profession, meaning that I didn't have to be pigeon-holed in one area, was what made for an easy connection," Debbie says. With so many options and areas to engage her natural curiosity, HR quickly became her new focus.
Making a Difference, Working with People
It was when Debbie was working with AOL that she realized that she could make an impact and make a difference in the lives of others. While at AOL from 2003 to 2010, she progressed from Senior HR Manager role to Director, Global Business Advisor, and then to VP, Human Resources.
Under the leadership of Dave Harmon, then the EVP of Human Resources at AOL, Debbie's team made some transformational and cutting-edge changes that truly made an impact on staff, and on her. "I saw the difference that a strong HR leader could make to an organization, and for employees and their team – a majority of Dave Harmon's direct reports went on to be C-suite leaders or Chief HR leaders," she observes.
Debbie has always enjoyed connecting with people. Her ability to listen, ask thoughtful questions, and follow through with solutions has allowed her to impact organizations and individuals in ways that transcend what others may expect of "HR."
However, when her career path turned toward the non-profit space, the opportunity to work with people that were serving others brought new purpose. When first approached about the opportunity at Save the Children US, Debbie was not sure about the transition.
However, once she accepted the role, she quickly realized the rewards of serving such an organization and its staff — and how her experience in the for-profit space could still translate into great people and culture services, but this time with a larger purpose.
"Communities are better because organizations like Save The Children and The Trevor Project exist," Debbie says. "I love waking up every day knowing that I'm going to improve a child or young person's life. To me, that's the most important thing. Working in the non-profit space is very rewarding."
One of the notable innovations that Debbie brought to Save the Children directly improved its focus and results around fostering a diverse and inclusive workplace. She was key in forming the first staff-led Diversity, Equity and Inclusion (DEI) Council, and created the first full time Diversity & Inclusion Office for Save the Children, leading to a further investment in DEI, including the creation of a 3-year strategy and 9 Employee Affinity Groups.
Not satisfied with sitting on the sidelines, Debbie was an active player/coach, serving as the executive sponsor of the B.L.A.C.K. Employee Affinity Group. By making DEI a priority for herself, her colleagues, and her team, it ensured a clear understanding, appreciation, and effort to engage and invest in a diverse workforce.
Challenges and Learning Curve
Debbie sees challenges as opportunities to grow and learn, rather than deterrents. "The opportunity to influence change that's in the best interest of the organization is accomplished by forming a connection. It's also an opportunity to encourage new and different ways of working or thinking," she says.
In Debbie's leadership roles, the most constant challenge has been resistance to change. Not every employee will necessarily agree with each and every decision or action from the HR team, particularly when it impacts them or their close colleagues personally. While resistance to change — for whatever reason — can be challenging, Debbie sees it as an opportunity to for all to learn something new. "It is an opportunity to create awareness of the 'why' changes are needed," she says.
When taking on a new opportunity, Debbie believes that People Leaders need to give themselves some grace — taking time to really understand the culture of a new organization and form a connection with the people working there. She points out that often we can hastily jump in and look for quick wins to what's "broken."
Instead of doing that, Debbie notes that "you need to give a little bit of time to connect with people." For her, the learning curve is all about understanding the culture, finding out what is most important for the organization, its strategies, and setting priorities. "Managing expectations when you first come in as a leader is always a challenge, but a welcome opportunity to truly connect with employees, establish trust, and make a difference in their lives," she remarks.
No Two Days at Work Are the Same
Debbie notes that, while no two days are the same, they are similar in her focus on time management, being organized, clear communications and making sound decisions.
"I am consistently focused on what is in the best interest for the organization to accomplish its goals and to keep our employees highly engaged and motivated. Some days the task at hand may feel different but I am always laser focused on making positive progress. My typical day today may look different from other times of the year," Debbie says.
She mentions that currently they are wrapping up healthcare open enrollment, their performance review period, reviewing employee engagement survey results, and finalizing their goals and objectives for the new fiscal year.
"No two days are the same, but every day is rewarding, exciting, and different," says Debbie. Like many of us, she has a hectic work schedule, so striking that elusive work/life balance is always a struggle. However, she makes sure to prioritize her family, and is intentional about setting an example and encouraging staff to make it a priority to take time away from work to rest and recharge.
In her case, that also involves taking time for family. "I won't say I'm the best. I'm a work in progress in this area," she admits. Debbie's personal and professional philosophy around work/life balance is "Work Hard/Play Hard," and you'll often hear her team encouraging the same of each other, and the staff they support.
Satisfied, But Not Content
In a career spanning 20-plus years, Debbie has seen a lot of success. She is incredibly happy where she is in her career and her personal life, but is not someone who will settle for the status quo. "I'll always challenge myself, because by challenging ourselves, we learn," she says. "I'll always be in a position where I feel I am learning. I'm satisfied, but not to the point that I'm content."
MESSAGE TO ASPIRING LEADERS
When asked about her message to aspiring leaders, Debbie shares the importance for clear intention and communication and staying curious. "Never be afraid to ask why, and never be afraid to say, 'I don't know.' Be open to learning and just believe in yourself, because if you do that, the sky's the limit," she advises.
Growing up in South Carolina, Debbie was taught the value of the axiom, "treat others the way you want to be treated."  However, as she's grown, she has also come to challenge that lesson.  Her new philosophy? "Challenge yourself not to treat people the way you want to be treated. Challenge yourself to get to know people or individuals and treat them the way they want to be treated."