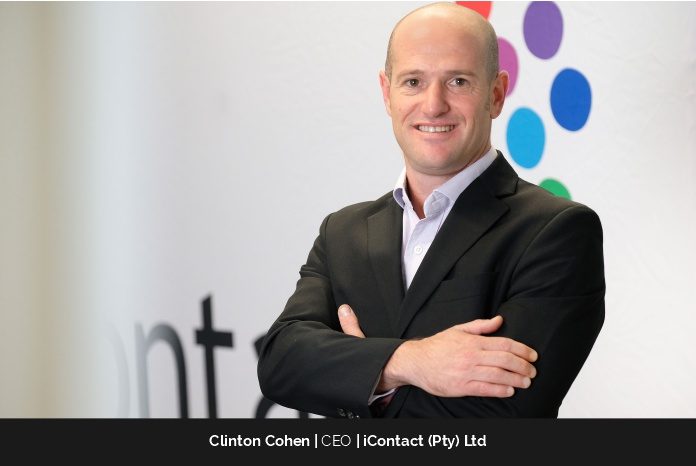 Business Process Outsourcing (BPO) has been one of the fastest-growing industries. Factors such as economy of scale, business risk mitigation, cost advantage, utilization improvement, and superior competency have all led to the growth of the BPO industry in many countries around the world. iContact (Pty) Ltd is an international BPO with thousands of employees across multiple locations.
As the company's CEO, Clinton Cohen believes that the BPO industry is a pressured, tough and highly competitive market, which is why he thinks it is more important for them at iContact BPO to have fun along the way and love what they do!
Success for Clinton usually means achieving the desired outcome-based results whilst ensuring personal and professional growth. "Today, my success as a CEO is driven by enabling the growth of my teams and people and supporting the collaborative work efforts in achieving the desired goals for our business and the clients we serve," he says. It's one of the reasons why he strongly believes in investing in their employees as it makes the difference between someone seeing a clear path for themselves to progress and enjoying the sense of personal achievement, versus feeling stuck. He further states, "Success in business and as a leader, is about investing in people, to better serve our clients, to ultimately drive business success. It's definitely about being 'people-first' for me."
Success is not final; failure is not fatal: it is the courage to continue that counts – Winston Churchill
Clinton agrees with the fact that challenges make you stronger. He claims that hard work and determination have always supported him in his journey. A critical lesson for him was being able to reach out and ask for help – and he states that he is glad to have learned this early in his professional journey.
If you're facing a challenge, there is always great value to be derived from getting perspective and different viewpoints from people who may have faced similar challenges, but most importantly also give you different, outside-in-views of how to approach a challenge. Clinton is a firm believer in the philosophy that growth and achievement cannot happen in comfort zones. Challenges push you beyond your comfort zone and demand a new way of thinking and approaching a problem – which ultimately builds your resilience and makes you stronger!
As a dynamic person, the achievement of a dream or ambition does not end there. It ultimately should give rise to the next dream and challenge and push you forward. At the same time, he also believes in staying present and in the moment, so that he gets to feel and experience every success, every day.
The growth of iContact under Clinton's empowering leadership
As a specialist BPO partner, Clinton says that they are incredibly proud to count on a rapidly growing base of global corporate clients from the US and Canada to the UK and Australia. He believes it is a combination of their advanced business intelligence tools, data analytics capabilities, and a large, educated skills pool with strong English language proficiency that allows them to offer their clients the best of economics, quality and socially responsible supply chains through their commitment to impact sourcing.
Clinton leads with passion and transparency always. "My team will always know where they stand, even in times of courageous conversations. It is also so important to recognize and celebrate the small wins along the way and every step that takes you forward, no matter how small," he says. He also believes that every employee must have a sense of belonging and esteem and you create this by building a supportive work community with a clear purpose. Employees must feel part of the team and understand how their work contributes to larger aims. This has been fundamental to the growth of iContact's business.
Identifying great talent and supporting brilliant people in the team has seen iContact BPO growing exponentially over the past few years, and he proudly says that they embrace a culture of excellence and high performance. They operationalize this by offering all employees access to formal qualifications. If someone's passion is management, they have the opportunity to study university-accredited management courses and then work towards stepping into a team leader or management role. "I am especially proud to say that we have seen many young people grow through the company, from agents to team leaders, to operations managers and contact center managers," he states.
The best recognition received as a successful leader.
"Starting a business in the hospitality sector at the age of 23 was an amazing milestone in my professional career," says Clinton.
He says that from an iContact BPO perspective, as a leader, seeing the numerous awards and accomplishments of their business and people has been a real thrill – especially when they get to compete on a global level with some of the best in the world and they come out tops.
On a personal level he thinks, the best recognition has been a warm meal with his family and daddy cuddles at the end of the day, reminding him of why he does what he does. "I'm blessed to have such an amazing and supportive family. And professionally, the best is still to come !" he exclaims.
Responsibilities as CEO at iContact BPO
As CEO of the business, Clinton, who defines himself as an Authentic person, sets the tone for the strategic direction of the business, so it is crucial that he can draw in his team and senior management to translate and understand that direction, and then be able to implement and execute the plans effectively.
Clinton has many responsibilities. First and foremost, he has to deliver a profitable business to the Executive Board by delivering a superior and excellent service to their clients. Secondly, creating and delivering sustainable employment opportunities to the many unemployed youth by opening up careers for them in their contact centers is a big responsibility – and to this end, impact sourcing is an entrenched philosophy in all that they do from a recruitment perspective and throughout their supply chain. "I am extremely passionate about youth employment and upliftment, which is a burning issue in South Africa," he states.
Clinton's life as an entrepreneur started before iContact BPO and that's one of the reasons why he thrives in his role within a corporate business like theirs where entrepreneurial thinking and approaches are valued and encouraged. He continues to have an insatiable appetite to learn and grow and doubts this will ever change.
Harmony in personal and professional life
"I find the balancing act tough at times. As a perfectionist, this mostly has positive connotations however, I do have to remind myself to avoid getting bogged down in the detail," says Clinton.
Being able to step away from work, exercise, rest, and spend time with family gives him a good dose to come back refreshed and stronger.
Motivating employees in a contact center environment is a continuous and daily activity and it demands a lot of personal motivation and drive. Again, celebrating all the wins both small and large is important and recognizing people for their efforts and achievements goes a long way to motivate them. Clinton believes that as a leader, it's important to have the ability to personally connect with each individual in the organization and always remain approachable and accessible – the 'connectedness' goes a long way in fostering a culture of transparency and care, and the freedom to share ideas and new ways of doing things, especially from people who are at the rock face every day.
Finally, investing in the development and growth of their employees has been key – their workforce is predominantly young people who have ambition and want to progress – so being able to motivate them to study further, gain new skills and experiences that can further their career prospects is important for them as a company. Showing them that there is a clear path within the business for them to grow is a very important motivator, but it also puts the ownership and responsibility for seizing those opportunities firmly in their hands to follow through with it. A key factor for Clinton that defines whether they are successful in their employee development is seeing a young person who wants to progress and chase it down with both hands, rather than feeling that they have to do it.
Clinton's plans for the future of iContact and himself
Clinton's short and medium-term plans are to grow iContact BPO tenfold and to absolutely own their niche as being a strategic and specialist partner to their clients. To this end, they're very much about demonstrating their value way beyond the 'call' and certainly beyond the commoditized services such as price and linguistic capabilities alone.
With the rapid digitization of business and service processes brought about by the pandemic, they are invested in scaling their human resources, tech stacks and security integrations to meet the changing customer service requirements. This is where their data and analytics capability and AI come into play and where a strategic BPO partner like iContact is able to offer their clients much deeper insights into their entire customer value chain processes than ever before. "Going forward, it is all about driving advanced digital tech, productivity management tools, Software-as-a-Service (SaaS), innovation in our processes and training, compliance, data security and hands-on leadership to grow the business," explains Clinton.
His personal goal is to create a space to live his best life physically, mentally and spiritually. With an attitude of 'Work Hard and Play Hard', his message to aspiring entrepreneurs is to follow your passion, persevere through adversity and lean on some experts or family for counsel. Perspective and strategic action are everything.