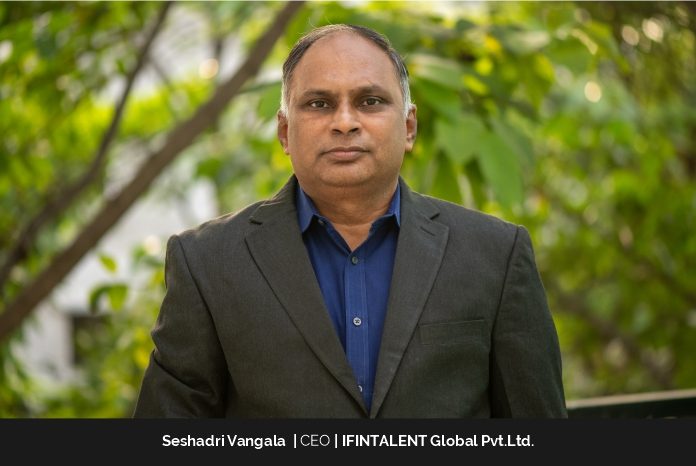 Believing in bringing change by leading the way upfront, Seshadri Vangala, CEO of IFINTALENT Global Pvt. Ltd., is shaping the future of work and creating continuous opportunities in the Workforce solution space. From his childhood, he had the vision to build a wealth-building, poverty alleviation and hunger-free society, and he is chasing it with full passion. He believes that success is a path eternally embarked on, not a destination. Knowing that there is always more to achieve paradoxically drives him to be more successful. He adds, "Each time I accomplish a goal, I raise the bar for myself to grow even further."
Evolving into a seasoned leader
He believes that challenges make a person stronger. Being a futurist, he strongly follows the philosophy that tomorrow can be better than today. "I believe the best way to predict the future is by creating it myself," he adds.
Today's challenge can become an opportunity for tomorrow. Doing something new and pushing himself every day is his golden mantra. He gets his inspiration from this, even in the worst personal or professional crisis. Turning challenges into innovation is the core of his persona.
He started his career as an entrepreneur at the age of 18 as a career counselor as he was passionate about changing one's life. He states, "This passion grew with me as I founded a full-fledged venture after my graduation as opposed to a job." However, the lack of experience reflected in partnering with business partners who didn't share his vision. The venture had to be debunked shortly, leading to the defamation due to circumstances getting out of his control. But that experience helped him to come back stronger. He always took obstacles as hidden opportunities to rise and shine.
He adds, "My whole life has been about honoring such challenges. I lost my father early in life, and I lost my safety net. I had to return from the UK mourning, and I had to settle down in India to shoulder my family's responsibility. I worked for some time in various roles, but my passion for entrepreneurship didn't die. I went back to start a venture in the UK as soon as I could."
Before founding IFINTALENT, Seshadri played multiple roles working in sales, business development, career consultant, and HR head for companies like HP, Deloitte, and HCL, working on setting up the talent functions or the businesses from scratch.
He adds, "My perseverance has served me as a great force, especially in gloom and doom situations."
Taking IFINTALENT Global Pvt. Ltd to the next level
Seshadri currently heads a portfolio of firms, IFIN Global group consisting of IFIN Global and IFIN Talent Global. IFIN Global specializes in Global IT consulting services and Workforce solutions headquartered in London, UK, and has offices across 8+ countries and expanding.
He states, "IFIN Talent Global specializes in the entire spectrum of global Talent Solutions.
(Information Technology) + FIN (Finance)} Talent= IFIN Talent
IFIN Talent stemmed from the above equation deep-rooted upon our strong headhunting, research, and recruitment experience particularly within Banking and Financial Technology (Fintech) markets to evolve as the world's fastest-growing human capital firm."
Having over 24+ years of experience, Seshadri worked passionately to culminate his expertise, thought leadership, and experience to reimagine and reassess how new-age talent solutions look like adapting as a first mover. Their culture and integrity are backed by their vision to be the game changers in the Workforce Solutions space by exemplifying individual's and organization's unique strengths to achieve their inner objectives.
They call it the IFIN Way. He adds, "The IFIN Way is not just a set of words, it's a shared set of straightforward principles that underpin everything we do, every day, from how we create diversity, inclusiveness, culture, focus, to innovate and nurture our vision."
Spearheading the company
Being the CEO of IFINTALENT Global, Seshadri mainly focuses on leading the development and execution of long-term strategies so that the organization's shareholder value increases. His main tasks include the creation and implementation of their vision and mission, evaluation of other executive leaders' works in the company, be it the directors, vice presidents, etc. Further, Seshadri also sets SMART goals for the company and ensures that their firm maintains high social responsibility in business.
Being a visionary leader, he ensures that all people in the organization align with the firm's goals and vision. He also closely monitors the implementation of the formulated business strategy.
Prioritizing his day beforehand helps him to work on multi-faceted areas in no time. He always kicks starts his day with tasks that require his utmost attention and further progress towards other important tasks.
He states, "There is always a time crunch for all the tasks to be completed as my approval and inputs would be required in different areas, but the work gets done with motivated teams and resources." In the end, completion of work on time is all that matters.
His consistent efforts, contribution, and leadership have earned him numerous accolades and recognitions at HP, Deloitte, HCL. However, for him, the biggest appreciation came from the honorable current UK Prime Minister Boris Johnson personally.
Attaining that perfect balance
Seshadri believes in integrating the personal and professional fronts as one supports the other. As a sports enthusiast, he is his cricket team's captain. Moreover, he also loves spending time with his family, his pet and always tries to eat with his family. He adds, "Leo is my pet, or rather, I'm his human!! He is always happy to see me. Spending even a few minutes with him is a huge stress buster. So, I always try to spend some time with him before going to bed."
Other than this, there are many noteworthy points that keep him going ahead. Everyone at the company keeps their faith in the motto, "Smiles take us to successful miles!!" They always aim for smiles of satisfaction on their job seeker's faces. Additionally, he is proud of the passionate women workforce who takes ownership and leads the organization to success.
Leading towards a glorious tomorrow
Seshadri is carrying out many robust and exciting global expansion plans to spread the company's footprints in countries such as Australia, New Zealand, LATAM, and other parts of the EU. He is also adding more talented individuals to the team so that their collective efforts can help in steering the company in the direction of becoming a true global player of workforce solutions.
Sharing his initial struggles, he states, "I was raised in a community where people were either working in government or the public sector, and no one in my near and dear family were in business. So, I had to strive hard to learn and unlearn and roll over to at least make a mark, after which I never looked back. So, the key traits have been discipline, focus, dedication and commitment, along with a never-give-up attitude."
He has reiterated Napoleon Hill's adage, sharing, "Our mind is all-powerful. Still, very often, we are limited by the lack of our own imagination and thinking." Thus, being a business leader, he desires to inspire people to think big and believe in creating a significant impact through their good actions.
For all upcoming business leaders, he has a special message that states, "Look at obstacles as opportunities. If you are presented with hardship, it is merely an opportunity to do more than you could the day before. Also, having a birds-eye view helps in moving away from short-term objectives without losing sight of the bigger goals."