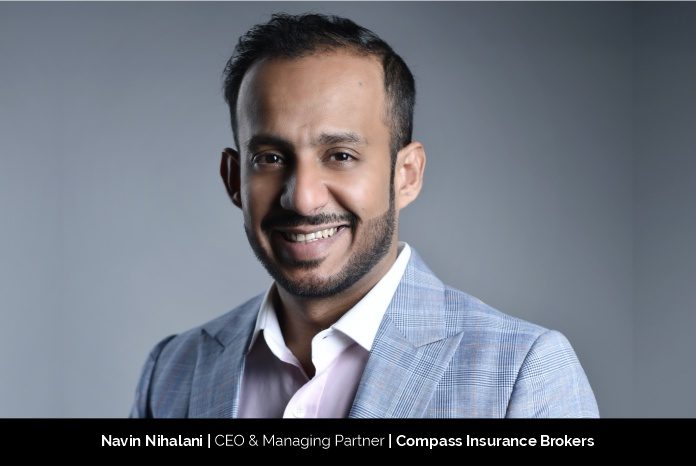 Developing and sustaining a multidimensional financial solution provider is a hard nut to crack in this fast-paced world. Navin Nihalani plunged into the challenge and became the founder and CEO of Compass Insurance Brokers under the mentorship of his father, Mr. G.F. Nihalani, in 2006. Following his valuable advice and insights, he has strived hard to build a firm that is dedicated to serving clients by engineering high-quality solutions that are backed by the highest standards of ethics, knowledge and integrity. Also, the firm has gained support from a network of leading multinational insurance, investment and financial institutions.
Now that Navin has risen to be a leader in his industry, he shares his own success definition. He says, "Success to me is being able to do my best and enable everyone around me to reach their goals. One mantra I believe to be fundamentally true in all aspects is that "you cannot keep what you don't give away." Success unshared is a failure, and you can only succeed if you help others succeed. Learning to give is part of creating a world we all want to live in."
Facing Challenges Boldly along the road
With globalization disrupting the business operations every now and then, he knows that there will be roadblocks at every step of running the business. As Paulo Coelho aptly put it, "When we least expect it, life sets us a challenge to test our courage and willingness to change; at such a moment, there is no point in pretending that nothing has happened or in saying that we are not yet ready. The challenge will not wait. Life does not look back. "
Navin views challenges as a chance to think, innovate and revamp as per the company's needs. As a service-oriented company, the employees represent the face of the firm, and UAE comprises the transient population where retaining talent is challenging. However, their undeterred will helped in building a stellar team of professionals for attaining 100% client satisfaction and offering the best financial advice.
Compass Insurance Brokers: A reliable financial solution provider
Compass has emerged as one of the top multidimensional insurance and investment solution providers in the UAE who render individuals, families and corporate business solutions (GI, Keyman, etc.) with perfect financial advice, plans and other services that help in protecting, investing and growing their wealth.
The company proffers an exhaustive range of services that encompass life, health and general insurance programs and include special investment plans for education as well as retirement. Owing to their high expertise and profound experience in the field, they cater to the services of individuals and corporates proficiently.
Being a client-centric company, their prime focus is to establish long-term client relationships with full customer satisfaction. To date, they have served more than 22000 customers and provide customized products and solutions via their extensive insurance service partner network.
Navin adds, "Since inception, we have grown to a team of 200+ across all our group divisions with extended reach to India and Cayman Islands. Over time we have expanded our product portfolio and developed new markets. We have also been instrumental in bringing new and innovative products to this region and taking our current product range to new markets." With an efficient pricing model and a dependable client service team, they could skyrocket their market share in the region.
Recently, they added banking and trade finance advisory to their service group and have aimed to introduce mortgages and other peripheral financial solutions to become a single stop for all services and achieving their vision.
Staying ahead of the competitors
With 'integrity and ability' being their main recruitment mantra, they always look for these two qualities while hiring fresh talent and concentrate on enforcing 3Es (Educate, Engage and Empower) for their personal and company's growth. Nurturing the team with apt training and certifications and enabling them to participate in the mentorship and leadership engagement programme to boost their expertise and ability to provide better advice.
He adds, "We have started a 'Continuing education programme' at Compass for all advisors to stay abreast of the markets and all things relevant. They have been trained for Compliance, and also most have acquired their CISI or equivalent qualification, which we expect to be mandated by the regulator soon. All advisors are equipped to be able to take a 360-degree approach with clients and help them with holistic financial planning to meet their goals."
Further, Compass values their employees' voices and follows an open door policy where the door is opened for all other employees as well and not management only. All employees follow the 'little extra' principle to deliver more than what clients expect to gain their trust for life.
Additionally, to differentiate their brand name, they have created the largest product shelf in the region and serve their advisors with a myriad of products and options, making them a one-stop financial shop. Keeping each client's specific needs in mind, they customize and impart the best solution rather than following a 'one size fits all' philosophy.
Leading Compass Insurance Brokers to Success
As the founder and CEO, Navin is involved in managing all the company's operations be it big or small. Having a hands-on experience and a keen eye for every intricate detail, he communicates with his team regularly and keeps a finger on the pulse of each department. Not only this, he also keeps his team motivated with rewards, recognition, empowerment and a good working environment.
He considers his team as a big family and offers a fair share of growth opportunities within the group so that their career paths are well defined based on merit. Further, the team also celebrates the successful achievements of their personal milestones together.
Not just this, Navin believes in P. Cannon Rasmussen's words that said, "To determine how successful your actions might be, consider how your efforts will serve to improve the lives of others." Thus, for this company, corporate social responsibility is considered a vital pillar in contributing towards sustainable development and betterment of the communities and societies beyond borders.
Sharing the company's biggest recognitions to date, he says, "We have been awarded the Biz award twice in succession along with other nominations. Compass has also been recognized by several principal companies like Zurich, FPI, Metlife, etc. and featured in numerous publications such as International Advisor. Moreover, we are a part of the 'Million Dollar Round Table' organization for over 15 years which is the premier association for financial professionals worldwide. We were also recognized by Gulf News as a leading SME in one of their publications on insurance."
Carving the Future Roadmap
Carrying a 5-year vision strategy, the group keeps evolving and growing as per the industry demands. Currently, they are focused on digitization and launching their own portal, "www.insurancequote.ae" which will provide easy access to all their products and services online and connect advisors with their clients to impart their services efficiently.
He further shares, "We have also expanded to India and Cayman Islands to develop new markets for our existing range of products and also to bring new products to our existing clients."
Working dedicatedly on the company's strategy, Navin is on his path to unlock more success for Compass Insurance Brokers and branch out further in the future.