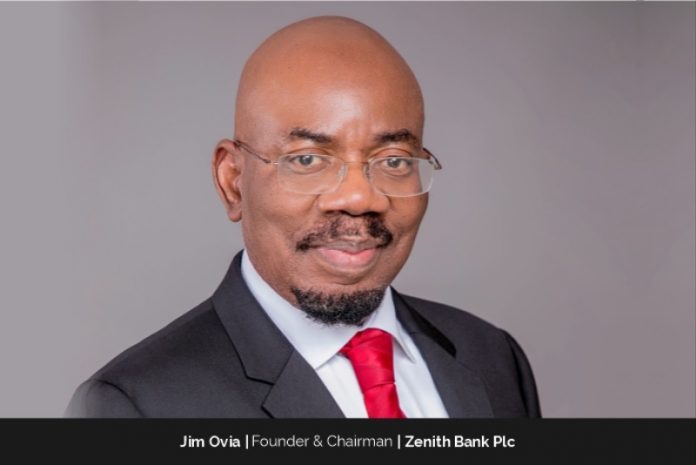 Jim Ovia's story, according to Sir Richard Branson, is a "wonderful African success story" that displays entrepreneurial flair in his meteoric rise from humble beginnings to building the formidable Zenith Bank. As a self-made man and one of Nigeria's most respected businessmen, he's known as one of the founding fathers of Africa's modern banking system. Forbes Africa called him the "Godfather of Banking."
Jim is an alumnus of the Harvard Business School (OPM), University of Louisiana (MBA), and Southern University, Louisiana, (B.Sc. Business Administration). He's also a member of the World Economic Forum Community of Chairpersons and a champion of the Forum's EDISON Alliance.
In recognition of Jim's contributions to the economic development of Nigeria, in 2022, the Federal Government of Nigeria honored him with Commander of the Federal Republic, CFR. In May 2022, he was conferred with the National Productivity Order of Merit (NPOM) Award by the Federal Government of Nigeria.
Jim has also received the national awards of Member of the Order of the Federal Republic, MFR, and Commander of the Order of the Niger, CON, in 2000 and 2011, respectively, as a testament to his visionary leadership and contributions to Nigeria's financial services sector.
Overcoming Adversity Through Education
Jim came from humble beginnings and when he was just four years old, his father suffered a massive heart attack and died due to inadequate medical facilities. His newly widowed mother used her intuitive entrepreneurial skills to set up her own small trading business and fend for herself and her family, while his oldest brother's financial generosity allowed him to stay in school.
"The boy I once was, growing up without a father, might never have looked beyond the confines of that small town were it not for one crucial factor: education," Jim recalls. "I remained in school due to the wisdom of my mother and older brother who recognized its importance and made sacrifices to jointly ensure that my tuition would continue to be paid, year after year."
His family's example of overcoming adversity helped Jim develop his work ethic and retain the drive to overcome all obstacles life cast his way. His experience in financial analysis in the credit department, treasury management, developmental finance, and trade finance, prepared him for bigger things to come.
Jim felt very strongly about his country and fellow Nigerians and believed that his success should also benefit Nigeria. In December 2004, he established the Jim Ovia Foundation, a not-for-profit initiative to help support the next generation of entrepreneurs and professionals to unlock the potential of Nigerian young people.
The foundation provides young people with access to training programs, grants, and scholarships for 50 percent of the students in the foundation-created James Hope College through the Mankind United to Support Total Education (MUSTE) initiative, to help young Nigerians go to school and graduate and support a thriving African future. It invests in the unlimited and untapped potential of Nigerian youth to enhance their standard of living, increase human efficiency, and equip them with leadership skills and training.
The Jim Ovia ICT Entrepreneurs Program seeks to empower and nurture budding entrepreneurs to tap into the emerging Information & Communications Technology (ICT) market in Africa; to bridge the knowledge gap to foster an ICT-literate society, enabling the youth to compete in a global economy. Read Up, an early intervention program bridges the digital divide by helping marginalized youths, aged 6 to 10, become familiar with the tools of the digital age.
The Calling to Write "Africa Rise and Shine"
Jim's book, "Africa Rise and Shine," narrates his experience with the rise of Africa's banking markets, a hotbed of innovation bringing millions of previously unbanked customers into the formal financial system and outlines his 12 rules for building profitable businesses. David Applefield of the Financial Times called it an essential read for anyone who wants to do business in Africa.
Jim recalls that many people had asked him over the years how a boy growing up in the small Nigerian town of Agbor was able to start, build, and maintain a bank that's one of the largest and most profitable businesses in Africa. When the issue of Forbes that featured him became the magazine's best-selling edition in Africa and they had to reprint it four times, family, friends, and business acquaintances suggested that he write a book about his experiences.
Africa Rise and Shine tells the story of how a boy, born into a poor family in a small Nigerian village, was one of the first to adopt the Internet in Nigeria and build one of the most profitable banks on the continent. This inspirational tale of success against all odds is an important lesson of how to overcome adversity by believing in oneself, aiming for excellence, building a team, and listening to your gut, all with an unwavering ethical stance.
Jim's book frames the model for the next generation of great entrepreneurs by describing his business transactions and high-powered deals and detailing his experience as an entrepreneur. It follows his path of over 20 years in building Zenith Bank from a nascent business with $4 million in shareholders' funds to an internationally recognized brand and institution with more than $16 billion in assets achieved under both military and civilian regimes, despite a decaying infrastructure and periods of economic instability.
Zenith Bank Plc is now one of Africa's largest banks with over $24 billion in assets and shareholders' funds of over US$3 billion. It's a global brand listed on the London Stock Exchange and the Nigerian Stock Exchange. In addition to major operations in Nigeria and other West African countries, the Bank has sizeable operations in London and Dubai.
Showcasing The Opportunities That Africa Offers
Jim is regularly invited to participate in multinational summits such as the World Economic Forum, the Bloomberg Global Business Forum, the Commonwealth Business Forum, and the United Nations Global Compact Group, where it has long been acknowledged that Nigeria has become a major player on the global economic stage with the potential to become a major global economy.
In his 2007 keynote address at Harvard Business School's Ninth Annual Africa Business Conference, the world's largest student-run event focused on African business, Jim spoke about the proliferating business opportunities in the African continent. He reminded attendees that Africa is a land not only of huge potential but tremendous opportunities and truly infinite possibilities, and today's challenges are always tomorrow's opportunities. Nowhere is that more evident than in Nigeria's ICT sector, which continues to serve as a catalyst and a driver for development.
The size and worth of Nigeria's economy and its strong economic record have been overlooked, and it's both a major corporate player and a paradigm for business/private-sector partnerships to accomplish charitable projects. In 'Africa Rise and Shine', Jim redefines the narrative of Africa as a continent associated with famine and poverty, conflicts, and war, and illustrates the real Africa behind the headlines.
He sees the Africa of his birth and life experience as a continent of abundant human and natural resources, immense and diverse investment opportunities, and an economy primed for leapfrog strategies. Africa has a fast-growing middle class and the rate of foreign investment has soared tenfold in the past decade. People are awakening to the fact that, with the right entrepreneurial vision, any challenges that Africa has can be turned into opportunities.
Another reason why Jim wrote his book was to make potential investors and entrepreneurs, both in Nigeria and abroad, aware of the scope of unrealized business opportunities there. "For anyone with the intuitive entrepreneurial capacity to envision obstacles as entry points to brand building and the vision to translate 'not yet' into 'finally now,' the climate in Africa can provide a richly fertile bed in which to seed new business," he writes.
From building a brand to developing the art of negotiation, Jim's book offers learnable skills and rules that anyone can adopt, along with an insider's guided tour of the business and branding principles to accelerate growth in the already fruitful African business climate.
The Entrepreneurial Journey of Building an Iconic Brand
From a single branch in an unassuming duplex in Lagos, Zenith Bank went on to become a London Stock Exchange-listed company with operations in the UK, China, UAE, Ghana, Gambia, and Sierra Leone, and more than 400 branches and business offices in Nigeria.
Its meteoric rise taught Jim that it's not necessary to be born rich or in influential circles to achieve success and that we must never allow the perceptions of others to play a substantial part in our self-image. Rather it's important to rely on one's instincts in taking stock of one's capabilities and evaluating new business opportunities.
Jim points out that choosing a business name and logo should be a well-researched and carefully considered part of a business plan. They should stand out for their simplicity, and broad-based appeal, and be recognizable and unique. He took a lot of time and energy to create the perfect name and logo, creating an iconic and award-winning brand for Zenith Bank, widely acknowledged as one of the most recognizable logos in the industry.
"A company's brand stands for who its founder is. It's both your creation and an extension of you. Its name and very look and feel must be authentic to the world, as well as a source of personal pride," he insists.
Jim also takes pride in the bank's dynamic, interactive, world-class, website that was built locally by Africans and won awards as the best business website in Nigeria. Zenith Bank's impressive 14-year track record, excellent brand reputation, and methodical approach to promotion ensured that it garnered the confidence of the Nigerian public, and the demand for Zenith stock was so great that its IPO was oversubscribed.
Despite building one of the top banks in the country, Jim believes that success breeds complacency and admits that he's not the kind of person to retire and live a life of leisure. He wants to move Zenith from good to great, to continue expanding, creating new jobs, making inroads in new sectors, and continuing the crucial partnerships with the public sector to benefit Nigeria and Nigerians. For this reason, he aims to take both his business and philanthropic ventures into the future with a strong focus on the Zenith Bank brand.
Battling Poor Infrastructure to Build Nigeria's First Digitalized Bank
Jim credits his success with trusting his instinct in emerging technologies that did not exist in Africa and basing his decisions on the belief that computer and internet technology were the key to the future of all business, a fascination that dates back to his college days at Southern University in Louisiana.
When Zenith Bank first opened its doors in 1990, there were no ATMs, debit or credit cards, or digital networks in Nigeria. Jim knew that to attract a growing pool of customers and be sustainable, they had to digitalize the business. He was willing to take on the Herculean task of bringing the Internet to Nigeria because it was not just the future of the bank, but an investment in the future of all Nigerians and the country's economy.
In 1995, Jim founded a network and ICT-services company named Cyberspace which obtained one of the first internet service provider licenses to transmit data and internet services from the Nigerian Communication Commission. At that time, the teledensity was so low in Nigeria that one telephone line served 250 people, and the speed was only 9.6 kilobytes per second.
So, Jim purchased a gadget of US military origin that would transmit data on a 2.4-megahertz spectrum and set up his first VSAT (Very Small Aperture Terminal) satellite. However, the Nigerian military was not convinced that his satellite technology was being used for business activity and shut down their internet services.
After numerous challenges, Zenith Bank became the first Nigerian bank to install its VSAT dishes to link communication and transmit data between all its branches, which turned out to be a game-changer. In 1997, Cyberspace acquired a new spectrum frequency to transmit data wirelessly within Nigeria and digitalize the bank.
Armed with the hardware and the banking software, Zenith Bank no longer experienced the operational problems other banks had and soon outstripped them in efficiency and customer numbers. Jim ensured that every staff member had a personal computer or handheld device and oversaw the bank's digital transformation, computerizing all bank processes and making it easier to transact with customers.
This allowed not just Zenith's customers, but all Nigerians to benefit from the internet's potential. They offered seminars and workshops to help thousands of young Nigerians connect with technology, university websites, and libraries, giving them the means and knowledge to step into the Internet age.
However, poor infrastructure still posed a challenge, and the lack of consistent 24/7 power from the inefficient government monopoly compelled Zenith Bank to build its own source of electricity, installing three giant generators to create a daisy chain of emergency support and achieve 100 percent reliability.
The bank invested in fixing, beautifying, and lighting up the oft-flooded Ajose Adeogun Road in Lagos where the head office was located. It came to be known as the Champs-Élysées of Lagos and even hosted a hugely successful Christmas parade. An event that has become an annual tradition of the bank. The bank also rebuilt the water supply infrastructure, building and installing boreholes to supply water to all of their locations.
Look For The Signs That You're Doing Something Right
Today, Zenith Bank is among the Top 500 Global Bank brands in the world and one of the greatest success stories accredited to a pan-African organization. Even during the Lehman Brothers collapse, it remained so solid and had such vast liquidity that it would have been able to bail out as many as four banks, had it been called upon to do so.
Zenith Bank only hires top-notch graduates and views its staff as highly prized assets. With its core human values of integrity, professionalism, corporate governance, loyalty, and excellence, it has a well-earned reputation for recognizing and rewarding its staff generously.
Jim believes that recognition and intrinsic motivation are important to organizational success. He creates an aura of positive thinking and cultivates fair and respectful ways of dealing with others, mentoring employees, attending their social gatherings, and empathizing with them in family matters.
Jim also sends his staff for training and conferences, helps them with speeches, and creates leadership opportunities to help them think like a boss. They began to see themselves not merely as staff members, but as managers of people and saw him not only as a boss but as a friend and a mentor. But the differentiating factor was to create a celebratory event that would truly capture every facet of Zenith Bank's people, from their wit and wisdom to their beauty in evening attire, to publicly recognize and reward highly motivated employees who worked diligently and were driven to achieve results beyond expectations.
So, every December, Zenith Bank holds a widely loved and celebrated, extravagant, formal, evening event called the CEO Awards Ceremony, which became known as the banking industry's equivalent of the Grammy Awards. With the belief that business leaders must not be afraid to spend money when it is prudent, Jim spared no cost in ensuring that the awards and the celebratory after-parties would set a lofty standard in the world of business and entertainment alike.
"A happy business is a healthy business, so whenever you experience a sense of fun in your company or with your co-workers in general, take note. It's easy to look for signs we're doing things wrong, but it's just as important to notice the ones that tell us we're doing something right," Jim declares.
"A happy business is a healthy business." – Jim Ovia
The Key to Building Successful Entrepreneurial Ventures
In his book, Jim recalls the time he started a part-time business refurbishing old cars and selling them. It helped him discover his natural ability for negotiation through the principle of win-win situations. Intrigued with the opportunities that obtaining a banking license could provide, he applied for a commercial banking license. His powerhouse negotiation skills helped him win his first and most important negotiation in his banking career when he applied to the Central Bank of Nigeria for his banking license.
Jim observes that irrespective of country, culture, or religion, the importance of relationships and networking in banking cannot be overestimated. The ability to build relationships is always an asset, and trust is the rocket fuel of negotiation, along with an authentic belief in what you're selling, active listening, and showing respect and understanding for the other person. For example, attending the WEF in Cape Town in 2015 introduced him to Matt Lilley, the CEO of Prudential Africa, resulting in a landmark partnership between Prudential PLC and Zenith Life Insurance, Nigeria's fastest-growing life insurance company.
During the 2008 slowdown, Jim felt the need to pass on the baton as CEO, having personally led and grown the bank for 20 years. He established Quantum Capital, a private equity company focused on real estate and other investment opportunities. He also decided to get a GSM license and break into the mobile technology sector, founding a new company called Visafone, which later became a household name, not only in Nigeria but in many other parts of the world.
Jim admits that the notion of work-life balance has always been alien to him. Work is a central part of his persona and his home is both a sanctuary and support office. "Work has been my life and my life has been driven by my work. An entrepreneur does not have the luxury of switching off at 5 o'clock. Many of my most important meetings were held late into the night. The relaxed setting of my residence has played host to CEOs, business leaders, and diplomats," he reveals.
"Build bridges in negotiation, don't burn them!" – Jim Ovia
Have Confidence and Follow Your Gut Instinct
Jim encourages entrepreneurs to invest in Africa while properly researching and evaluating potential venues and partners and applying the universal rules of prudence and due diligence in setting up any new business, regardless of the location. He observes that banking is a business based on trust and relationships, and his gold-standard rule is to "never do business with someone you don't know or trust."
Jim's belief in his instincts, self-confidence, and conviction turned out to be his most important assets giving him an edge over the competition. He insists that the most important skill to achieve success in business or any endeavour is to listen to your gut and don't start second-guessing your initial reaction. He shares the example of Bill Gates who did not sit up all night writing code because he knew it would bring him unimagined levels of fame and fortune, but because he loved it and his intuition told him he was onto something big.
"If your gut tells you something is right, listen to it," he recommends. "When instinct is successfully followed, confidence and self-esteem grow exponentially. The effect is as dramatic as a booster on an Apollo rocket. The rocket can get itself beyond the earth's atmosphere, but to travel any farther, it needs the booster to send it to places once thought impossible to reach. Confidence and self-esteem act as that booster."
"When instinct is successfully followed, confidence and self-esteem grow exponentially." – Jim Ovia