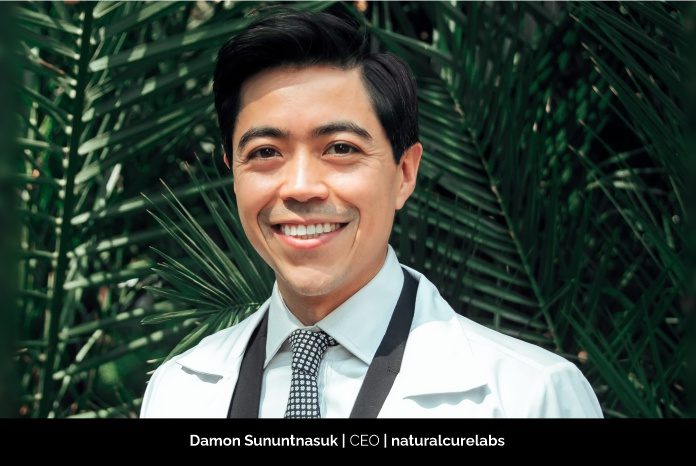 Our busy lifestyles can put undue stress on our immune systems, while our modern diets have changed our access to healthy food. On top of this, recent global events have further raised the focus and attention on personal wellness. This has led to an explosion of interest in ways to stay healthy, which includes supplements. According to data from Euromonitor, sales of immune support vitamins and dietary supplements increased by 25% in North America and 53% in Latin America in 2020. Google searches for "immunity supplement" were three times higher in January 2021 than in January 2020.
Damon Sununtnasuk is a visionary business leader who understands the significance of a healthy immune system and how naturally derived supplements might support the wellness needs of health-conscious individuals. He is the CEO and Founder of Natural Cure Labs LLC, an award-winning manufacturer of dietary supplements represented by two prestigious brands: Palmara Health and VitaTails.
True Success is Bringing Positive Impact
As Damon states, success is largely defined at a personal level and takes different forms for different people. For him, success is the ability to positively impact the lives of others in a meaningful way. Whether that is through growing and supporting a high-performing team or developing products that help people lead healthier lifestyles. He opines, "The ability to have an outsized impact on the greater community is one which dives me to perform every day." 
A Rising Brand in Immune Supplement Space
Personally, Damon always had a personal interest in health and wellness. In looking at the dietary supplement industry, it was clear that many products had shortcomings – low-potency ingredients, synthetic excipients, and little supporting academic research. In 2015, Damon set out to change the narrative for good, and Natural Cure Labs LLC was formed. He recalled, "Over the past several years, the company has evolved to become one of the most trusted brands in the immune supplement space. Operating under the Palmara Health brand, the company has been recognized for its commitment to quality, safety, and trust in a space which is too often challenged by substandard products and non-compliant suppliers." 
Dealing with Challenges through Commitment and Conviction
During the initial phase of establishing an organization, every individual has to face inevitable challenges but how one responds to those challenges reveals the good companies from the great. Damon explains they have faced incredible competitive pressures, marketplace shifts, and industry changes. The team has navigated these challenges by alignment and commitment to foundational guiding commitments. According to Damon, a core company alignment with quality, safety, and trust has helped govern decision-making from product development to marketing. These guiding principles have successfully shepherded the company through each challenge with clarity and conviction, with an incredibly loyal customer base as a result.
A Broad Range of Healthcare Products
Palmara Health is Natural Cure Labs LLC's brand of immune support supplements. Palmara is derived from the word "palmarius". It is a term that ancient Romans used to describe someone or something extraordinary. At the company, the team of experts aspires to provide individuals with extraordinary health products to support their personal wellness journey. All products in the Palmara Health portfolio are formulated and produced in the USA using vegan, non-GMO, and gluten-free ingredients free of artificial additives, colorants, or flavorings. The team commented, "Our award-winning products are supported by a dossier of published researched assembled by a team of industry professionals."
Innovation is the Core Value
Over the years, Natural Cure Labs LLC (and in turn, Palmara Health) has performed hundreds of hours of research to curate, analyze, and publish peer-reviewed research on natural ingredients and dietary supplements. Its research-based approach has helped educate thousands of people about the potential health benefits of supplements and enabled individuals to make data-driven decisions about their personal health choices. This research has also influenced the development of several proprietary supplement blends that have gone on to impact the lives of thousands of individuals. "Our research-based approach has helped promote, challenge, and change the way the industry thinks about supplements and education," says the company.
Given Natural Cure Labs LLC's research-based approach, innovation is also core to what the company does. Damon remarks, "We obsess over providing customers the most modern, science-driven products we can produce. Whether it is breakthrough ingredients, delivery methods, or packaging, we are constantly challenging ourselves to pioneer novel ways of delivering value and better health." The team has recently introduced a patented dual-capsule technology that combines liquid and dry ingredients into a single capsule. This innovative delivery technology supports high bioavailability while still adhering to the company's quality and safety standards.
Proud Recognition
"My career has been full of diverse experiences, geographies, and disciplines," says Damon. His work has allowed him to travel to more than 70 countries across six continents in a variety of capacities from marketing strategy to product management to data science. As he acknowledges, the best recognition is not always self-serving. Whether it is a personal letter from a customer, the ability to support a colleague through a tough time, or volunteering for the local community, the feeling of helping others is all the recognition he needs.
A Resolute Leader
At Natural Cure Labs LLC, Damon manages two diverse brands. Through Palmara Health the company supports human wellness, and through VitaTails pet nutrition. Both the brands require a high degree of attention, flexibility, and agility. One day, Damon may be working with the team on new product development, and another day he may be working with a distributor in the UK, while yet another, he might be working with scientists on a new branded ingredient. According to him, the key is being open to pivoting to the most critical needs of the business and understanding that every day is different.
When work itself is an Inspiration? 
Damon enjoys the work he does at Natural Cure Labs LLC. He finds a balance between personal, and professional is a bit blurred as often he is thinking about branding over breakfast or competitive differentiators while shopping.
As Damon notes, the key to keeping everyone motivated is passion. He adds, at the company everyone is genuinely committed to making a difference and is enthusiastic about the personal wellness space. He asserts, "When an individual is personally invested in changing the world for good, motivation comes as second nature."
Leading an Industry
According to Damon, in the future Palmara Health plans to promote education and awareness of natural products for personal health and wellness. The team strives to support the 58 million adults in the United States who expressed the inability to afford medication with natural products to support and maintain a healthy lifestyle. Damon Sununtnasuk states, "We hope to make it even easier to find and acquire quality supplements through the expansion of our retail channels and extend our product line to further include pet health."
Damon continues, "We continue to expand our award-winning product line of immune support supplements and have recently translated our expertise to pet nutrition under the VitaTails brand. Our goal is to continue to champion the compliant, transparent, and trustworthy manufacturing of supplemental nutrition to support the individual health needs of as many people (and pets) as possible."
As a leader, Damon only wishes to help others to be their best and to support the spirit of innovation and quality that has come to define the company and its brands. He advises aspiring business leaders to employ a sense of grit, be resolute, and understand that with every challenge there is an opportunity.