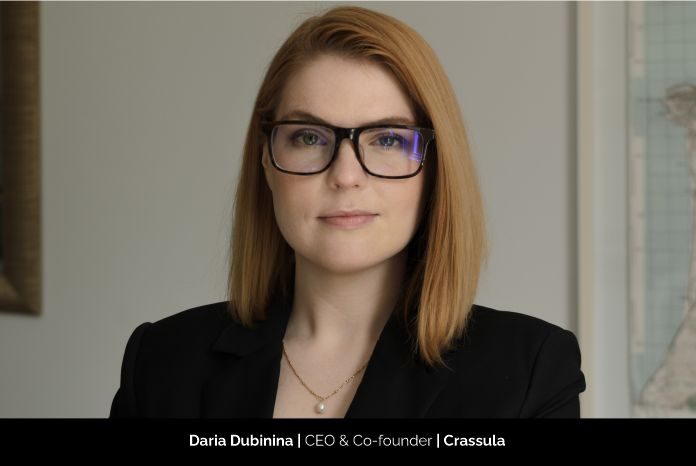 For some successful leaders, their success lies in fulfilling the needs of different stakeholders. It means if customers require a new product or the team needs the company around, or the industry calls for new transforming innovation taking place and the leader can manage all this then, that makes all the difference. One such dedicated leader is CEO and Co-founder of Crassula, Daria Dubinina. For her, one is successful when he can confidently answer the vital question, "Why do we do what we do.?"
Inspired by Ben Horowitz's book, "The Hard Thing About Hard Things," she knows, "there's no such thing as the universal, ultimate best CEO." No doubt, she feels pride in getting recognized by an external organization or media edition. However, she states, "The real recognition occurs when your opinion matters, you are inspiring others, you can make a difference, lead people and grow the company."
Steppingstones to building Crassula.
Daria experienced her first entrepreneurial experience at the age of 20. Then, after completing her master's degree in FEA management, she began working from the lowest position at an international payment system where she learned about FinTech, and over the years, she has grown professionally; in 2014, she and her fellow employees started building their own ventures.
In 2017, Crassula was the result of the team effort of Daria and her co-founders Alex Novozhenov and Vlad Nikolayev. The trio shared the same vision and strived hard to demonstrate their unique skills in building strategy and technology. They had their designer Andrew Ponochovnyi create an attractive look and feel for the product.
She shares, "Together we created a unique skillset in which everyone played their part bringing the concept to life and giving each other confidence in what we were doing, inspiration for creating something new, and supporting each other during the bad times."
While building a company from scratch, there were new challenges every day which the small team needed to solve and make smart decisions. Many times, the decisions were right; however, sometimes they were wrong that could hamper the company's growth and take them behind for months.
Initially, their main roadblock was getting the right investors for funding the company growth. The team spent many months in this process, which resulted in high frustration and no gains. Then, Daria shares, "We started focusing on business, staying bootstrapped, and that was the best decision that we could make because it taught us to survive difficult times, do big and beautiful things with very limited resources, and actually earn money."
Brief about Crassula's Remarkable Services
Crassula specializes in developing White Label core banking products, PSP services, FX services, wallets, crypto banking, and crypto exchange solutions. It offers an all-in-one software platform that facilitates the launch of products within a few days and with a low budget. Its products are cloud-based and provide backend with its core banking system, admin panel for managing the business, and frontend with client web interfaces, iOS, and Android mobile apps. Crassula's systems are provided with dedicated open APIs which enable a myriad of FinTech services and assist most innovative business ideas.
Crassula embodies a unique culture of freedom and responsibility that fosters prudence, communicability, proactivity, striving for development, creativity, decisiveness. Daria says, "We embrace these qualities and develop them by providing constant education opportunities, helping each other in day-to-day work, and always trying something new by developing new products, trying to implement new solutions, and always doing something that we have never done before."
For Crassula, their people have always been the main backbone of the firm. The industrious team always keeps developing and ameliorating their products to empower the customers with world-class solutions. She adds, "We value the elegance of solutions, and everything related to their quality. This combination helps us to make new people want to join the company, reach new clients and partners, engage them and make them want to stay with us."
Daria's efforts in redefining the fintech industry.
She shares, "The FinTech industry is very fragmented, but each element is connected to another. On the one side we have large and mature financial institutions – they have history, trust, reliability. At the same time, they have legacy, bureaucracy and low speed of innovation. On the other side, we have young companies which are able to disrupt the industry, brilliant ideas, but don't have time and money. On the third side, we have a totally parallel world of crypto with its technology, dynamic, risks and transformation. These are only 3 of so many, but supporting such fusion solutions helps to move the whole industry forward."
As a visionary, she looks ahead to bring a huge metamorphosis in the financial industry where all the banks and financial institutions will amalgamate into platform solutions. She aims to make the ultimate FinTech platform and offer a comprehensive range of tech-enabled financial services for companies around the world to take the industry forward.
Balancing Personal and Professional Fronts
Being CEO of Crassula, she ensures that the company keeps growing. For that, she formulates a strategy and stays involved in the daily activities connected to IT development, product development, sales, and partner relations. She handles about 2-5 work meetings daily, with different departments and external parties and is usually involved in making smart business decisions or resolving complex issues.
Her secret to maintaining a perfect work-life balance is thoughtful planning. Even though it is hard to get ample rest while working from home, she always adds an outdoor walk or workout to the calendar. Also, she keeps her weekends free for outdoor rejuvenation.
She feels staying positive and supportive in all situations is her key motivator. To explain it further, she says, "When something goes wrong, I prefer not to waste time on finding out whose fault it is, but rather fix the problem and analyze how to avoid repeating the situation. This approach helps to reach the highest result, and the result is the most powerful progress mover."
Future Roadmap
Crassula aims high and has many prime goals for the future, such as entering new markets, speaking new languages, adopting more technologies, transforming the platform into a no-code product builder so that anyone can design and launch FinTech products without any hassle. All-in-all, the entire team desires to make complex and deep technologies incredibly easy-to-implement, highly accessible, and attractive for their customers.
Personally, Daria wishes to grow the company by 5x while maintaining excellent performance and effectiveness as a company.
Sharing her advice for budding entrepreneurs, she says, "Never be afraid to start, experiment, and keep moving, improving and delivering even if things are not so shiny right now."