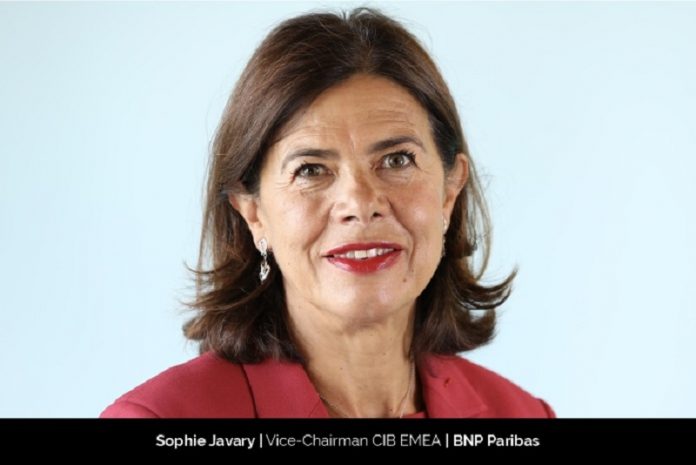 Every successful leader in the world has their own definition of success. Sophie Javary, Vice­Chairman, CIB EMEA at BNP Paribas, expresses that, success for an individual is gaining recognition in one's chosen area and completing objectives on a both professional and personal front.
For her, success is to fulfill her ambition to bring change and have a significant impact on a company, a client, and the outside world, so that one can live life based on their own set of rules. To do so, Sophie chose the finance and banking domain to build a career.
Stepping stone into the banking and finance industry
Her career began at Bank of America at the start of the Mitterrand era, a memorable moment in French politics and in the country's economy. France saw some difficult periods in those years, needing to raise emergency funds, and the devaluation of the Franc, which put further strain on the economy and treasury.
Sophie admits to being impacted at seeing her country go through these difficulties whilst growing up. It was also then, that she resolved never to be pigeonholed into the specific societal roles afforded,  in those days, to different genders. She also confirmed a strong interest for  the banking world, especially investment banking and capital markets. She realised that by being a banker, she would be able to combine technical competency with commercial abilities, and link those to and understanding of both macro and micro-economics. She had expanded her academic studies by completing a Master in Business administration from the HEC School of Management in 1980, further attaining an IMP certificate in Business Administration from the New York University, Stern School of Business in the same year.
She stepped into the investment banking business with Equity Capital Markets at Indosuez (now CACIB)  and led several IPOs and privatisations, notably at Rothschilds where she worked hard to achieve the position of General Partner , up to Joint Head of European restructuring debt advisory and restructuring (at the end of her time at Rothschilds). This led to her becoming Managing Director at BNP Paribas in 2011. With her robust background, vast experience and skills, she went on to become the bank's CIB EMEA Vice­Chairman in 2018.
She states that the banking sector gave her a rich environment within which to work and progress. By being a part of the big wave of development and maturity in Europe Capital Markets that began in the 1990s, she gained instrumental leadership experience, further expanding her skillsets in innovation and in the banking industry.
She then completed her competencies during her carrier by joining the Executive programme in Digital transformation at Singularity University, California, in 2018.
Crossing the roadblocks with a calm attitude
Sophie states that challenges make you stronger, make you progress, and stretch your own limits. As one digs deep into the banking world, one faces challenges that can sometimes be very demanding. As she explains it, "Each mandate needs to be won, each client relationship needs to be maintained, each team that you manage needs direction and care."
She believes that a calm nature, stress management, and discipline are the three key traits to push through all challenges. lt is crucial to stay calm whilst tackling difficult situations to keep the client away from the stress. Secondly, one should never diverge from one's own values and sense of ethics. Lastly, one should not hesitate to change jobs and take up other opportunities to continue to embrace new challenges. Luck and growth in the sector cannot always be controlled, so it is important to hold one's nerve in a demanding situation and look for the best solution for everyone.
Redefining Fin Tech sector at BNP Paribas
CIB is the wholesale banking entity of BNP Paribas and is the largest institutional bank in the euro zone, with an international outreach. As Vice-Chairman CIB EMEA, Sophie is primarily involved in investment banking and senior relationship management, dealing with some of the bank's key corporate and private equity clients or on special projects.
She sits on the board of Euroclear, representing their interests in market infrastructure. Over the course of four years, from 2014  to 2018, she managed their European corporate finance activities, namely M&A advisory and Equity Capital Markets.
"I have also led in 2018 a transformation project called "1B4F (investment banking for the future)" She indicates "Dealing with how we could set up a programme to implement more digital tools and more efficient ways of working across our investment banking units."
To stay in touch with the latest technology and digital tools , she decided to attend an executive programme at Singularity University in the summer of 2018. There she learnt about innovations and digging deep in the West Coast (Silicon Valley) environment.
Taking BNP Paribas to the next level
BNP Paribas calls itself "the bank for a changing world." The bank wants to promote change and help clients progress, adapting to evolving environments. The BNP Paribas Group was formed by banks that have been deeply embedded in the European and global economy over the past 200 years. They have demonstrated their ability to adapt to the challenges of their times and to support clients as well as other stakeholders during moments of great transformation.
The Bank wants to maintain its position as one of the leading banks in the European economy, therefore focuses its efforts on helping to further develop the European market. European sovereignty and the economic and political clout of the EU requires a strong economy and robust capital markets to finance its future growth and investments. As Sophie states "BNP Paribas also wants to promote a more responsible economy, fighting climate change and, through its policies, implementing a drive towards a greener economy, while leveraging equality of opportunities and of economic development." Finance can and will play a key role in leading the economy towards a greener and more responsible capitalism, and BNP Paribas should lead the way.
Banks have become big tech players and are one of the safest players to work on data and artificial intelligence around payments and the circulation of money. She stresses the point by adding, "We all need to be" fluent in Tech" to maintain our positions in the financial industry." She mentions, "The Bank keeps abreast of the growing competition in the Fintech industry by either making acquisitions of sensible businesses and helping them grow as it has been the case with the highly successful "Compte Nickel" or by investing in specific areas in tech such as incorporating blockchain in transaction banking."
The Bank aims at offering secure, sound, and innovative financial solutions to individuals, professional clients, corporates, and institutional investors while striving to address the fundamental challenges of today with regard to the environment, local development, and social inclusion.
Wearing the hat of Vice-Chairman, CIB EMEA of BNP Paribas
As the Vice-Chairman,CIB EMEA of BNP Paribas, she manages several high-level corporate and private equity clients. She spearheads different projects, for example, the Franco-Chinese fund that launched last year with CIC and Eurazeo. On top of that, she represents the bank on different boards and conferences.
Handling all this requires great time management, as Sophie mentions, "My regular day at work is, therefore, a mix of formal meetings with clients or inboards, and preparing for these meetings."
She gets her constant dose of motivation from helping the client progress further. She stresses the point by adding, "The best recognition of your work as a banker is a satisfied client whom you have helped in their strategic thinking and actions. This is where I get my main source of motivation." Other than that, getting recognition and accolades for hard work fuels the spark and pushes to us progress further. She adds, "The greatest recognition has been my Légion d'Honneur which I received in January 2012. To see my work and achievements awarded with such an accolade by the French State has given me a deep sense of pride and also sense of responsibility."
Getting inspiration from the famed Henry Ford quote: "To meet together is a start: to stay together is a progress: to work together is the success," she realizes the importance of a solid team to reach new heights.
Being a motivated and self-driven leader, she aims to instill the same feeling in her team. She wants all her team members to resonate with the company's core objective. To do so, it is important to give ample space to all the members to grow at an individual level so that they themselves can motivate their teams, thus achieve results for the organisation. She states, "The way to strive for excellence is to give enough autonomy to teams, give them the right messages about performance and be extremely straight when you evaluate them, be clear about criteria."
Other than regular and correct feedback, good career paths and opportunities for the future are also great motivators for everyone. lt is important for a leader to bridge all feelings in the team with proper care and be fair with everyone on all aspects.
Being a seasoned business leader, she adds, "My personal message to them is to never ever diverge from their personal values and aspirations. This is what shapes their reputation internally and with clients. And always keep in mind the need to balance professional and personal lives."
Balancing the professional and personal front
No doubt, achieving a balance on both the professional and personal front is a challenge, but it becomes a necessity if one aims to have proper family life and good health. Sophie comments that nowadays achieving balance is much easier as her children have grown up and are less demanding than when they were young.
She adds, "I think the key is to get organised, to set a few golden rules to delineate what is most important to you personally, be that be taking tennis lessons, going to the theater, having dinner with your children, etc."
She understands the value of good health, taking inspiration by the ancient Latin quote, "Healthy mind resides in a healthy body." To stay fit and re-energize her body, she takes proper care of herself physically and mentally by going on regular holidays. She knows when to downshift her gears and when to lead the team by example. Helping to prepare a solid path for the future of BNP Paribas, Sophie adds, "My plans are simple. Continue to contribute in maintaining BNP Paribas as one of the clear leaders in European investment banking, with a strong international position. This inspires my personal goals. I am also at a time in my career where I want to transfer my knowledge and share my beliefs and experience with younger bankers and students, especially young female bankers who still need support to break the glass ceiling. "