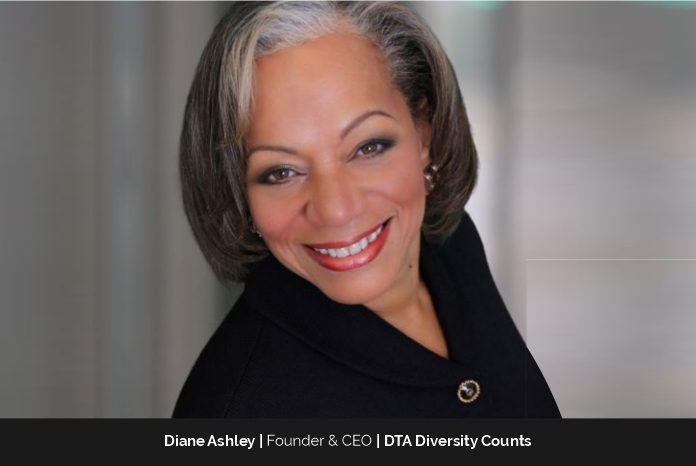 As the Founder and CEO of DTA Diversity Counts, a corporate diversity & inclusion advisory firm, Diane Ashley provides organizations and boards with strategic assistance and executive coaching to increase value to organizations, senior leaders, shareholders, employees, and communities, through the development and implementation of practices that foster inclusion.
Diane has been recognized as a pioneer in expanding this work. She has successfully led corporate, government, non-profit and community organizations to scale DEI as a business objective. Her approach is innovative and grounded in actionable strategies for leadership across all levels, through a combination of initiatives in education, collaboration, partnerships, and experiential learning.
Success is established by experience.
Success depends on several factors, and as a self-described continuous learner, Diane has attributed part of her success to a passion for integrating excellence from a variety of functions into the work of DEI leadership. She is passionate about sharing her 20+ years of experience now, as an innovator, collaborator, mentor, and sponsor to leaders, boards, and organizations engaged to increase levels of impact in the work of diversity, equity, and inclusion (DEI).
For those who have sought to lead DEI as practitioners, Diane acknowledges the impact of the COVID pandemic and the death of George Floyd as lightning rod events. These directly challenged organizations to rethink their notions for the future of work. The urgency in addressing a new set of strategic objectives has focused unprecedented attention on DEI.
However, Diane warns that long-term success in DEI requires the ability to pivot quickly to meet change. Notably, prior to these two unforeseen events in 2020, many leaders in the DEI function had reported an increasing lack of support, attributing the rationale for scaling back funding and resources to DEI as "diversity fatigue." While no one can predict the future, past experience could be seen as a prologue in navigating long-term success.
Diane reflects that her most satisfying indicator of success is how her work has created an impact. She values feedback from past colleagues and others who share that many of her projects continue to grow and influence others to bridge cultural change through DEI businesses in various organizations.
Growth starts with exposure.
Diane shares that her career reflects years of research stating that women may change careers several times before selecting a path for the long term. Her career aspirations as a young person did not include coaching and education for cultural change.
She enjoyed school, and graduated near the top of her class, with dreams of success in another field. Her parents had not attended college but were bright and wise in developing a set of guiding values that had carried Diane ahead in her work and life.
One key value that Diane attributes to her mother's words was her assertion that exposure to experiences, people, and education were pivotal for success. Her rationale for this was succinct. Simply, without the opportunity for exposure to something, you won't know what you're missing as a result.
Diane has let these words influence her desire to seek exposure and share that sound advice with others. It became a foundational cornerstone for her approach to DEI later in her career.
Learning diversity through a foreign education
Her parents' dedication to education sent Diane and her younger sister in their early years to private school education. Her mother became the first Black director of nursing of the operating room in the area's major hospitals. Her dad worked on superstructures, and later built a career, among other roles, as a contractor.
Diane's classes in second grade included an introduction to French. She learned that she had an aptitude for languages, fueling her desire to study Spanish, Latin, and German in high school and college.
It was in third grade that Diane declared her goal for what she wanted to be when she grew up. She decided she wanted to be a diplomat working in the US Foreign Service. Announcing it to everybody who would listen through high school, she was thrilled to be accepted into one of the early classes of women at Yale University. Yale had the best French department in the country at that time. She was on her way to achieving her dream.
Diane was later accepted to Yale's Junior Year Abroad program. As a French major, she sought exposure and experience living in a foreign country in preparation for her career goal. While she enjoyed life as a student in Paris, after completing her coursework at the Sorbonne in Paris, Diane was faced with a realization that she never anticipated. Her year abroad also clarified that she did not want to live outside the US.
She never anticipated the need to develop a "plan B" career option for herself. At worst, Diane felt as if every egg in her career 'basket' had broken. She returned to Yale in her senior year, totally depressed, her grades declined, and with no ideas for her next steps.
Diane started her career in business because she needed a job. What she wasn't able to appreciate, during that painful period of her life, was that the experience had introduced her to a global perspective. She learned firsthand how difficult it can be to live in a foreign country where the language and customs were different. It was foundational for her career.
Building a successful career in diversity
Diane changed industries several times in progressively senior roles. She spent several years as an executive search executive and was recruited by Citibank to build an in-house recruitment function for senior-level executives.
However, Citi's merger with Travelers transferred her to a new role in workforce diversity, reporting to the Chief Diversity Officer for Citigroup. Diane worked on a number of projects as part of the launch. She was sent on a special project for the CEO, and next tapped to Citi's Supply Chain business, as head of supplier diversity.
The challenge was to develop business opportunities for women, minorities, veterans, and disabled-owned companies as vendors. Within five years, Diane had expanded the diversity spending from $400M to $1B and introduced two new programs for small businesses partnering with Citi's London office.
Diane moved next to the Federal Reserve Bank of New York, appointed as the Bank's first Chief Diversity Officer in charge of the launch of their Office of Diversity and Inclusion. Here, Diane tapped upon her previous work experience to introduce diversity and inclusion as a business initiative, including all levels at the Bank.
The level of engagement at the NY Fed caught the attention of the 11 Reserve Banks and the Headquarters in Washington, D.C. Her unit was adapted as the model for the System's other Banks. Diane and her team shared their practices on various objectives gained through successful collaboration with colleagues for a diversity council, 10 new resource networks, development of analytics, recruitment, education, and a world-class speaker series. Accompanying these innovations, she also advised the creation of a supplier diversity unit.
The Dodd-Frank Act, passed in 2010, required all financial regulators to establish congressionally mandated Offices of Minority and Women Inclusion in 2011. Diane added responsibilities as an Officer accountable for reports to Congress on the state of progress for minorities and women in the workplace, supplier diversity, and community outreach.
She served as a member in forming a Federal Reserve Council framed with creating a series of consistent protocols, policies, and reporting consistency. She continues to work to embed DEI into the culture until her retirement, with the launch of her own advisory firm.
Diane's corporate, nonprofit, and government experience, combined with her law school education, has positioned her as a Board Member attuned to DEI, as well as Environmental, Social, and Governance issues for organizations.
Concurrent with her career, Diane has been active in board service. She was elected as the first female Board Chair of the New York Theological Seminary for 10 years, led major restructuring in the board's demographics, improved fundraising outreach for the institution, and later chaired the Audit Committee.
She has also served on the Boards of The Executive Leadership Council, the National Minority Supplier Development Council, and the Women Presidents' Educational Organization. Her current advisory board memberships include the Board of Advisors of the Rutgers University School of Business, Mill Road Progressive Governance Fund, McKissack & McKissack, and the National Community Advisory Forum for Fifth Third Bank. Diane completed the Director's Academy, an executive education program for board directors at the U Cal Berkeley's Haas School of Business.
Inspiring others as a woman in leadership
Diane notes she's had to navigate challenges as a Black woman in leadership. She was often the 'first woman' or 'first minority', but undeterred by obstacles or people. Her focus was to develop innovative solutions for projects deemed untenable and to implement them successfully.
"You do not have to put up with sexism, ageism, racism, etc. An effective way to navigate these situations is to become fluent in business challenges, and culture, and to build relationships across levels and vertically. To become a person of influence, there will be times when it will take courage to call out situations of injustice, discrimination, or ethics. Do what's right." Diane declares.
Diane is an advocate for women as a founding member of The Executive Leadership Council Foundation's Black Women's Leadership Forum, and a Senior Advisor to the Bank Administration Institute, and the Council of Economic Education. She serves as a member of the Women Corporate Directors, Private Directors Association, and Black Women on Boards.
Making a difference and an impact with her work
What keeps Diane motivated to do her best daily is her commitment to continuously impact others through her work. She seeks feedback from clients and colleagues to refine, reinforce, and celebrate. She values diversity, inclusion, and equity.
Equity acknowledges that not everyone enters the workforce from the same starting point. Inclusive leadership is aware of this reality, putting into practice ways to drive fair and equitable solutions for everyone.
Diane's advice to aspiring business leaders is: Have a vision for what you want to do but seek out people who will help you and challenge you along the way. Be courageous and fearless. Know your worth. Be clear about what you need to do to obtain your goals, and work like hell towards your goals.
How it all came together
As she sat in her office at the NY Fed, in the midst of the Financial Crisis in 2008, Diane reflected upon her challenge leading DEI during one of the most uncertain times for this economy in US history. She thought about what she was brought to the Bank to do – create new paths of education, understanding, challenge, and revise long-held beliefs where bias interfered with inclusion and productivity, and engage staff at all levels to take part in fostering a journey towards inclusion. Celebrate differences.
It was then that she remembered her stated desire in third grade to become a diplomat. In a moment of inspiration, Diane suddenly recognized that her work, on many levels, mirrored that of a diplomat. She saw the work as Chief Diversity Officer serving also Chief Diplomatic Officer. She attained a version of her dream. Never give up on your dream!