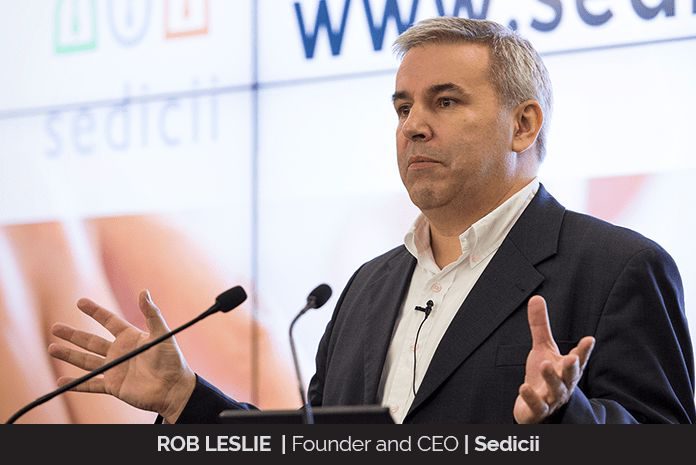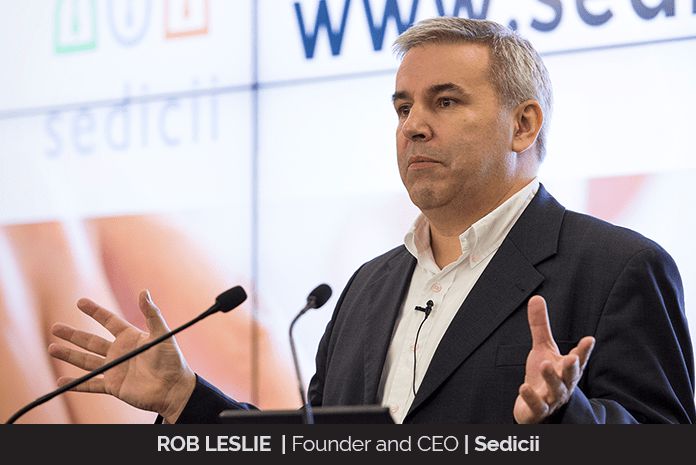 Technology has found a solution to every roadblock that has hindered the smooth process of a system because of which innovation is constant. Innovation comes from creativity, new ideas or simply from the desire to change something. Rob Leslie, Founder and CEO of Sedicii began his entrepreneurial journey with a vision to influence a change. When he experienced a hiccup in the security system, referencing to digital identification, his innovative mind forced him to explore technology and create a solution. Rob was led by his vision to transform the existing digital identification industry, as a result, Sedicii is one of the leading companies in its field today. In this exclusive article, Rob shares a few of his inspiring thoughts and success mantra with a few words of wisdom for every aspiring businessperson.
What were your dreams and aspirations while growing up? What led to the foundation of Sedicii?
Growing up I was always building stuff, fixing stuff, breaking stuff by taking it apart and not being able to put it back together again! I always knew I would be an engineer of some sort….that or a pilot, as flying was another thing I always wanted to do.
I started Sedicii in December 2011 following an incident where I was buying a camera on line and my card and personal details were compromised.   And I thought to myself "How many times has the same thing happened to other people every single day?"  And then I thought "there must be a way to keep my private information private, secure, and up-to-date without my feeling vulnerable and invaded".    Shortly after that, I came across a piece of technology being worked on by the National University Ireland – Galway on a protocol known as Zero Knowledge Proof or ZKP.  It was the convergence of these two things that led to the foundation of Sedicii – that and my desire to see that everyone could live a private life without having to compromise their personal information on a daily basis..
What were the initial challenges and setbacks that you faced?
To be frank – there were, and still are, a lot of sceptics.   There were two schools of thought back in 2013 and for a few years afterwards; one was who really cares about their privacy any more; personal information is given away without a care. Or worse people had an apathetic view of whether their identity would be misused; an attitude that it will never happen to them.   And secondly and perhaps more challenging was how can you prove who you are if you don't tell the other person who you are.   So, making investors and potential customers realise the true worth of having an eco-system whereby you can prove who you are – in real time – without having to divulge your details was a major challenge.   However, then came along GDPR in May 2018 and the well-publicised Facebook / Cambridge Analytica Data scandal.  Suddenly people began to take the use of their personal information more seriously.   Once I got over the initial hurdle, the less challenging the idea became.  Of course, we are not fully there yet.  Much more is to be done.   It's what I refer to as "the empty swimming pool syndrome".   An empty swimming pool may look lovely but if there is no-one in it, it generates a reaction of fear in people. Why is there no-one in the pool? There must be something wrong with it. But as soon as there are a few people splashing around in it, it's safe to get in and the risk has been completely removed. We are at that point where people are slowly starting to get into our pool.
Tell us in brief about the services of Sedicii and how has it influenced technology?
The digital identity challenge is more complex in nature, since it requires combining technological breakthroughs with a complex ecosystem of stakeholders, including citizens, governments, corporations and regulators. No pure technological solution will succeed if it ignores these stakeholders and their needs. Sedicii has been working hard to build out a new paradigm centred around a federated identity verification platform based on Zero Knowledge Proofs (ZKP) and Secure Multi-Party Computation. As businesses migrate their Know Your Customer (KYC) checks from face-to-face
physical interaction and paper-based verification, to real-time, digital methods of verifying identity, Sedicii's solution can provide them with a mechanism where data can be anonymously verified across multiple authoritative sources without exposing, replicating or exchanging the underlying information.
How do you define the growth of the company over the past few years? (Can be explained with statistical data too)
The Sedicii product was always going to be a slow at the beginning as you have to have a functional product to sell the service.  Growth has been slow but steady but we foresee rapid growth once our ecosystem is up and running.  The personal information economy is in excess of $100 billion annually and is growing in excess of 15% CAGR.  We want to be at the heart of that and foresee rapid adoption over the next few years as businesses embrace digital transformation and commit wholeheartedly to the digital customer experience.
What is your vision for the company and key factors that distinguish you from the lot?
We want the Sedicii vision to become a reality. We want to lead the charge to change how the world deals with the challenge of digital identity and privacy.  In the words of BBVA when we were chosen as winner of the Open Talent Regtech and Fintech of the Future Awards in late 2018  "Sedicii is the start-up with the greatest potential to transform the financial sector in the next 10 years!"   And that is just one sector of the global business community albeit one of the major players.
What differentiates our service is that it works in real time against authoritative sources which are the sources of truth. The person's right to privacy is never compromised because of the cryptographic processing and once permission from an individual is given via a push notification that person's information can always be kept up-to-date.  This has the potential to save organisations time, expense, potential financial sanctions and the consequential loss of customer trust and confidence.
Give us a brief of your life before Sedicii
I am a serial entrepreneur.  Sedicii is my seventh (7th) start up.  Previously, I was co-founder of Kyckr which was sold and floated on the Australian Stock Exchange in 2016.
I also worked in Japan for 20 years before returning to Ireland where I am currently based.   I was part of the initial management team in Dell Japan that established and grew the business there to almost 300 employees and $300m turnover in its first four years. It is now a billion dollar business. I was also a partner in a Japanese computer services company called PTS that was acquired in 2000 by a Singaporean firm as part of their entry into the Japanese market.
By profession I qualified as an electronic engineer having graduated from Dublin City University.
Tell us about your roles and responsibilities as the CEO of Sedicii and how does it make you feel?
Being a CEO can be a very lonely place.  As I mentioned I spent the first four years researching and doing lots of experimenting with the technology. There was lots of travelling, speaking at many conferences; the highlight of which was being asked to speak at Davos.  Indeed, I would speak to pretty much anyone who showed any interest in the product.   When you start a business you need to put your shoulder to the wheel and be prepared to do everything.
By nature, I'm a glass half full person and so normally I'm happy once the company is making progress to its ultimate goal which is to be successful. My role is get the best out of the team so that we deliver for our customers to the best of our ability.
What are your greatest achievements?
Without doubt, being named as a World Economic Forum Technology Pioneer is probably the achievement that I am most proud of.  Sedicii is the only company in Ireland that has achieved such peer recognition.    Over the years the team have built up a tremendous record of achievements with our innovations having been recognised by all of the organisations below at some stage.
How do you manage to balance your personal and professional life? Describe yourself in one word and tell us what inspires you?
Very badly! If the truth be told I don't really have what you would call a healthy work / life balance. You do what has to be done. I like to walk and play tennis when I can.
'Driven' or 'Persistent' would be the word I would use to describe myself. I would say I'm most inspired by people.   A name that always springs to mind when I'm asked a question like this is Barack Obama.   A conversation around a dinner table with the 44th President of the United States is definitely on my bucket list.    I admire his ethos, his stance on humanity and his "can do" approach to life in general.
What keeps you and your employees motivated?
We are a small multi-locational team right now (based in Ireland, Canary Islands, Belgium and United Kingdom).  As you can imagine with a geographical spread like this motivation is key.   So, we have regular weekly calls and basically do whatever it takes to ensure that everyone feels included.   I encourage participation, suggestions, feedback and ideas.  Everyone is heard and knows that they are heard on all matters pertaining to the success of the company.
What does the future of Sedicii look like, globally? How do you plan to widespread the company services?
The future looks extremely bright. We have built a privacy technology to manage digital identity that is badly needed and I believe that our services will grow and spread organically. As soon as a few large international organisations are using the service and the benefits become obvious, word will quickly spread. The service is designed to scale exponentially through a partnership model.   We want to ensure that no-one will be left out; no matter what country or jurisdiction a business is in today, everyone requires to have their identity information managed in accordance with all appropriate laws and regulations. We want to ensure our technology is there to take up that opportunity.
So, the future as I said earlier is that global denomination awaits!
With the support of great team and the huge industrial experience that Rob possesses, Sedicii is set for a bright and successful future with innovation as the key.