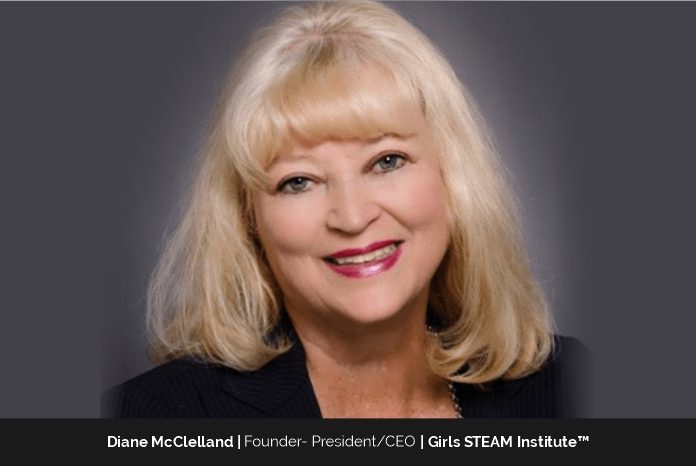 According to figures from the United States, just 15% of engineers and only around 25% of computer scientists are women today. The top talents in demand globally are in the STEM (Science, Technology, Engineering, and Math) disciplines, and the United States, has the added advantage of adding "steam" to this list, particularly with women having excellent skills in art-related fields that are respected across the world. As a result, it is necessary to investigate and discover STEAM business growth opportunities with a focus on empowering women, growing from the local to the global level. Whether it be science, technology, engineering, art, or mathematics, every facet of entrepreneurship is intricately linked to the five STEAM disciplines.
Diane McClelland, the co-founder/CEO of a nonprofit organization called the Girls STEAM Institute™ encourages and mentors' young women between the ages of 13 and 18 to consider careers as social entrepreneurs in the disciplines of science, technology, engineering, art/athletics and math.
A group of women entrepreneurs and subject matter experts is driven to mentor more women and help them gain confidence, teamwork and leadership abilities, as well as the knowledge and skills necessary to launch successful enterprises Diane opines, "Our focus is to showcase how technology, interpersonal and relationship skills, and business acumen are necessary ingredients in becoming a successful STEAM entrepreneur." She is the founder and former President and CEO of the Astra Society International dba Astra Women's Business Alliance, a regional partner of the Women's Business Enterprise National Council.
The Institute
Girls STEAM Institute™ is the result of 40 years of programming, including primary and secondary research on the difficulties and barriers faced by woman business owners when trying to access capital and markets. Diane McClelland founded two nonprofit organizations to offer targeted initiatives aimed at removing these obstacles.
As a visionary, Diane is aware of the value of being current and sees problems with new social and corporate trends. Research has shown alarming figures about the underrepresentation of women and girls in the technology industry, as well as bias towards women in the industry, especially in the workplace.
Change is required, which prompted the establishment of the Girls STEAM Institute™ and the creation of its entrepreneurial pathways for girls aged 13 to 18, allowing them to learn and practice skills in inclusion, critical thinking, teamwork, collaborative innovation, and international partnerships.
In order to provide a pipeline for the next generation of young women entrepreneurs who can be educated as suppliers for international supply chains, the Girls STEAM Institute™ launched its inaugural program in 2014. As part of worldwide initiatives for partnership of companies and non-governmental organizations, this aim has been broadened to enhance ideation using immersive technology as a more cutting-edge solution for the United Nations Sustainable Development Goals for establishing equality and gender equity.
The Girls STEAM Institute™(GSI) started concentrating on hosting its initial Girls Team Business Challenges as a VR event in 2021. The appointment of Dr. Tom Furness III as a board member, the father of virtual reality, has encouraged the organization to choose this course. This decision has resulted in its ability to reach many females between the ages of 13 and 18 who have never experienced immersive technology or saw virtual reality as a tool for a business solution. Girls perceive this program as a fun and exciting opportunity to experience in order to develop their leadership skills and start their own businesses to tackle problems across the world. Its activities this past year attracted several hundred girls, 80% of whom had never used virtual reality before, which sparked their interest in more immersive technology.
The institute's objectives are to provide women a continuous line of leadership and mentoring for young women that promotes leadership in entrepreneurship and immersive technologies from high school to college to career/business.
New Approaches; GSI STEAM Challenge
The GSI STEAM Challenge brings together girls from different backgrounds to form small, cohesive teams that work together to solve a particular subject event and come up with business solutions. Each team brainstorms solutions over the course of two days, builds a digital business, conducts a SWOT analysis, designs a prototype application, and pitches their venture to a panel of judges. The institute witnesses young ladies develop into capable leaders and devout team members every year.
Girls may freely exchange ideas and collaborate to find answers at GSI. In the setting of STEAM, girls get knowledge about starting a company, and best of all, they create a network of like-minded peers who accept them for who they are and support them in everything they aspire to be. Within the Girls STEAM Institute™, they develop into strong, confident leaders who take that confidence into their daily lives.
Girls from the Girls STEAM Institute™ frequently express how the STEAM Challenge has changed their lives. Parents of the girls typically witness growth in their daughters' self-confidence and knowledge of the importance of using one's voice as part of a team, that the girls do via GSI's STEAM Challenge. Parents reaffirm their promises to support their girls and assist them realize their highest aspirations when they witness the brilliance of their daughters shine within the context of the STEAM Challenge.
Creating Path for the Next Generation of Women
With the Girls STEAM Institute™, Diane's job is to keep looking for new methods to make the organization relevant for its upcoming generation of woman leaders. She is the mother of three sons and seven grandkids. She focuses on women in order to make them aware of their worth to society and significance in the world. She shares, "The men in my life understand and appreciate my reasoning for emphasizing my focus on young girls because now they have wives and daughters of their own who expect and appreciate their fathers' dedication to equality for women and girls." One word that describes Diane's life is curiosity and the need to find out what it will take to make improvements in areas requiring change.
Diane's leadership has been praised in a variety of ways through local and national business leadership awards. The recognition from the communities she serves for young girls and women business entrepreneurs is the most significant signal for her. She is extremely lucky to be surrounded by family, friends, and coworkers who push her to achieve her goals of "turning lights on" for others and who support her. Her greatest pleasure, which motivates her to carry on working until she is 100 years old and beyond, is hearing from women and girls whose lives she has helped to inspire.
Standing Out Over Face of Difficulties
The difficulties she has had in her work, Diane also discusses how these difficulties have strengthened her resolve to uphold the ideals that are essential to her. When she was 14 years old, she and her twin sister, Suzanne Lackman, asked their high school to provide an interscholastic ladies tennis team, much like the boys' team did in 1957, 15 years before Title IX, but were told "no" by the school principal. She recalls, "We were told we could continue to have intramurals sports. After persistence, the school administrator told us, if we can get 50 girls to sign up, they would consider adding the lone girls' sport of tennis to the school. We got 60 girls to show up and as a result, the school relented, and my twin sister and I qualified for the first team of 6 girls." She further adds, "There were 16 boys' sports teams, and the following year, 1958, our girls' tennis team was the first sports team to bring a state title to the school. What we did not realize at the time, our efforts to bring inter-scholastic girls sports to the school, started all girls' competitive sports in East County, Portland, Oregon for years to come." "Stand for Something, or you fall for anything" has been an important lesson influencing Diane's life personally and professionally.
The True Meaning of Success
Success is defined in multiple ways through the lens of each person. Influences come from family, friends, peers, colleges, universities, religion, and spirituality. Success to Diane, like happiness, is an "inside job" and measurements of success can change with age and maturity. Her personal success statement is a journey that includes "turning lights on for myself and others" that embraces courage, adventure, curiosity, focus, empathy, wisdom, spirituality and makes a difference in the lives of others.
'Living in Moments'
Developing her creative side of her personality helps Diane unwind and be still within herself. She asserts, "Having total quiet to think, meditate offers me better insights for what may be out of order for me." She has taken up oil painting and is learning to play the piano. This gives her the creative solitude she craves for her life now. Diane is involved in her family businesses, which gives her time to contribute and "hang out" with her family as they build their futures together.
The Infinite Desire to Bring Transformation
After all she has accomplished, Diane still has more she wants to do, including a documentary on women's enterprises and the rising number of young women entrepreneurs. She wants to finish writing her book about her funny experiences as an identical twin, all the antics she got into as a child, and other twin tales. Because of her curiosity and drive for adventure, Diane doesn't picture herself ever retiring because she will always have something she wants to do.
"What I tell young people is to develop their curiosity and empathy and to listen more than talk if you want to develop relationships with others."
Her message to aspiring leaders is to help educate younger women about the importance of showing respect to each other and to acknowledge in public the good work done by other women.