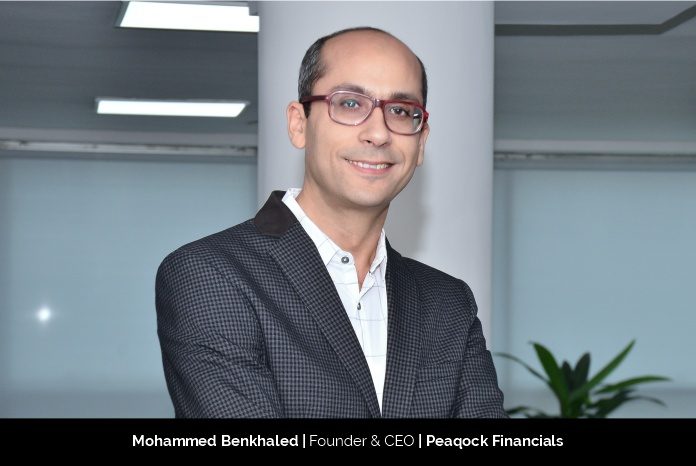 Data Management, data science, data visualization are now common terms that we hear with the advancement of technology. However, the strategical planning, creative insights and innovative minds that go behind the operation are quite distinctive and rare in their own way. One such rare mind is Mohammed Benkhaled, Founder and CEO of Peaqock Financials a leading company in advanced data management/analytics and strategic advisory. Mohammed is backed by 15 years of seasoned experience and industrial knowledge which is an added advantage to the growth and development of the company. Founded in 2013, Peaqock Financials has paved its way to being one of the most successful companies. With an incredible journey to share Mohammed carves an inspiring story for each of us to learn and follow.
The Beginning of Innovation
With over 15 years active experience as an investment, risk, and asset manager, Mohammed had noticed a real need for data management, analytics and visualization which led to the foundation of PeaQock Financials. From its founding in 2013, Peaqock had to face two main challenges; First one, how to position itself among the giants in the field of data and how to convince large prospects in Morocco and abroad, mainly in the middle east region, to trust Peaqock as a start-up in its beginning.
The second one was related to products. Hence, they spent a lot of efforts in time, expertise and resources to build strong and effective market-oriented products, in parallel to those needed by their clients, in order to diversify and enrich their offer to the market. Also, they ensured that all the developed products respect major international standards in terms of safety, performance and technological base.
The Products that Exemplify Advanced Technology
Peaqock Financials was launched as part of a large vision of bringing intelligent and user-friendly solutions for executives, by automating repetitive tasks like producing reports, by facilitating complex data management, securing data flows with blockchain technology, and increasing the reliability of data analytics and visualization based on AI and machine learning. They provide a vast range of data management solutions and secured platforms. To list a few:
Strategic Advice: during each exploration meetings with their prospects, they try to understand deeply the cultural background and the great goals that drive their daily process. They offer the clients the best of their expertise to understand the advantages and limits of their business models and how they can innovate their processes.
Data Management: helping customers decide on their data architecture (big data or traditional data management); study different sources of data (office tools, IoT, social networks, etc …)
Data Science: beyond the aspect of data cleaning and structuring, Peaqock assists their clients to build the best models based on AI and/or machine learning to improve profitability, make a study of profiling to better target customers, increase operational efficiency, predict future sales, etc.
Data Visualization: Provide the best tools to visualize KPIs so that decision-makers have access to data in an optimized way with all possible scenarios.
Besides supporting many major public and private institutional customers in Morocco or internationally, Peaqock Financials is providing its clients with tailored and advanced Tech Solutions based on AI, Deep/Machine Learning, Predictive Algorithms, Blockchain, Data Analytics & Visualization, …etc.
Peaqock Financials has been awarded with several international awards, namely as the Top 20 FinTech by Forbes Middle East in Middle East and North Africa for two successive years in a row (2017 & 2018) and certified with the "Label Finance Innovation" by Paris Europlace. Finally, Peaqock Financials was recognized by the African Development Bank as one of the most innovative business to watch in Africa; and by Casablanca Finance City, in partnership with PwC Advisory Africa, as one of the rising FinTech in Africa.
Growth is the Product of Resourceful Expertise
The competition in the Middle East becomes more and more tough with the presence of the world giants in different domains. The competition remains a positive point for customers who will have access to wide array of choices of services and products. The arrival of incubators, accelerators and new investors has brought even more competition to the market, which is forcing everyone to find a way to differentiate themselves by offering similar products differently or a completely different services that will add value to the market.
Over the last few years, Peaqock Financials has recorded interesting growth exceeding 50% for turnover and 10% for EBIDTA. 100% of Peaqock's results are reinvested in R&D and team development.
With a view to provide value added services to their clients, Peaqock Financials always find means of diversification. They operate on four main principles that define their growth strategy:
A 100% customer-orientated strategy
An active and engaged process of R&D in fields not explored yet
An offer that could be adapted to any client size with correspondent pricing
A personalized strategic advice offered to their clients
The Ingenious Mind of a Leader
Having spend more than 15 years in the industry Mohammed has always been fascinated on how new technologies and innovation in business allow organizations to quickly increase operational efficiency, security and overall performance of their production systems (goods and services). His dream is to position Peaqock Financials as a market leader, at the level of Africa and Middle East, in the field of data and to be a part afterwards of the magic quadrant of Gartner. Mohammed aims to inspire and bring positive changes that could contribute to structural transformation of the continent, driven by its own citizens to take up its rightful place globally.
After his double graduation in Data computing, and Economic and Financial Risks in Bordeaux I, Mohammed worked as a Risk and Asset Manager in one of the largest investment banks in Paris, namely Credit Agricole Corporate and Investment Bank (ex Calyon), and Sycomore Asset Management. In 2010, He joined the largest Insurance Company in Morocco, SAHAM Asset Management, as the Director of Investments. And in 2014, he has officially embarked on entrepreneurship by creating PEAQOCK FINANCIALS, a Tech & Data-driven company, in addition to strategic advisory services, namely financial advisory (corporate finance, risk mitigation & project finance) and digital transformation.
In terms of responsibilities and since Peaqock's inception, Mohammed tries to set himself as an enabler of driving collaborative work, maintaining the very good atmosphere work climate, and as he keeps reminding his team every day that, his EVERY DAY role as a CEO of Peaqock is to keep them challenged so they can give the best of themselves. "For sure it is a different universe, being an employee as an investment manager or a risk manager has its pros and cons, but never equal to the feeling of giving life to your dreams so that they come true and see it growing." Shares, Mohammed.
The Motivating Factor in a Competitive Market
The team of Peaqock Financials are motivated to inspire and change the world with innovation. They love new challenges. Each time they handle their weekly meeting, all the team is facing new challenges that make them do a lot of research and reviewing their methods. These challenges bring a remarkable cohesion between the members of the team.
Before setting foot in the international market, Peaqock Financial was focused towards their development strategy to acquire a leading position in the Morocco Market which was an exercise of passion and rich experiences. In the Middle East region, they have prioritized to opt for local partners that can accelerate their development. "I can say that I am very happy about what we are achieving with our current partners. Also, I am proud to say that we were selected by Arab Monetary Fund among 4 FinTech from the Middle East and Africa region, to be part of a high-level committee dedicated to brainstorm and simulate new technologies applications and their impacts on Arab Central Banks." Mohammed adds.
The Plan of Development with new Ideas
Peaqock Financials are very optimistic about the future and since the beginning they have positioned themselves in this business with strong beliefs that the future of any business (or even public services efficiency) will depend on how you manage your data (and data from other sources) and in which extent you know your customers in a world of accelerated changes and overwhelming complexity.
For the next few years, Peaqock has defined a development plan in the Middle East and Africa that will position it as one of the big players in these regions. In fact, all the facts indicate the strong trends of the public and private stakeholders towards a personalized data management and analytics. Therefore, the market demand for technical support and proven expertise in this area is increasing dramatically, thing that has been observed since last year. Peaqock forecasts very interesting growth rates with a turnover that could exceed US$ 500 million in the next 5 years.
Their internal vision can be summarized with these simple words: "Discover Your Data in PeaQock Way". Also, in PeaQock they believe that Human Intelligence can prosper hand in hand with Artificial Intelligence.
Adapting new strategies and leading the company on the path of development, Mohammed has a defined goal for the future. Along with his skilled team, Peaqock Financial will acquire their position in the lead growing to be the transformers of innovation.