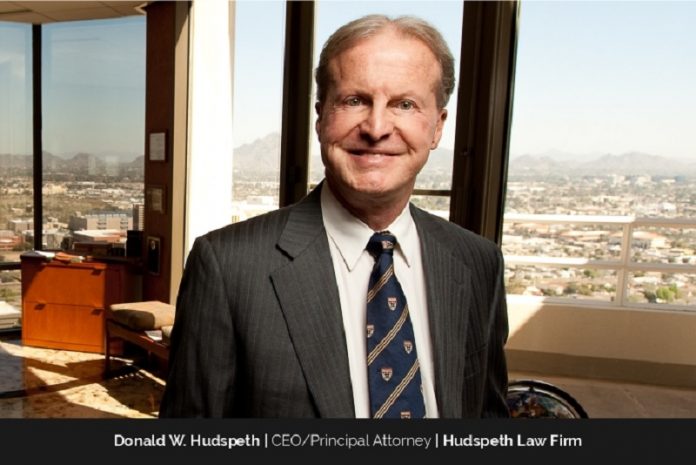 Movies and novels inspire real-life people, but often it is vice versa. The difference is that the reel story gets projected on a silver screen, while most real ones remain unscreened. Here we have the tale of a boy who wasn't into studies till high school but became an academic prodigy during college. He majored in psychology, sociology, economics and philosophy and went to graduate school in philosophy. Today, he is known as one of the literary geniuses who has authored notable books, such as, "Minding Your Own Business, Ropes to Skip & Ropes to Know in the Operation of Your Small Business;" "Inside the Firm: The Inside Story on Choosing and Using a Lawyer;" "Black Hat White Hat.
Well, for the unversed who feel his intellect is just about literary works, then Order! Order! Meet Donald W. Hudspeth, CEO, and Principal Attorney, Hudspeth Law Firm, an incredibly inspiring man who personifies versatility. The list of his accolades is extensive. His indelible contributions to the legal field made him selected on more than one occasion for the "Client Choice Award." Mr Hudspeth has achieved the Preeminent Lawyers AV Rating through Martindale-Hubbell.
In his outstanding legal career, he was also chosen as one of the Top Business Leaders and Top 100 Lawyers in Arizona. Mr Hudspeth was previously named as the Volunteer Lawyer of the Month by the Maricopa County Bar Association and received the Maricopa County Volunteer Lawyers Certificate of Commendation. He was the founder and Chairman of the PAC "SOS, Save Open Space." In the legal services field, Donald W. Hudspeth is a name to reckon with and is among the top 10 inspiring leaders to look up to. As we mentioned in the beginning, his story is movie worthy. It can imbue courage, determination, integrity, perseverance and undeterred commitment to serve society.
Let's embark on a journey to travel to those unexplored episodes of his life, which practically were the connecting dots leading to a launchpad for this polymath. As Donald tries to describe himself: "I am a workaholic and monomaniac. I have been called a 'machine'. But I am also kind and funny. I have a lightning wit that just is. I need to find out where it comes from.
Life before Hudspeth Law Firm
Mr Hudspeth's career started as a philosophy teaching assistant at Wichita State University and business law as an Adjunct Professor at the W.P. Carey School of Business of Arizona State University. He laughs while sharing how he confidently told his father that he would never be in business.
"Life had other plans. After college, almost from the beginning, I was in business. I acquired a securities license (but was, and looked, so young that no one would hire me), then owned a chain of taverns in western Kansas (some of them real dives), then with my wife owned a chain of bath shops in major malls in the area. Later, I applied and was accepted to law school. My business background helped me, and I could zero in on my law practice on the business owner. I now sit on the other side of the desk."
After investing years in this field, as a respected voice, Mr Hudspeth has served as an Adjunct Professor of Business Law at the W. P. Carey School of Business at Arizona State University. He has also been a guest lecturer and speaker at Phoenix College, the Arizona State Edson Entrepreneurial Institute and the Phoenix School of Law Workshop. Previously, he hosted several radio talks shows, including "Law on The Edge" and "LawTalk." And his literary beneficence to legal topics is comprehensive.
Responsibilities as the President & CEO at Hudspeth Law Firm
Donald shares that since it is a small firm, the job demands him to take up several leadership roles. He has to be the player-coach or actor and director. He counts himself fortunate enough to have an in-house administrator and billing specialists. Yet, he takes the major decisions, such as hiring attorneys and marketing.
"I have a natural bent towards marketing. This has served me well both in business and my law practice. But every day, I meet and do legal work for clients. I enjoy this most in practice," he shares elatedly.
Apart from these, he thoroughly relishes the freedom and ability to translate his innovative ideas into reality. Following his mother's footsteps, who was a teacher, Donald finds absolute bliss in teaching and says it's an innate skill. Nevertheless, for him, the law combines the best of both worlds, i.e., ideas and action.
Hudspeth Law Firm (HLF) redefining legal space
The genesis of HLF sprouted from a quandary. During the RTC crisis of the early 1990s, the multi-floor law firm where Hudspeth used to work lost its bank clients and imploded. That was a catalyst for founding his own firm. His idea was to switch to the desk's other side from where he had been as a business owner. Donald's experience was in small business. Hence, he targeted those niche owners as clients.
"At this time, Phoenix and Arizona were not the "business mecca" that they are now, so this was a risky proposition. My former co-workers told me that I would starve to death. And the early years were hard. The notion of "billable hours" did not apply. The objective was to earn enough to eat and "pay the rent." If I had to work eight hours for $300, so be it," he recollects.
But as Arizona became the top, or close to the top, destination for new business, it eventually proved that he was in the right place at the right time. He vows to what Shakespeare had said: "There is a tide in the affairs of men, which, when taken at the flood, leads on to fortune." Donald rode that wave.
"Also, I (jokingly) tell others that "I was smart enough to have a client come in years ago who told me to get on the Internet." I did so. And, and because of that, we had an early lead in online presence and marketing," he chuckles.
For a while, his firm was dominant in search results in all business categories. Indeed, he proved the advantage of being the first mover. Hudspeth Law Firm was early in its emphasis on offering legal services to the business owner and in the online marketing of the same. And thanks to such innovations, his firm continues to rule this market.
The trademarked slogan of HLF is "The business of the firm is business." It practices only business law, transactions and commercial litigation and does not do anything else. Virtually all its clients are business owners whose gamut ranges from coffee carts to semiconductor companies. As many entrepreneurs and businesspeople are doing business in, moving to, or opening branches in Arizona, HLF has clients from all over the US and the world.
Facing roadblocks to experiencing and defining success
Donald is known for his candidness, and he minces no words. According to him, he has been his biggest deterrent. Without any qualms about confessing, he conveys he gets his own way, at times to the extent of self-sabotage. Expressing his vulnerability with courage, he shares.
"I have been bipolar and suffered from depression, sometimes serious depression, all my life. It is difficult to conquer the world when it is tough to get out of bed. A psychiatrist once diagnosed me as having a "will-to-fail.' My way of dealing with this was to adopt the "I'm OK; you're OK" mantra and to do my best not to harm other people."
It needs the nerve to be vocal about the aspects of life that society still perceives as a hush-hush affair. Hudspeth, however, talks about them loud and clear. Likewise, he defines success with precision. According to him, 'success' implies accomplishment. But, having it as a goal can be a typical case, like the donkey with the carrot on a stick in front of it, ever sought after but never achieved.
"For me, the first step to happiness is "acceptance.," not as in resignation, but in making the best of things," Donald explains.
He further refers to a statement by Coach John Wooden in his book Pyramid of Success: 'Things turn out best for the people who make the best of the way things turn out. What is, is. The sooner one accepts that fact of life, the easier it becomes. A practical corollary of this is the saying: 'He who loses his cool loses'.
Donald recalls a phase from his life when he was in his 20s and mentions his business mentor, Russ. The latter had operated a state-wide vending machine company. It provided pool tables, foosball tables, pinball machines, air hockey and jukeboxes. Most games by then were 25 to 50 cents per play. Out of all of them, Donald's favorite was the Captain Fantastic pinball machine patterned after Elton John. But an old five cents a play pinball machine stood in a room filled with new gaming tables and equipment. One day Russ pointed at it and said that machine provided the firm profit. Everything else covered the expenses. That statement by Russ stayed with Donald. Sharing the learnings, he articulates.
"I remember this lesson and have applied it in my business ventures. But I think the story says something about life. Much of our lives are spent "covering the expenses," literally and figuratively. If we want to be happy, we need to accept the fact that sometimes or even most of the time, a play on the "five-cent pinball machine" is what we get."
Meanwhile, another pearl of wisdom he picked from Russ was that if one takes care of the small, ordinary things, the big, extraordinary things "take care of themselves," i.e., fall into place.
For Hudspeth, the term 'success' derives meaning from various sources. Thus, he also resonates with the "good life" concept espoused by the ancient Greeks.
"Externals, like wealth, fame and power, can provide short-term satisfaction. They are not fulfilling in the long run. To me, the "good life" is about achieving happiness and doing good for oneself and others. Success defines the feeling of accomplishing this."
Changing landscape of the legal space
Donald has been observing the legal landscape closely. To explain the changing scenario, he narrows down the focus on Arizona. According to him, this place is at the forefront of new ideas for legal practice. It was one of the first states to adopt "fast track" (called "mad track" by critics) litigation procedures and juror note-taking. Arizona now allows non-lawyers to provide legal services. The aim is to make legal services accessible to a broader range of people. Nationally, the new idea is for non-lawyers to own law firms. He perceives the availability of legal representation to only rich people as one of the most significant issues.
"Even my reasonably successful business clients cannot afford the extremely high cost of some transactions and litigation. People in the middle class or below may be just out of luck. Allowing paralegals to offer legal services can be a way of lowering the cost and increasing the scopes of accessibility," Hudspeth advocates and adds that in Arizona, offering these services must be certified by the State Bar.
He highlights a few other aspects and says that legal services firms can also help solve a downside of the (now sacred) plain language movement. Legal documents are easier to read when they avoid Latin phrases and specialized vernacular. But plain language can create the false impression that a legal document can be a "do it yourself project." In his legal practice, Donald has observed it often. Many assume drafting a legal document is child's play. But sans the legal knowledge, clients are always at risk of not knowing what is missing in the manuscript. It can be a representation and warranty in a business sale contract. This can be catastrophic. It is when legal service firms help fill a critical social need.
"Allowing non-lawyers to own law firms is a terrible idea. Corporate America will gobble up law firms to save costs and make money. I fear that profit will trump ethics, as with our prisons in Arizona. Law has always been, first and foremost, a profession. I am afraid this will change. Meanwhile, these ideas are somewhat inconsistent. The first allows legal services to be available for those of us who are not rich and famous. The second makes the law even more of a club than it already is. That is not a good outcome."
Fostering a culture of integrity at Hudspeth Law Firm
As a seasoned professional, Donald Hudspeth has keenly observed how people and psychology are intertwined in a business setup. He believes integrity is integral, as people prefer to do business with people they like and trust.
"I don't have a 'greedy bone in my body. And my associates and staff know this. I aim to ensure that my clients get fair value for their money. Often, we write down bills because the finished product should not cost that much."
Apart from being a good practice, there is a practical reason for this. Donald explains by elucidating his father, who ran a hardware and appliance store in western Kansas. Donald's mother often complained that he wasn't charging enough for the quality services he was giving. Without taking anyone's side, Donald says, perhaps his mother was right. But his father wasn't wrong either. In fact, he used his low-priced services as a marketing strategy. And it did work. In that small town, his father got a reputation as an honest and skilled businessman through word-of-mouth publicity, and customers kept coming year-on-year.
"I operate this law firm in a similar way. I do not try to make money all at once but leave something on the table for tomorrow."
The secret of keeping passion and motivation alive
Donald isn't the kind of person who keeps throwing around his weight on others. Despite a commendable career, he is neither full of airs. His principle is simple, i.e., treat people, including his employees, as he would like to be treated. His team never creates a situation where he has to be bossy. Humble Hudspeth adds,
"I tell clients that "I was a real person before I became a lawyer."
That has been his mantra. Thus, he does his best to be authentic with his employees and everyone around him. Candidly he shares that he has held 'big shot' roles, but he was never smitten by them. He feels fortunate to have loyal and motivated employees who love working at Hudspeth Law Firm and do good things for the company and its clients.
Courting balance
For Donald, a striking balance in personal and professional realms must align with Justitia, the Lady Justice. "Balance is as the balance does," he quotes, and he says that he tries to divide his time equally between the firm and his wife. The couple also makes a proud pet parent of two adorable dogs. Nevertheless, the man makes a legit point by saying his definition of 'balanced' could be lopsided for many people.
"One of my greatest joys is to open a new case file and analyze what the contract or litigation should look like. As Sherlock Holmes would say, the 'game's afoot. I would rather do that than sit on a mountaintop somewhere (although I would like that too.)."
Personal and professional goals and advice for Gen-Next
Donald Hudspeth counts attending law school as a life-changing event for him and for the better. He holds high respect for his alma matter. He has funded a scholarship endowment and a seminar room in the firm's name at the Arizona State University Sandra Day O'Connor School of Law. He intends to do more in future.
On the professional front, he says it isn't clear that a firm like his can survive in this "megatropolis" world. Recruiting and marketing are becoming more complex. There are chances for Hudspeth Law Firm to merge with another firm that wants to capitalize on the former's market presence.
As a seasoned legal professional and an icon in the industry, he has some priceless guidance for the students and aspiring lots:
"Accept negative events in stride. We do not know what was or is around the corner. The present obstacle may be a better outcome than the one that never happened because of this hindrance. For example, had the big box stores not run me out of business, I would not be a lawyer and in the much happier place that I am now."