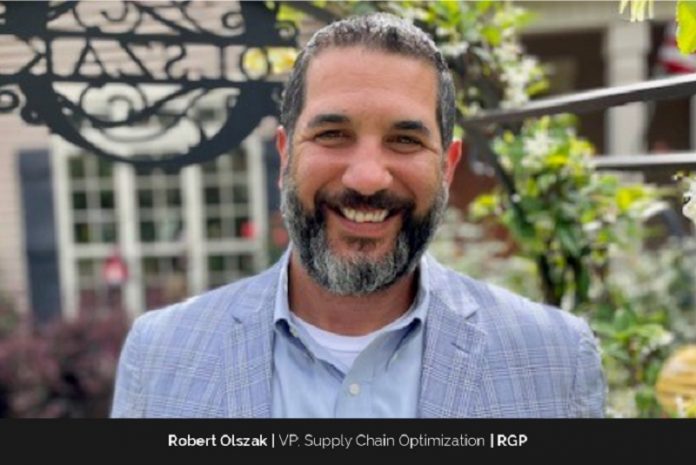 Deeply committed to tackling complex client problems, Robert Olszak has expertise in delivering customized solutions that draw upon his extensive supply chain subject-matter expertise. He desires to optimize business performance, enhance the customer experience, reduce costs, and achieve operational excellence. With a focus on practical and sustainable solutions, Robert brings a wealth of experience to bear on each client engagement, always seeking to understand their unique needs and develop tailored strategies to yield meaningful results. His dedication to his craft and clients is evident in his unwavering commitment to excellence and passion for solving challenging problems.
Over the last decade, Robert has worked in professional consulting, collaborating with over 60 organizations in various industries. His greatest achievement is the opportunity he has had to work closely with these clients, assisting them in solving complex supply chain problems and leaving a long-lasting and positive impact on their businesses and customers. He is also grateful for the work he supported and for being part of RGP's role in the global COVID-19 vaccine distribution. His efforts have earned him the trust and respect of some of the world's most exceptional business leaders, whom he considers his trusted advisors.
Currently serving as VP of Global Supply Chain Optimization at RGP, Robert finds great professional satisfaction in sharing his knowledge, experience, and subject matter expertise to help businesses tackle various challenges, doing so selflessly and with humility, guided by the principles of servant leadership.
Exemplary Work in Leadership Roles
Robert has held several key leadership positions, such as Chief Operating Officer, President, Vice President, Regional Operations Engineering Manager, Senior Manager, and Logistics Manager, prior to joining RGP. He has gained extensive knowledge in supply chain management operations and has been fortunate to have mentors who have challenged him and provided him with new career opportunities.
Prior to his tenure at RGP, Robert invested heavily in his education, earning a master's degree in business strategy and project management. Currently, he is pursuing a doctoral degree in Global Supply Chain and Logistics. He also delved into his passion for philosophy by studying the works of some of the world's most prominent thinkers. In addition, he read over 400 books on leadership, business, and supply chain management. Robert also dedicates his time to volunteering with local charitable organizations and his church outside his professional and academic pursuits.
RGP
RGP is a global consulting firm offering diverse services and solutions ranging from finance and accounting to business transformation, risk and compliance, project management, technology and digital, data management, and supply chain optimization. RGP operates in 48 countries worldwide.
RGP is a global consulting firm that enables rapid business outcomes by bringing together the right people to create transformative change. Robert shares, "We solve today's most pressing problems in Accounting & Finance, Business Transformation, Risk and Compliance, and Technology & Digital Innovation by harnessing the intellectual power of our workforce. Our engagements leverage collaboration to deliver practical solutions and more impactful results."
When engaging with clients, the RGP team considers various factors, such as the nature of their business problem, market dynamics, business strategy, and organizational culture. Based on these considerations, the team brings together the right individuals who can provide the necessary expertise to deliver results. It provides various project consulting services, including full-scale solutions or subject matter expertise to supplement existing teams. It works with clients to design the optimal solution to complex business challenges, making RGP the ideal strategic partner for the future of work.
End-to-End Global Supply Chain Solution
RGP invested in developing a comprehensive global supply chain solution three years ago. Robert was brought on board to play a pivotal role in building its supply chain services and solutions at RGP. Since then, the team, in conjunction with revenue partners, has grown the global supply chain solution into one of the fastest-growing segments at RGP, completing over 300 global projects with various types of companies.
Robert's contributions have been significant, including facilitating and participating in CPE events, being a guest speaker on multiple supply chain-related podcasts, publishing over 30 thought leadership articles, hosting professional webinars, and generating revenue contributions in excess of $29.3 million. He has collaborated with RGP marketing and other supply chain leaders to develop external marketing content, success stories, and articles for RGP's insights page. The positive feedback from clients and the delivery of quality and excellence have strengthened the value proposition of RGP's services.
Furthermore, Robert has been instrumental in partnering with other solution leaders to develop RGP's "Blended Solutions" model, which enhances the firm's value proposition to clients.
"The more I read, the more I acquire, the more certain I am that I know nothing." – Voltaire
Overcoming All the Adversity
Robert's life has been filled with challenges, ranging from personal relationships to school, work, and other aspects of his life. He has faced consistent adversity due to circumstances beyond his control or his own decisions. This has led him to experience more failures than successes, which has helped him gain valuable lessons and increase his self-awareness.
One of the most challenging moments in Robert's life was when he took the risk of starting his own consulting company. This experience forced him to confront his weaknesses and jeopardized his family's financial stability. However, this challenge also allowed him to grow more personally and professionally than in the 20 years prior. Robert now encourages others to embrace failure and challenges openly, as they are catalysts for individual growth and necessary ingredients for finding lasting success. He believes that the most valuable lessons one can learn are those that inform whom one becomes and how one finds peace in their own skin.
Prioritizing Values
"Each and every employee at RGP experiences and contributes to a work-life built on Loyalty, Integrity, Focus, Enthusiasm, Accountability, and Talent. These values come together to tell the unique story of LIFE AT RGP."
RGP employs a range of strategies to help executive leaders stay up to date with industry trends, global markets, and shifts in human capital. The company leverages its human capital intelligence and the expertise of its global consultants to support strategic initiatives and shape go-to-market strategies. RGP understands that its consultants are its greatest asset, providing value to clients by developing strong relationships, staying informed about competitors, and identifying future opportunities for competitive advantage.
The consultants at RGP possess a wealth of practical experience, deep functional expertise, diverse client experiences, and relevant domain knowledge, often with over 15 years of industry experience and many with 25 years or more. This depth of knowledge sets RGP apart from other consulting firms, enabling the company to take a "Sleeves Up Approach" to lead client engagements and deliver exceptional results. Overall, RGP's focus on its people and their expertise is a core driver of the company's success in the marketplace.
Aspire to Bring Change
Robert is passionate about driving change in three key areas: promoting the value of hard work and a strong work ethic, effecting positive change through service to others, and paying it forward by coaching, mentoring, and creating career opportunities for others. He believes his efforts can positively impact individuals and leave a lasting impact on those he works with. Robert understands the importance of influencing change through actions rather than words, and he avoids drawing attention to his accomplishments, preferring to let the quality of his work speak for itself.
As a father, Robert aspires to be a role model for his children by exemplifying the qualities of hard work, integrity, and humility. In addition to his professional pursuits, Robert is passionate about breaking the stigma associated with mental health issues, which he sees as a critical social issue requiring greater attention and advocacy.
"The greatest leader is not necessarily the one who does the greatest things. He is the one that gets the people to do the greatest things." – Ronald Reagan
Multiple Job Roles
A typical day for Robert is dynamic and varies, but it involves tasks such as meetings with global C-suite executives and other supply chain leaders to address ongoing supply chain challenges, emerging trends, and top-performing solutions. He collaborates with revenue partners and client relationship managers to identify new client opportunities and develop proposals or statements of work for new projects.
Additionally, Robert interviews new consultants and offers his subject matter expertise or leadership oversight for consulting projects, including formulating strategies, creating business cases, generating executive and analytical reports, and meeting with client stakeholders to review project performance.
Robert also participates in advisory calls with business leaders, sharing his knowledge and experience as a trusted advisor. He also works with other RGP leaders to assess revenue generation, profitability, budget performance, strategic growth, utilization targets, and account planning. Other activities may include preparing presentations, creating marketing content and thought leadership articles, and traveling to meet with new and existing clients to enhance business performance across the enterprise and increase market competitiveness.
Following a Well-structured Schedule
Robert perceives balancing work and personal life as an ongoing struggle. Juggling his job and pursuing a doctoral degree simultaneously has been one of the most challenging feats he has ever accomplished. Thankfully, he is blessed to have a supportive spouse who provides encouragement and understanding during his restricted free time. To recharge his batteries, Robert seeks relaxation by undertaking household tasks such as landscaping and gardening, home renovations, or working on other home improvement projects, which he finds deeply gratifying and helps him achieve the right balance, particularly given his hyperactive mind. Robert also enjoys spending time with his dogs, reading a thought-provoking book, or watching a movie.
Robert has developed a system of prioritizing his activities and adheres to a well-structured schedule, especially when working across global time zones. As for his team, including his direct reports and consultants, he believes in acknowledging their efforts. Demonstrating recognition is a critical component of his leadership style, promoting the achievements of his team members, valuing their contributions, and inspiring them to achieve greatness by demonstrating trust in their leadership abilities. He encourages his team members to step up and take center stage by creating opportunities for them to excel and contribute to the team's overall success.
Approach to Constant Growth
Robert is committed to continuing his contribution to RGP's growth and success by expanding the global supply chain optimization solutions, acquiring new clients, and generating additional revenue streams for the firm. Additionally, Robert has set a personal goal to complete his Ph.D. in Global Supply Chain and Logistics from Liberty University within the following year. He also aspires to publish a book in the next three years.
"To attain knowledge, add things every day. To attain wisdom, remove things every day." – Lao Tzu
His inspiring message to other leaders is to be the change they want to see in others, lead with both their heart and head, always be learning, and capitalize on the talents and expertise of others. To lead in the future, leaders need to think differently about how they will influence and inspire change by meeting people where they are while keeping in mind where they want to take them. Leading is a privilege that must be earned every day.
True Success 
Robert considers success in his personal life to be the continuous pursuit of learning, acquiring knowledge, and pushing oneself beyond one's limits. As a leader, he believes success lies in helping others grow and utilizing their abilities to the fullest. According to him, the ultimate measure of success is the positive impact one has on others' lives. This sentiment reminds him of a quote that has shaped his values and leadership style: "The service you do for others is the rent you pay for your room here on Earth," as famously expressed by Muhammad Ali.