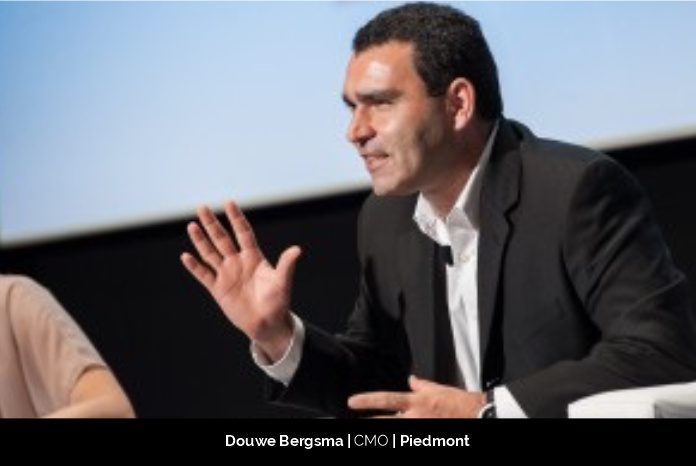 While working his way up, Douwe Bergsma, CMO of Piedmont, learned a crucial concept shared by Dr. Paul G. Stoltz. People are in three categories: quitters, campers, and climbers.
Quitters tap out either by situation or choice. They don't follow their passion. Campers, being in the majority, are satisfied with the status quo and not committed to embrace change or drive transformation. In contrast, climbers are the individuals who never seem to run out of gas and are always pursuing their purpose, working towards something greater.
Trying to be a climber himself, he is helping the organization achieve its goal and aim for higher. He adds, "Success for me is about helping the people I work with keep climbing or start climbing again, professionally and personally."
Climbing the ladder of success
Douwe was born and raised in the Netherlands and attended the University of Groningen. Having the eagerness to learn and progress further, he burnt the midnight oil and even participated in several extracurricular activities. His hard work paid off as he stepped into the corporate world with Procter & Gamble. He worked there for 19 long years, in which he went from promoting Vidal Sassoon Wash & Go hair care products to pioneering Shopper Marketing and leading the Pringles brand.
Gaining valuable experience and adding several skills to his armory, he took the onus of CMO at Georgia Pacific. He built and oversaw all the brand-building capabilities and efforts across all the iconic consumer mega-brands like Dixie and Angel Soft. After working there for nearly a decade, he felt the need to pivot away from his current domain so that he could climb higher and help people. He stresses the point by stating, "To keep climbing, I found myself wanting a more purpose-driven organization that could benefit from my skills, knowledge, and experience in consumer marketing."
Piedmont's purpose and vision drew him in. He expresses, "I saw an opportunity to make an impact and take it a step further along with my colleagues, to make a positive difference in every life we touch, and to transform the healthcare industry by focusing on clinical excellence paired with a hassle-free consumer experience. Healthcare patients are, in fact, consumers today, and our industry is ripe for transformation to deliver the expectations they deserve to have."
Getting stronger with the life challenges
Douwe believes that life challenges make people better and stronger. Coming from a low-income, immigrant inner-city neighborhood in the Netherlands, he had to cross several hurdles in the past. He watched some of his peers fall prey to life circumstances, going down the wrong path.
However, to avoid falling into the pitfall, he backed up his skills. He found out quickly that he was good in school and had the hunger to learn and improve his situation. He learned that it was necessary to adapt to the situation and create the best out of them to progress. He mentions a favorite quote by Charles Darwin, "It's not the strongest of the species that survive, nor the most intelligent that survives. It is the one that is most  adaptable to change."
He expresses that one should dare to see the opportunities hidden in the challenges and adapt to the conditions to climb the ladder of success.
Using smart strategies to fuel the growth of the organization
Piedmont is a destination that is synonymous with clinical excellence and a hassle-free experience that speaks to modern-day consumer needs and expectations.
Healthcare is complicated and stressful enough already, so at Piedmont, the team focuses on a much more consumer-friendly experience with the help of best-in-class facilities, tech, and providers.
Douwe adds, "I'm happy to say we've been an early adopter of cutting-edge tech and integration with advanced systems and, importantly, have operationalized it. I think a lot of industry peers look to us as an example of how to adopt, embrace and operationalize the tools that are out there to improve the overall consumer experience."
Moving forward, he is excited to pay that off even more and ensure consumers know what they should expect from a healthcare experience and how Piedmont is meeting and exceeding their modern-day expectations.
He expresses, "Our system is expanding – and fast. Right now, we are prioritizing seamless integrations with new partners and recent acquisitions (pending regulatory approval) on top of our organic growth priorities. It's my job to make sure our consumers clearly know what Piedmont stands for and why they should prefer and seek our services when they need or should need care."
Under Douwe's guidance, his team is creating a way to ensure that they know what they stand for, not just internally, but that the communities they serve should know why Piedmont is distinctive in the care and experience they provide.
Wearing the hat of CMO at the organization
As CMO of Piedmont, Douwe's responsibilities include everything related to internal and external communications, as well as marketing and physician outreach efforts. Basically, he deals with everything related to brand and communication.
While fueling the growth of the company, he welcomes the upcoming challenges and looks forward to rise to the next level and beyond with everyone.
Creating a balance has always given him a hard time, and the COVID-19 pandemic just made the situation even worse. With everything falling apart, it wasn't easy to keep everyone's morale high around him.
He adds, "When everything seems so overwhelming that it's hard to see where to start, I try to drive clarity on priorities for myself and my teams, defining "need to have" versus "nice to have." I also make sure my team members have the tools they need to be successful professionally, whether it's resources, technology, or funds."
Future prospects of the Piedmont
Piedmont's vision is to transform healthcare, creating a destination known for the best clinicians and a one-of-a-kind experience that always puts the consumers first.
He expresses, "For me, it's not only about creating that destination but, importantly, also about making sure that consumers are aware of and have an ongoing preference for that destination."
He wants Piedmont not only to become the best brand in healthcare in Georgia, but also to become one of the best brands in general.