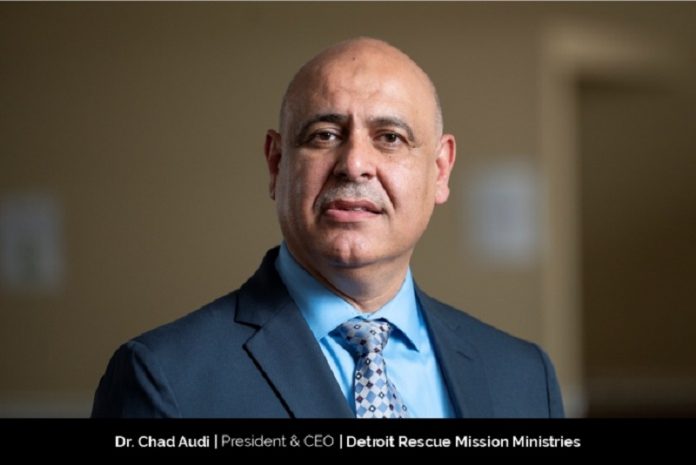 A dynamic and visionary leader has the capability to evolve with change and plan a course of action to take the company or organization to the next level by overcoming future challenges. One such gem is Dr. Chad Audi, President and CEO at Detroit Rescue Mission. Having vast experience in executive management, he has the capability to deploy smart and decisive strategies to spearhead a change even in tough circumstances with diverse groups of people. He leads the Detroit Rescue Mission, a leading nonprofit organization that tackles homelessness, runs social enterprises, provides skills development and job readiness training services, and is rated as the 13th largest inpatient, outpatient alcohol, substance abuse treatment, and rehab center in the US by US News and World Report.
Joining forces with Detroit Rescue Mission
Chad started off as a volunteer. He was inspired by the diligent and dedicated work of people like their former President and CEO, Don DeVos, and the success stories of men and women whose lives were turned around by such work. He had received a very good private-sector job offer and was waiting for the set time to start. Then, someone suggested he helps a nonprofit that had some challenges in their finance department. Chad adds, "I agreed. Don DeVos, the president and CEO, loved my volunteer work of putting their finances in order and wasted no time in offering me a job. But there was a problem. The job he offered me was paying far below my private-sector job offer."
This threw Chad into a dilemma. So, he sought guidance from his dad who was his mentor too. His dad encouraged Chad to take the nonprofit job offer and harped on the inestimable value of helping the less fortunate in society. Chad states, "Looking back now, I am glad I listened to my dad. Working here at Detroit Rescue Mission Ministries (DRMM) these 24 years has been fulfilling. Every day, I feel I am doing exactly what I am called to do – to provide difference-making help to Detroit area individuals and families in dire need."
A unique approach to success
Chad believes that the concept of success is relative to each leader's orientation and experience. In his view, success is not a pie in the sky. It is something that is within reach of the clear-sighted, determined and resilient. He adds, "Success is a journey guided by a clear set of objectives." One attains these objectives along the way. He explains this with an example. "Let's say one wants to build a homeless shelter with a capacity for 300 guests. Securing land and city permits for the project is a success and so is getting the requisite financing for the project. Now, someone may counter by noting that the building is not yet in place. True, the building is still a matter of an architect's rendering, but the recorded micro successes are the pathway to the macro success one planned and hoped for. They individually and collectively encourage one to keep on with the journey towards the big success."
Chad sees small successes as helpful indicators and, of course, conveyors of hope for the marquee success that is often publicly celebrated. Even he advises his mentees and team members never to ignore the small successes, which he thinks should be celebrated. He mentions, "Every big success I know is built on small successes. To someone who wants to earn a terminal degree, a first degree might be a small success, but it is necessary for undertaking a master's degree and afterward a PhD program. They happen at different times but are interconnected. One success leads to another, and another."
Tunneling through tough odds
Chad often imagines how boring, and less productive life would be without challenges, big and small. Before he became president and CEO in 2004, the organization had some difficult payless months. Chad was then the chief operating officer (COO) with oversight of the finance department. So, he had to work with his team to develop a financial solvency plan that resulted in a healthy financial situation for the nonprofit.  He promised his team at that time that he would never allow such a situation to repeat itself, and he deployed smart plans to make sure of it. He adds, "Like other direct service nonprofits, we have faced a myriad of challenges and have used all the good tools at our disposal to overcome them. Thankfully, we have wonderful donors and volunteers here in Michigan and other states, and our staff are among the most qualified and dedicated you will find anywhere. We are proactive, adaptive, collaborative, and productive."
Overview of Detroit Rescue Mission Ministries and its services
At DRMM, the team serves all from infants and youths to seniors. In fact, they have children born at their women and children facilities. Their services include emergency shelters, hot meals, case management, counseling, skills development, job placement, food distribution, youth camping, withdrawal management, substance use disorder treatment, returning citizen programs, and rehabilitation for Veterans. Chad states, "Every day, more than 2200 individuals and families depend on sundry services at our 18 locations in 5 Michigan counties." Besides this, since the COVID-19 pandemic started in the first quarter of last year, they have stepped up their food and educational toy distribution in various communities, leveraging their good relationship with police departments, fire services, and mayors' offices.
For the residents who receive shelter services, the team provides healthy meals and an opportunity to maintain healthy hygiene with proper shower and decent clothing. Chad adds, "A healthy, nourishing meal could be the first step towards long-term recovery and a healthier, stable life."
Moreover, DRMM offers both transitional and permanent housing to prevent any return to homelessness and addiction. From homeless veterans to men seeking recovery from substance abuse, from women struggling to make ends meet to homeless women with children, the team aids everyone in need. On top of this, DRMM offers two prime programs to help people struggling with addictions.
Carving the Success Route
Ever since Dr. Chad became President and CEO in 2004, the organization has witnessed a tripling of its budget, donor and volunteer base, and community partnerships, as well as the number of programs, guests, locations, cities, and counties. For a 1909-founded nonprofit, this rise marks the excellent vision that made it reach success with the combined and determined efforts of team members. They are also proud to have received six successive 3-year CARF accreditations, and to have been rated by the US News and World Report as the country's 13th largest inpatient and outpatient substance abuse treatment center.
Values form the basis of each organization and are crucial to follow the right path toward the shared goal. Team members realize that all this success is possible only because they all prioritized fiscal responsibility, transparency, and upholding the dignity and respect for everyone they served. Moreover, they have a deliberate policy to never turn away anybody who comes to their doors for help. Dr. Chad adds, "We do all we can to provide the services they need, even if they come to us at midnight or on a stormy day."
These values are deep-rooted in all team members and govern their actions so that they keep on treading the same path for further growth and empowerment. As an evangelical Christian nonprofit, their main value remains to be good ambassadors of Christ, sharing his love readily and freely with everyone around them in both words and actions. As a result, they strive each day to meet their mission of providing food to the hungry, shelter to the homeless, clothing to those who lack them, and different household items to those who require them.
With the help of their several service locations for women with children, single women, and single men, returning citizens, Veterans, and so on, they are able to contribute toward this goal in a better way. Not just the basic amenities, they also have substance use disorder (SUD) treatment sites for both men and women located in multiple locations. In this way, they can easily deliver premium quality service in a suitable environment.
Emerging as a Compassionate Leader
Being the President and CEO of Detroit Rescue Mission Ministries, Dr. Chad fulfills the main responsibility of maintaining the smooth overall health, wellbeing, and progress of the organization. Therefore, to cater to all the needs, he always focuses on four questions. How do they get the best support from institutional and individual funders to ensure the excellent running of their 24+ programs? How do they maintain the best relationships with their partners, both public and private? How do they get and retain the best talents at all levels of the organization? And how do they ensure all the departments and service delivery sites are operating at their optimal capacity? In managing all this, he draws from the support of a plethora of reliable men and women on his leadership team whose work help to assure that DRMM is performing all operations brilliantly and serving its populations excellently.
Dr. Chad's proven leadership and community impact have been recognized by cities such as Detroit, Highland Park, and Dearborn, the State of Michigan, the US Senate, the US Congress, and the White House as well as well-renowned community organizations. He has earned recognition and respect from different facets of society. However, he adds, "My proudest moment is when an individual or family that came to us homeless, hungry, and hurting testifies that they are now stable, living in a home, gainfully employed, and self-reliant. That makes me so happy and fulfilled. You can't place a price tag on that. It is more than gold."
Balancing roles with finesse
As a famous scripture mentions that there is time for everything under the sun, the reality also lies in the same fact. Thus, Dr. Chad always creates quality time for family even when there are numerous responsibilities at work to be fulfilled. He states, "Ours is a stressful and very demanding work, but a clear understanding of who needs us, and why and how they need us keeps us focused and motivated."
Explaining with the help of an example, he says if for any reason, their shelters are closed today, all the men, women and children therein will return to their former state, which is hopelessness and homelessness on the streets of Detroit, Highland Park, and Port Huron. And that is one of the many thoughts that keep him and his team motivated. They would not give up on their hard work and dedication, and would never let such a scenario be their future. Dr. Chad knows that everyone will stay ready to make all the necessary sacrifices for ensuring that all the vital services reach the target populations at the right time and place.
He further states, "Thankfully, my family members are regular volunteers who strongly believe in the work we do here at DRMM. So, they support me every step of the way and help me do what I must do to help those in need."
Bright Future Planning
To meet the increased needs of the hungry, homeless and hurting populations since the start of the COVID pandemic, Dr. Chad and his team have opened new locations in the Detroit area. They are also super excited about their advanced stage plans and collaborative arrangements to open a well-equipped new location in Livonia to cater to seniors.
After all, as he puts it, "My personal goals are to serve as many disadvantaged and disenchanted persons as possible, and to help prepare the next generation of leaders to continue that invaluable act of goodwill and compassion."
He firmly believes that leadership without goodwill and compassion is nebulous. And with a deep sense of responsibility, he always shares this simple yet powerful message with upcoming leaders, reminding them that "You know a leader by the positive differences they have made in society."