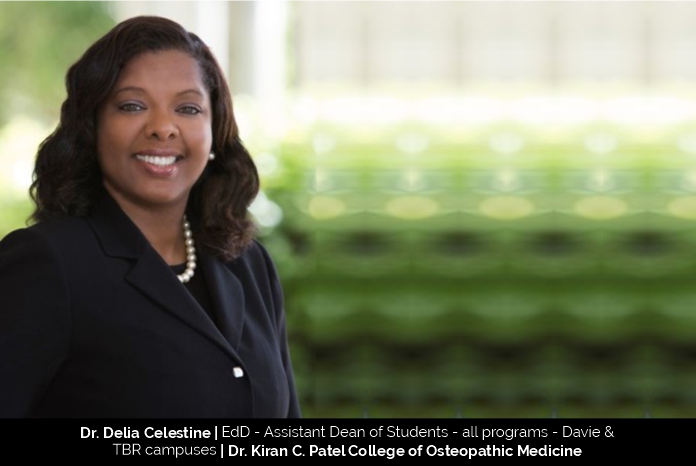 Like everything else in life, education has changed and will continue to change. Educators now accept the fact that students learn differently therefore they must be adept at presenting information in a variety of ways. Technology assists us in being able to share information and the understanding of concepts by utilizing recorded videos, 3D visualizations, lecture recordings, simulated scenarios, etc. There is now an entire industry dedicated to the development of educational gaming, apps, etc. to assist in the learning process.
Dr. Delia Celestine is an adept educator and having years of experience in the sector where she has delivered commendable work through her teaching and research for the betterment of students. She is the Assistant Dean, Students and Assistant Professor at Dr. Kiran C. Patel College of Osteopathic Medicine.
Dr. Celestine started at KPCOM (then NSU-COM) seventeen years ago in the admissions department. Admissions are fast-paced and require interaction with a variety of people.  Dr. Celestine had not worked in admissions before she saw it as an entryway back into higher education after her relocation to Florida. She enjoyed the work and did it for almost two years. After that, she accepted a position in the Rural/Underserved Medicine department. This was closer to her training in Public Health, as it addressed working with medical students during their time serving underserved populations.
During her work, Dr. Celestine travelled the length and breadth of Florida visiting each location where the KPCOM students were assigned. She recalls, "I thoroughly enjoyed the students and thought about why some of them flourished in these environments and why others did not." This particular experience led Dr. Celestine to seek a doctoral degree with her dissertation focusing on physicians' choices of work environments/populations. She also began teaching in the MPH program by this time. She was then tapped to serve as the director of KPCOM Graduate Medical Education programs where she switched from working with students to working with residents. At that time, KPCOM was responsible for maintaining the accreditation of all affiliated residency programs and starting new residency programs. Dr. Celestine was promoted to the Executive Director and then the Assistant Dean of Graduate Medical Education after five years. She asserts, "Then shortly after Dean Wallace took over the helm at the medical school, she tapped me to serve in my current role as Assistant Dean of Student Affairs. I have been in this position for five years now, and I can honestly say that everything that I learned from all other positions is helpful to me in this role."  
She deems, "My vision is that education becomes more equitable and accessible for all students. I pray that this begins at the pre-K level and goes all the way to professional schools." 
Before Joining KPCOM
Before KPCOM, Dr. Celestine worked in a variety of roles. She worked for a pharmaceutical company in corporate America. For her working in the corporate culture was exciting, fast-paced, but not very fulfilling. She completed her Master of Public Health degree in night school in pursuit of more fulfilling work.
As per Dr. Celestine, her experience at NYC as a Health Educator was the biggest career turning point that sharpened her teaching and administrative skills. There she had to develop and implement a variety of educational programs for different populations. She says, "After the birth of my daughter, the public transport commute to NYC was no longer attractive, and I moved on to working in a medical school in the educational development resource unit. This was my introduction to medical education and preparation for my later work at KPCOM."
Lessons that Give Strength 
Challenges offer an opportunity to grow, to expand the vision, and to keep humble, all at the same time. No one is perfect, and challenges are a reminder of that. Out of that imperfection, with persistence and hard work, challenges can be overcome. Dr. Celestine says that her challenges ended up being instructive to her. She finds herself grateful for the challenge of figuring out how to work full time as a Director who travelled for her work, complete her doctoral degree while making sure that her home life was intact. This included two school-aged children who were involved in time-consuming extracurricular activities. Going through these challenges, she learned to coordinate schedules with other working parents, learned to delegate, plan down to five-minute increments, be creative, and learned about her strength. She adds, "These were valuable lessons that serve me today." 
Challenges during Pandemic
The disruption of the pandemic demands that education engage in rapid experimentation, creativity, and change. At KPCOM, technology played a big role in the educators being able to successfully manage the situation. The college's educators were able to deliver lectures via Zoom, hold small group sessions using breakout rooms, harness online resources, etc. Dr. Celestine deems, "Our success hinged on our students' comfort with technology and their ability to adapt quickly. Most of our students are from Generation Z, are digital natives, and not afraid of technology." She includes that another aspect of the pandemic that the educators had to address was dealing with students' mental health status and providing spaces for them to share their concerns. To address this, KPCOM implemented weekly meetings with the student leaders and Dean Wallace along with other Assistant/Associate Deans. In addition, advisors kept all appointments with students using Zoom.
As the Assistant Dean of Students
Being an Assistant Dean of Students, Dr. Celestine is responsible for making the Office of Student Affairs functional. This includes serving the non-academic needs of students, providing support to them, and executing the Dean's student-centered vision in everything that the college does.
The day begins either with standing administrative meetings, committee meetings, or staff meetings, followed by reading and responding to emails. Almost every day, Dr. Celestine also has scheduled meetings with students to attend to their needs. This can range from individual students coping with their struggles to groups of students involved in clubs/organizations. Before covid, there was also always a flurry of activity in the Office of Student Affairs with planning for events and celebrations. That has halted due to the coronavirus. In addition, there are always reports to write, new initiatives to work on, and based on the time of year in the academic calendar, time-sensitive duties for the Office to accomplish (registration, onboarding new students, course maintenance, conferring degrees, roster reconciliation, etc). She asserts, "I am on the phone/Zoom throughout the day with the other Assistant/Associate Deans- we work as a close unit. I usually end the day again with either an Office meeting or a meeting with one of the Office directors. I think that the word that could be used to describe me is organized." 
Maintaining Balance  
"Balance is extremely important to me, and I work on maintaining it," says Dr. Celestine. According to Dr. Celestine, being in medical education; her work is demanding, and she has become intentional with her choices and time. She asserts, "Children are the ultimate reality check because they are honest. Whenever work seemed to overtake my consciousness, interactions with my children served to refocus." Being motivated is easy at KPCOM because it is full of energy, new ideas, and new initiatives.
To bring balance between life and work, Dr. Celestine has surrounded herself with a cadre of friends with whom she and her husband socialize. The group takes vacations together, babysat each other's children, and celebrated life's milestones together. She adds, "They have become family to me and serve an integral role in keeping me balanced and happy."
Success; Connecting with Inner Self
Success includes being happy with one's personal life, family life, and professional life. Dr. Celestine comes to this understanding through her own life lessons along with career and personal growth and development. She thinks that because human beings are such complex creatures, success cannot be measured by any one criteria. She opines, "Success is as complex as we are and varies for each one of us. I thrive when I am spiritually grounded, when I am healthy, when I am socially engaged, when my family life is good and when my professional demands are being met, and I am growing and learning all at the same time. It is a balance that I strive for every day in multiple ways." 
Plans for Future
Dr. Celestine's plan for KPCOM is to welcome the students back to campus and resume events and extracurricular activities. There is a White Coat ceremony to be hosted along with other important milestone events that were missed due to covid. Tampa's inaugural class graduates in 2024 which is another milestone for KPCOM that Dr. Celestine's is anticipating.
For the future, Dr. Celestine's idea is to continue her work with the committee at KPCOM to provide pipeline/pathways for more underrepresented students to attend medical school. She says, "My goal as an educator is to continually learn about our students and provide the support that will assist them in reaching their goals. I am in the business of helping students become better versions of themselves while fulfilling their lifelong dreams and serving the public all at the same time. It is exciting indeed."