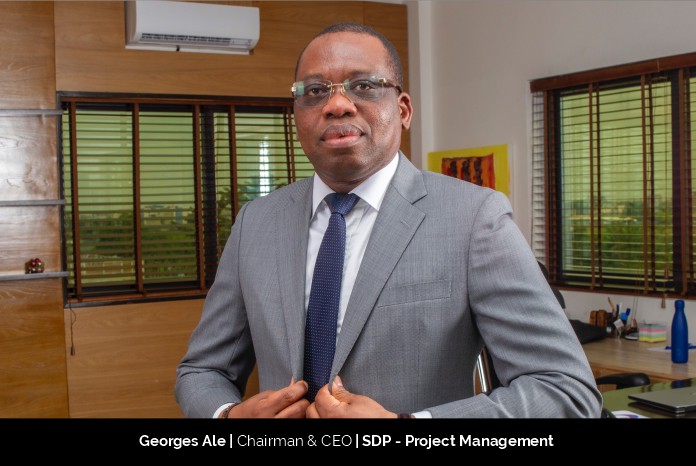 Georges ALE, a distinguished scholar with an impressive educational background in civil engineering (Ph.D.) and an MBA from INSEAD, has carved a niche for himself in the construction industry over the past 25 years. Having successfully led several large projects and subsidiaries under the umbrella of renowned construction companies like VINCI Construction, VINCI Concessions, and Colas across Africa, the Middle East, and France, Georges's latest achievement is his recent stint as Managing Director of Colas Africa.
In a bid to address the dearth of specialized infrastructure project management structures in Africa, Georges launched SDP, a project development company, in 2021. Drawing from his wealth of experience, Georges identified a gap in the African infrastructure development sector, which inspired him to establish SDP, a one-of-a-kind firm that will revolutionize project development in Africa.
Stepping into His Entrepreneurial Journey
Georges initiated the development of SDP after conducting a SWOT analysis of various stakeholders in Africa's construction industry. The statistics revealed that over 80% of infrastructure projects failed to meet their objectives in terms of quality, cost, and timely delivery. SDP aims to address this issue by reducing failure rates in countries that face significant infrastructure demands but have limited resources.
Another key finding was the lack of local capacity in the African construction industry, resulting in a small market share for local companies. Additionally, there is a low percentage of structured projects in the financing landscape in Africa. To improve this, the private sector needs to play a more significant role, but this requires better legal frameworks, asset protections, and a greater understanding of structured financing mechanisms by local private actors.
Georges has encountered numerous challenges throughout his career, including frequent relocations, multiple job transitions, and working in a multicultural environment. However, his greatest challenge to date has been launching SDP in 2021. To pursue this endeavour, he left a comfortable executive role in a large corporation to create a startup dedicated to providing intellectual services in an industry that places a significant emphasis on tangible results.
In this capacity, Georges was responsible for structuring the company's offerings, defining an appropriate organizational structure, recruiting a diverse team, and providing training in the field of infrastructure project management. Additionally, he was tasked with building a comprehensive database of experts in all areas related to the development and construction of major infrastructure projects, covering all phases, from identification and feasibility studies to technical design, financing, construction, and operation. Overall, Georges faced several challenges while launching SDP, but he was able to successfully overcome them through his hard work and dedication.
Leading in Infrastructure Project Management in Africa
SDP is a global consulting firm specializing in infrastructure project management. Its team of consultants includes engineers, financial analysts, and lawyers who work together to provide top-notch intellectual services to public and private clients in Africa. SDP offers project management assistance and consulting services in project finance and the implementation of public-private partnerships.
SDP's mission is to collaborate with project owners, both public and private, to help them plan, coordinate, and monitor the execution of their projects. Its services can be enhanced to include Project Management Office (PMO), Planning, Piloting, and Coordination, and 360° project audit assignments. It is concerning to note that failure rates for projects in Africa are very high, exceeding 80%, whether it be in managing deadlines, costs, or infrastructure quality.
SDP aims to reduce these failure rates for both private industrial project owners and the public sector. Additionally, it provides assistance to companies with their restructuring, the transfer of skills, project management, and the implementation of operational procedures.
SDP plays a critical role in promoting controlled and sustainable infrastructure development in Africa by prioritizing local capacity building and addressing important issues such as digital technology, climate change, and ethics.
Georges envisions SDP becoming a reference firm in Infrastructure Project Management for Public and Private Clients in Africa by 2030. The company's core values of ethics, competence, benevolence, and exemplary leadership guide all its activities and team management. By adhering to these principles, SDP is well-positioned to achieve its goals and make a meaningful contribution to infrastructure development in Africa.
Demonstrating Expertise and Professionalism
Georges is delighted that in just over a year, SDP has earned the trust of several companies who approach him for restructuring assignments to improve their operations and organization. Additionally, these companies have entrusted SDP with managing certain projects in their portfolio.
Moreover, governments, industrial, and mining companies have also placed their trust in SDP to help them define, design, and manage the implementation of their investments. This is a testament to the expertise and professionalism of SDP's team and the quality of services provided. Georges is proud to see his vision for SDP becoming a reality and looks forward to continuing to make a positive impact on infrastructure development in Africa.
"Success is the final output of a series of failures, we get there by staying in the course and never giving up. Being focused, working hard and leading a good team," says Georges.
Solutions to Improve Infrastructure Development Processes
Georges recognizes that cost and time overruns have unfortunately become a norm in the construction industry. He believes that analyzing costs can be viewed from two perspectives. Firstly, there are intrinsic costs that are compared to other places in the world, and projected costs taking the same ratios outside Africa into account. Typically, construction costs are divided into three main categories: 40% for materials and supplies, 40% for equipment, and 20% for personnel (including workers and supervisors). However, much of the equipment and human resources needed for construction projects are often imported, resulting in significant logistics costs. Therefore, construction projects tend to be more expensive in Africa compared to other regions.
Secondly, compared to the already high projected costs, there are cost overruns linked to project management defects that lead to poor coordination and significant time overruns. These issues result in increased costs and delays that are detrimental to the success of projects. It is essential to address these challenges to improve the infrastructure development process in Africa.
SDP also recommends the implementation of digital tools to improve project management and reduce costs and time overruns. The use of Building Information Modelling (BIM), for example, can allow for better coordination and collaboration between all stakeholders involved in the construction process. SDP also recommends the establishment of proper risk management strategies to identify and mitigate potential risks that may lead to cost and time overruns. Additionally, the establishment of effective contract management mechanisms can help to ensure that all parties involved in a project are held accountable for their actions and that the project is delivered on time and within budget.
Highlighting Global Efforts to Accelerate Infrastructure Development in Africa
According to Georges, there is a growing global awareness in the industry about the urgent need to accelerate infrastructure development in Africa, including the efforts of the Chinese Belt and Road Initiative (BRI) program. Europe has pledged to mobilize $150 billion at the 2021 Europe-Africa summit, and President Joe Biden recently announced a plan to mobilize $600 billion by 2027 for infrastructure development in developing countries at the G7 meeting. Although these are currently only pledges, there is expected to be a significant influx of multilateral funding. This presents both opportunities and challenges, as weak local capacities may struggle with the implementation and management of major projects. The construction sector is expected to remain active and attract international players from around the world, but there is a need to develop local actors. The adoption of digital technology in project implementation will greatly impact the way in which projects are carried out, which is positive news.
Supporting for Access to Private Financing
Georges highlights the issue of access to financing, particularly the increasing importance of private financing. Improvements are needed in legal frameworks to secure transactions, better feasibility studies, and greater knowledge of structured financing mechanisms by African stakeholders. The construction sector in Africa faces major challenges, some of which Africa should take a leading role in addressing. The volumes of data generated by construction activities are enormous and currently underutilized. Digitalization, artificial intelligence, and the use of BIM or CIM can help infrastructure managers build large databases useful for new projects. The use of local materials is also a major challenge, and better connections must be established with universities and research centers to strengthen human capital and develop frameworks that align with local technical and environmental realities. Local capacity building in the construction sector must be intensified. Climate issues, including high CO2 emissions from construction, must be addressed. Ethical issues and effective compliance procedures are critical to fighting corruption in the sector, as are issues related to controlling deadlines and costs and more generally managing construction projects.
A Symbol of Leadership and Inspiration
Georges was honored to receive recognition from the President of the Republic of Niger, who decorated him and elevated him to the rank of Officer in the Order of Merit of Niger. The President mentioned that Georges symbolizes the ideal model of a leader that they wish for the youth of Niger and Africa – successful, unifying, innovative, and committed. This was a proud moment for Georges, and he remains dedicated to Africa, and in particular, his home country of Benin.