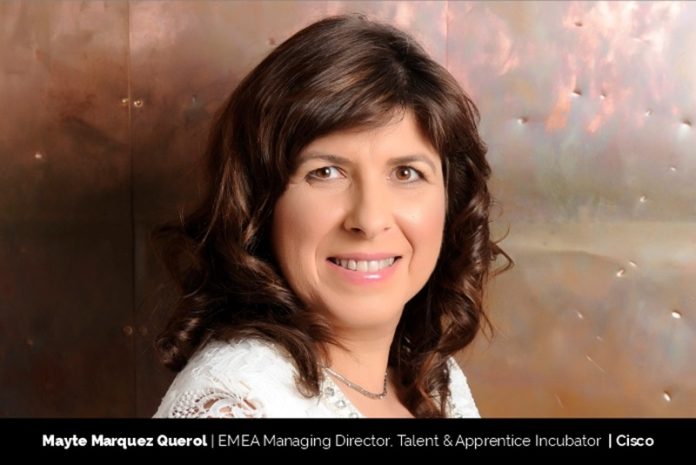 Mayte Marquez Querol, the EMEA Managing Director, Talent, and Apprentice Incubator at Cisco, has earned a place among "The Most Admired Women Leaders in Business, 2023." She stands in the spotlight due to her extensive experience as a business and technology leader on a global scale. Her driving forces are customer success, business outcomes, and effective people leadership.
When asked to describe herself in one word, Mayte chooses "PASSIONATE." She firmly believes that passion is a prerequisite for thriving in one's work. And it is something she follows in her professional life religiously.
As we know, there is a difference between a boss and a leader. While a boss wields authority through hierarchy, a leader inspires and guides through a compelling vision and personal example. Mayte clearly belongs to the latter category. To her, "Success is a team sport. Without the team, you won't succeed. You have to work together and push boundaries of the unimaginable together, and only then will you win and reach new records together." She parallels the Olympics, where individual and team events occur under one flag. The win is not solely the athletes' victory but the culmination of collective efforts, requiring significant physical and emotional support. Her philosophy emphasizes: "You need 'stretch' and 'support' with equal strengths. And you need to go out of your comfort zone because if you don't, you won't be able to grow to your full potential." She underscores the importance of embracing failure as a steppingstone to success, a fundamental principle propelling one to break new records.
One of the standout moments in Mayte's career was her leadership role in building Cisco House for the London 2012 Olympics. This experience allowed Cisco to showcase its transformative capabilities globally and underscored the company's culture of relentless innovation. She feels privileged to have been a part of this remarkable endeavor.
An Overview of Cisco and its Services in the Era of Transformation
"Cisco is undergoing a massive transformation, and I am so happy to be part of our evolution," Mayte notes. "We are fortunate that most of the world's innovative brands chose to partner with us to realize their digital transformational goals. They recognize us and trust us."
Mayte is a member of the Customer Experience (CX) organization, which is dedicated to delivering an exceptional experience to both customers and partners. Their approach involves providing expert guidance and data-driven insights to enhance security and facilitate seamless connectivity, enabling purpose-driven innovation. Cisco occupies a central position within an increasingly interconnected ecosystem. Leveraging the power of their platforms, diverse portfolio, and experience-centric approach, Cisco empowers its customers and partners to streamline their digital transformation efforts, ultimately unlocking the full potential of their interconnected world and fostering inclusivity for all. Expressing her perspective, this seasoned executive emphasizes that their mission extends beyond merely selling technology. Instead, they collaborate closely with customers and empower partners to craft strategies to establish robust, sustainable, and secure networks.
Mayte's Transformative Leadership Journey at Cisco
For Mayte, it's a worldwide odyssey within a single company. She reflects: "I see it as a global journey with one company and yet many careers. In my 25 years of service at Cisco, I have been in 11 challenging roles, each enabling me to learn and grow, and I have been fortunate that I have met incredibly talented people along the way."
This adept professional has lived on different continents and worked locally in all three Cisco regions in her Cisco career, making her more culturally aware. It has been a transformational leadership journey marked by innovation and the successful introduction of new capabilities.
She conveys that despite Cisco's vast organizational size, it fosters an entrepreneurial spirit, and she stands as evidence of this ethos. Mayte has had the privilege of spearheading groundbreaking initiatives within Cisco, such as the inception of the pioneering Global Operations Backbone Shared Services and the distinctive role of leading the inaugural Cisco Pavilion at the World Expo in Shanghai in 2010.
Mayte has gained significant exposure and insights into Diversity, Equity, and Inclusion (DEI) initiatives. Cisco's inclusive culture and sense of purpose have driven her enduring commitment to the company. Cisco's original Proximity program, launched in 2019, plays a central role in its mission to 'power an inclusive future for all.' This program enables leaders to connect closely with underrepresented identities within the organization, gaining a deeper understanding of unique challenges, perspectives, and experiences. The goal is to inspire new insights and drive meaningful action, providing a fresh perspective on the organization.
"It was eye-opening for me," she says. "I often think about Proximity like this; it is similar to opening the curtains on a bright sunny day. When the light enters the room, it exposes the smallest details you wouldn't otherwise notice."
Leadership Initiatives Under Mayte Marquez Querol at Cisco
Under Mayte's leadership at Cisco CX, there is a strong emphasis on encouraging the growth and development of the next generation of talent in the region covering Europe, the Middle East, and Africa. She is pivotal in driving various strategic initiatives to achieve this goal.
One of the key areas of focus is nurturing emerging talent and acting as an incubator for Sales and Customer Experience (CX) roles. Cisco recognizes the value of diversity in educational backgrounds and skillsets among its talent pool. Mayte's role represents a significant strategic investment in the region.
Under her guidance, the brand has launched several initiatives to support and accelerate the growth of young talent. For instance, the Apprenticeship program provides on-the-job training. It has expanded to France after successful implementations in the UK and the Germany Dual Student Program, resulting in more than 300 early career professionals graduating into Sales and CX roles. This program not only attracts diverse young talent but also produces agile and change-ready professionals with a swift time-to-value.
Mayte has introduced a job rotations program, allowing talent to explore different business areas and broaden their skills and perspectives.
Additionally, under her supervision, Cisco has launched a new program to provide apprenticeship opportunities to displaced individuals in Europe, the Middle East, and Africa. With the support of Adele Trombetta, SVP, Customer Experience EMEA, the program has welcomed its first cohort into Cisco. This initiative showcases Cisco's commitment to making a positive impact and supporting individuals who have fled their home countries. The 2-year Apprenticeship program combines on-the-job experience with training, enabling participants to develop their skills and talents with the prospect of securing permanent positions at the program's conclusion. Mayte thrives in Cisco's culture of nurturing talent, fostering diversity, and making a difference in their communities.
Leadership Lessons Learned Through Challenges
Reaching to the top is not a cakewalk. One has to face certain challenges and successfully navigate their way through them. Cisco's Mayte Marquez Querol's professional journey is not an exception. She conveys that it's not always smooth sailing, with a key learning: the art of picking her battles as a leader.  She notes: "It is important for a leader to know when to let go. If you pick your battles carefully, you will be able to prioritize and focus your energy on what matters most – and direct your efforts towards high-impact areas instead."
With her innate passion and drive to make a positive impact, balancing priorities is a continuous learning, tremendously important to success.
Outstanding Leadership Accomplishment
Mayte believes her greatest achievement as a leader is positively impacting people and making a difference in their lives. She experiences a sense of fulfillment when people reach out to express how she has directly influenced their careers through her dedicated time and coaching. She firmly believes that 'trust is the cornerstone of this.' Over the years, she received numerous calls from many who expressed, "Your coaching is still with me after so many years." This recognition fills her with immense pride.
Paving the Way for Gender-Inclusive Tech Leadership
Thriving in an industry predominantly led by men has historically been a challenge, but Mayte sees positive change happening at Cisco. Their robust Diversity, Equity, and Inclusion strategy, deeply ingrained in the company's culture, is evident in their Executive Leadership's impressive gender balance, with a 50-50 representation. Mayte, however, doesn't focus on gender but on humanity, emphasizing her reputation for building diverse and inclusive teams as a key driver of success.
Cisco's commitment to diversity is further exemplified by its Employee Resource Groups, where this veteran leader actively participates. As the Executive Sponsor of Cisco Women in Science and Engineering (WISE), she leads a thriving, inclusive community dedicated to empowering women and girls in STEM fields within and beyond Cisco. Additionally, she supports initiatives like Green for Girls and Girls Who Code, recognizing the importance of igniting interest in technology from a young age. Mayte takes pride in being an ambassador and role model, inspiring young minds to consider a career in the technology sector.
Innovating Beyond Competition: Cisco's Vision for the Future
When questioned about the company's vision and strategy for the future, this seasoned leader boldly asserts, "My leadership style focuses on the customer and our talent, not the competition." She goes on to explain that their primary focus lies in addressing the core challenges faced by their customers, including cyber threats, application and data visibility, and operational efficiency within complex distributed environments.
Cisco is currently experiencing a dynamic transformation, and Mayte is thrilled to be an integral part of this journey.
She shares: "Our differentiation is built on a record of proven innovation, the trust of our customers, and unmatched global reach. Over the last four decades, the Cisco brand has become synonymous with delivering customer and partner outcomes on a massive scale." 
The Cisco team collaborates closely with their customers and empowers their partners to devise strategies that ensure their networks' resilience, agility, sustainability, and security. Customers express a desire for accelerated value realization from their investments in Cisco technology and other vendor solutions, along with the ability to swiftly implement new platforms and services across their organizations while minimizing risk. Mayte highlights that they meet these demands through their exceptional talent and dedicated teams.
Life Before Cisco
Before joining Cisco, Mayte's journey was marked by academic excellence and a thriving career. She proudly holds a first-generation Computer Science Engineering degree from the Polytechnic University of Catalonia, complemented by a Master's degree in Telecommunications, IT Audit expertise acquired at Ernst & Young (E&Y), and post-graduate certifications in IT Management. Her career included a standout role as a Principal Consultant at E&Y, where she honed her skills, and an exciting opportunity with Levi Strauss, leading their EMEA IT & Process Re-engineering teams, showcasing her leadership and change-driving abilities. These experiences paved the way for her impactful career at Cisco.
Mayte's Daily Agenda at Cisco
A typical workday for Mayte is a dynamic blend of activities.
She shares: "My day is nicely jam-packed from beginning to end, focusing on talent development, skill shortages, collaborating with leaders across functions, and innovating programs that differentiate Cisco in the eyes of our customers and stakeholders."
Mayte Mantra for Work-Life Balance and Her Motivation and Goal
Her mantra for work-life balance and unwavering motivation revolves around the concept of harmony. She seamlessly integrates her personal and professional life, viewing them as interconnected facets that complement each other. Mayte places great importance on her family, considering them her anchor and a source of strong support as she navigates her career on a global scale. Her driving force is a profound sense of 'Purpose,' inspiring her to excel in both her personal and professional endeavors, with a strong desire to give back to the world.
Mayte's personal goals revolve around finding meaning, relevance, and purpose in everything she does. The focus is on people, the business, and her potential global influence.
Message to Aspiring Businesswomen
Mayte emphasizes the significance of integrity and offers valuable advice to aspiring women in tech or businesswomen. She encourages them to stay true to their authentic selves and take pride in the reflection they see in the mirror. She urges them to embrace courage and ambition, wholeheartedly commit to their goals, and fearlessly pursue their dreams with sleeves rolled up and firm determination. Surrounding oneself with a supportive and believing community is crucial. Moreover, Mayte suggests becoming ambassadors of possibility, motivating the next generation and future generations. She advocates for sharing their experiences and inspiring young people, school graduates, and university students to take bold steps forward.
Mayte Marquez Querol concludes: "Everything is possible in the technology sector. It is an industry that is constantly evolving and an environment where you will always learn something new and exciting. You can make everything achievable with technology."