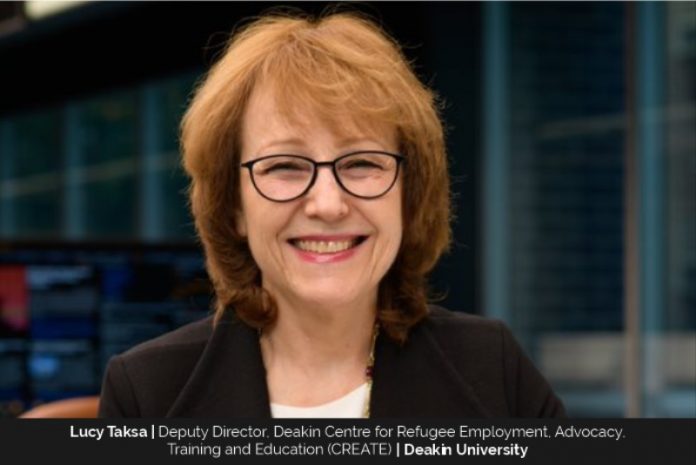 Professor Lucy Taksa, Ph.D., is the Deputy Director of Deakin Centre for Refugee Employment, Advocacy, Training, and Education (CREATE) at Deakin University's Faculty of Business and Law. She has worked at four universities in Australia and has been associated with two in France. In her long, illustrious career, through her research, publications, and reports, she has helped expand the understanding of how the organisation of work and management ideas and strategies impact not only employees but also managers and organisations.
Deans, HR professionals, and staff in Deakin's Faculty of Business and Law have responded positively to her recent research and publication on bias and how to address it. Lucy points out that they all want to overcome barriers and discrimination in employment and management. "The willingness of staff and managers to consider how inequities can be better managed at all levels in an organisation can improve the daily lives of employees – academics, leaders, and students," she adds.
Lucy adopts a collaborative approach in everything she does. In the Faculty and in CREATE, she develops structures, policies, and initiatives in collaboration with colleagues and the Director and staff of the Centre. As a research professor, she works on projects that seek to investigate and advance knowledge on the complexities of migrant employment, settlement, and ageing, issues relating to inequity, and diversity management that can have policy impacts through submissions to government inquiries. Lucy's personal goal is to contribute to better opportunities and outcomes for people, especially those who are disadvantaged by life circumstances.
Empathetic Leader, Shaped by Personal Experience
Many leaders struggle to express empathy. Lucy is not one of them. She attributes this to her experience as a child migrant in Australia. "I have also been inspired by my mother's inclusive orientation to people regardless of who they were or where they came from," she says. Her mother and her parents survived in far-flung parts of the Soviet Union, which were not invaded during World War II through a mixture of strength and resilience.
As an outsider, at a very young age, Lucy became aware of people who struggle with differences and exclusion. Because of that, she became more empathetic towards them. And she herself faced plenty of barriers during her journey to reach where she is today. Fortunately, there were people who offered her opportunities and support to circumvent every barrier. They inspire her as well.  And, inspired by them, she continuously works to pay forward to others.
Some of the roadblocks Lucy encountered included language barriers, lack of resources, and gendered social norms and stereotypes. "The most valuable lesson I have learned [from them] is that there is always an alternative pathway," she says. "One roadblock or closed door can lead to the discovery of new roads or to open new doors."
Stepping Into the Academic Field
Lucy's parents were strong advocates of education generally, and specifically for her as a young woman. At school, she had wonderful women teachers who reinforced this orientation. Later, both male and female academics at university stressed the importance of further education. And, when she won a scholarship for a Ph.D., it cemented her own fate as an academic. Lucy was still an undergraduate student when she started receiving opportunities to work as a research assistant. She says she was also lucky to gain work opportunities with a state government department and as a consultant historian, which gave her experience with external stakeholders in government and industry.
Lucy entered the academic field at a time when not many women worked as professors or held senior positions. However, her male professors were supportive and encouraged her in every way that they could. "My early academic jobs owe an immense amount to some wonderful male professors, heads of school, and deans who encouraged me to pursue my research interests and an academic career," she says. This encouragement made her realize the value of supportive colleagues and leaders.
Deakin University and Its Competitive Edge
Lucy began her role as research professor at Deakin University in 2022 and she was appointed Deputy Director of CREATE in June of 2023. The University is a leading tertiary education provider in Australia, offering globally connected education for the jobs of the future and research that makes a difference to its communities. It advances education through progressive, inclusive teaching, and ground-breaking research.
Deakin is known for its flexibility, which provides it with a competitive edge over other educational institutions. Lucy points out that the university offers a wide range of opportunities that would otherwise be closed by the operation of rigid rules and administrative structures that are found at other institutions. "This flexibility provides a foundation for creativity, innovation, and inclusiveness," she adds.
Deakin's staff, too, possess a flexible mindset. Because of that, they show a high degree of kindness and humanity that makes them appreciate and support each other. In turn, this approach is appreciated by students, their parents, and external stakeholders, which contributes to the excellent reputation that Deakin enjoys in Australia.
The University's academic staff provides world-class teaching across 4 faculties and 14 schools. Through teaching and research partnerships, its faculties make enduring contributions to local, regional, and global communities. And Deakin is committed to building a sustainable world through innovative research as is demonstrated by its aim to become carbon neutral by 2025.
Handling Several Responsibilities
At Deakin's CREATE, Lucy's input focuses on planning, strategy development, governance, and mentoring  particularly regarding matters such as research funding for societal impact and optimising national and international scholarly networks. She also focuses on her networks with industry and not-for-profit sector organisations engaged in supporting migrants and refugees.
In her role as Deputy Director, Lucy draws on her extensive previous experience as a director of two university research centres. These included the University of New South Wales (NSW) Industrial Relations Research Centre and the Centre for Workforce Futures at Macquarie University in Sydney. Lucy has worn many hats over the years. She was a member of the Equity Division of the NSW Administrative Decisions Tribunal, Chair of a government board – NSW Government Records and Archives – and a non-executive board member of Settlement Services International Ltd., which is one of the largest not-for-profit organisations in Australia supporting migrant and refugee settlement, employment, and out-of-home care. Lucy has also been a member of various advisory committees for NGOs in the fields of migration, migrants, and diversity.
At Deakin, Lucy leads by example. She ensures a culture of integrity in her team through role-modelling integrity, ethical practice and behaviour, honesty, openness, and kindness. Even though she handles several responsibilities, Lucy seeks to maintain a work-life balance by carving out time to "smell the roses" and taking opportunities to connect with the outside world, family, and friends. "I encourage colleagues to do the same as this helps to maintain perspective and motivation," she says.
Definition of Success Is Problematic
The dictionary defines success in terms of accomplishment of an aim, purpose, or desired result. Lucy finds this definition problematic. For her, success is not finite or focused on any one thing but rather is reflective of a life journey. She believes that at certain junctures, success may not be complete but still have a positive impact in the short, medium and longer term. "In short, a partial achievement of a goal may be all that could be realistically achieved," she says. "Sometimes success can come from what can be perceived as a preliminary failure."
Lucy has mentored many individuals. She feels a sense of success when those she has taught or mentored have their minds expanded or have achieved positive outcomes for their careers and lives.
In 2019, Lucy was named on the list of Australian Financial Review's 100 Women of Influence. She says that she felt honored and humbled to see her name among so many outstanding women who were making an immense contribution to Australian society. But, for her, this or other awards are not her greatest achievements.
When she sees the benefits of the initiatives that she has developed and implemented for her staff, colleagues and students, she feels a sense of achievement. And outcomes they achieve  provide her with personal feelings of accomplishment.
Helping Migrants and Refugees
Lucy is known for working to support migrants and refugees settle and have a good life in Australia. She does this work through two initiatives. One of them is the group mentoring model she helped to establish as an advisor for the Western Sydney Community Forum's Culturally and Linguistically Diverse Workers Mentoring Project, which enhanced knowledge sharing, networking, and professional development for the participants.
In addition to that, Lucy contributed to the Board of Settlement Services International Ltd. Over 7 years and the development and implementation of its Refugee Student Scholarship scheme. She explains that this scheme has enhanced refugee students' support for education that can lead to employment opportunities.
She also points out that there are immense opportunities to harness the capacities and skills of migrants and refugees in areas where there are skill shortages and aging populations. However, there are challenges that stop many from tapping into these opportunities. "The major challenge is ensuring that inclusion of diversity and acceptance of differences becomes the norm in Australia generally, and its workplaces more specifically." Lucy says.
She believes that influence of any sort requires commitment, passion, participation, engagement, and resilience in the face of indifference, ignorance, and opposition.
Bias Faced by Women Leaders
The late 1990s witnessed extensive initiatives for improving women's equity and career progression in academia in Australia, Lucy notes. However, the linear masculine career model still continues to dominate. It poses barriers for women who have taken longer periods of maternity leave. Lucy highlights that the long absence from work affects their research output capacity, profile, and reputation.
"Taking minimal maternity leave assisted my career progression and I have benefitted from numerous leadership role opportunities," she says. "However, gendered norms and stereotypes make it difficult for women to thrive in leadership roles."
She also points out that the 'mother' stereotype, in particular, continues to create a wide range of expectations and demands on women leaders to 'fix' things – such expectations are rarely imposed on or experienced by male leaders. Her research indicates that there is a need for more serious actions on addressing bias. It includes increasing accountability and responsibility for addressing it in the workplace and removal of the 'get-out of goal-free' card represented by the idea that it is 'unconscious'.
Lucy feels that no one should underestimate the value of women as role models for leadership. "So, for current women leaders to have an ongoing and influential impact on the next generation, serious attention is needed to address the intersecting gender and age biases that prevent their retention by organisations in older age," she says.
Message to Aspiring Women Leaders
Lucy's advice to women seeking to be influential leaders is look for opportunities to open doors and collaborate with others who share their values, concerns, and passions. "And pursue your interests, passions, and opportunities and be persistent – continuous efforts eventually bear fruit," she concludes.