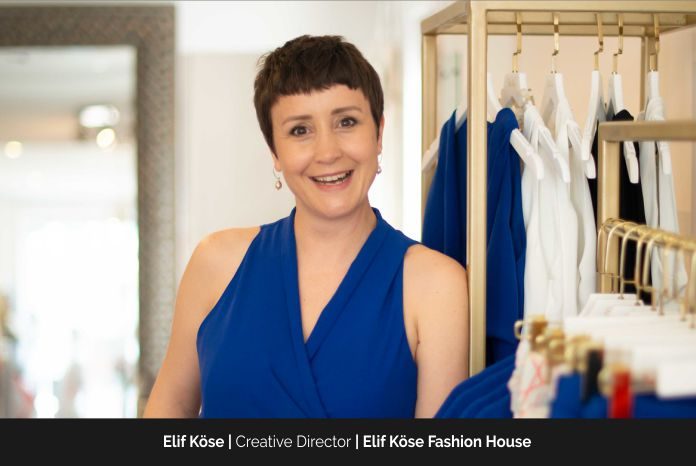 A multiple award winner Fashion Designer, Transformational Confidence Coach, and Founder of The Mira House, Elif Köse has dedicated her life to women's empowerment through all her business endeavours.
For some, success might be defined as acquiring a certain amount of wealth. For others, it might be becoming the CEO of a major company or being recognized for their accomplishments. But to Elif, the common thread that ties all these definitions together is achieving something one is passionate about. She believes that if you're not passionate about your work, then no matter how much money you make or how many awards you win, you won't feel truly successful. On the other hand, if you love what you do and are passionate about making a difference in the world, then even if you don't achieve all your goals, you'll still feel like a winner.
"Don't get caught up in society's definition of success. Define it for yourself and go after it with everything you've got! The sky's the limit!" exclaims Elif.
A step of faith to becoming a successful entrepreneur
When Elif decided to leave her home country Turkey as an 'Au pair' with £265, she couldn't even construct a sentence in English to ask for help. A lot of people told her that she was crazy. They said that it was a risky move and that she was sure to fail. But Elif knew in her heart that this was the right decision for her and she refused to let others dissuade her from her dreams.
Elif's intuition proved to be right. She seized opportunities, and started a mobile alteration service, followed by a shop, and then a fashion house. her business took off and became wildly successful. It wasn't always easy, but the sense of accomplishment and satisfaction Elif claims she felt when the business finally reached its goal was worth all the hard work.
"I know that leading a business to success is not an easy road to take – but it's worth it. If you're feeling inspired to take the step of faith and start your own business, don't let anyone stop you! Follow your heart, trust your intuition, and you'll be on your way to success. Just believe in yourself and be confident," says Elif.
The journey of a dream to reality takes sweat, determination, and hard work.
A young Turkish girl – speaking only a few words of English – arrives in Brighton with no more than a suitcase, a couple of hundred pounds in her pocket and a dream. Elif was on a mission to empower as many women as possible to help them reach their goals. It was her desire to live life the way she wanted, so she decided to escape a male-dominated society to be her true, authentic self almost 16 years ago.
Waiting for luck to come along and take care of her was futile. Elif started working as an au pair for a year and helped a lady who ran an alteration shop for pocket money. She later closed the business and moved to France. Her move led Elif to start her own alteration business as a mobile service on a bicycle she bought from a car boot sale for a tenner. It certainly sped up customer pick-ups (after all, there's only so much you can do on a bus!) and it was certainly the fittest time of her life.
Elif's confidence steadily improved – both personally and through her grasp of the English language. Soon she found herself gravitating toward many types of social and networking groups. An introvert by nature (no doubt influenced by her upbringing), that frustrated young girl inside her was finally given the chance to flourish and be.
Soon afterward, the alteration shop Elif used to work at came back on the market and she took over the premises. She then established herself with a boutique on a high street, where she created unique clothing and accessories to give women greater confidence through the outfits they wear.
"I have always put the customer first, and work tirelessly to come up with new ways to improve their experience. This commitment to excellence is what sets me apart, and it's why we continue to be a leader in our field. What motivates me the most is seeing women feel confident in all their endeavours," states Elif.
A women's wear brand empowering women through fashion.
Elif began her journey as a fashion designer in the UK, helping women find self-confidence through the power of fashion while ensuring the quality of her products was uncompromised. Throughout her entrepreneurial journey, she held countless women empowerment events and assisted many women to boost their leadership skills. Having studied business extensively, she is well versed in the business and uses her wide skill set to help business owners thrive.
Elif feels that it's her responsibility to empower women. "To those of you reading my story today who are harbouring their own hopes and dreams, I urge you to go out there and tell people who you are! Trust your intuition, be authentic, share your story and be visible!" she encourages.
Elif was interested in fashion since her childhood. Growing up in Turkey she drew inspiration from her mother and other successful designers. All this combined motivated her to start her own brand. During the pandemic, she went on a personal transformational journey, where the fear of having to close her shop led her to work on her skills.
Seeing how confidence in one's belief can transfer lives, Elif started coaching women while simultaneously running her fashion house. She became a certified transformational confidence coach and bought a retreat centre in her hometown to hold space for women to have the same level of transformation of gaining unshakable confidence that brings success in all areas of their life. She started coaching programs for aspiring and established female entrepreneurs, supporting them in unleashing their fullest potential so they can finally begin making an unforgettable mark in the world of business.
Elif's achievements as a businesswoman
From a journey that began in the UK for life experience and to learn English, Elif has gone on to achieve incredible success. When Elif set out on her journey in the UK, she had high aspirations to learn English to return to Turkey to become a CEO. Little did she know that life would take her much further and present opportunities beyond what she initially dreamed of! She has won multiple awards from best-dressed windows in the UK to Businesswoman of The Year in Southeast UK, Top 10 business coaches by Yahoo and Fashion Designer of the year – a testament to her hard work and dedication throughout her entrepreneurial journey so far. Although these accolades are satisfying, it's even more rewarding for Elifwhen she gets to help women build confidence both inside and out giving them greater fulfilment within their own lives through her transformational coaching.
She's achieved the extraordinary while inspiring others; truly embodying success with purpose! Her inspiring story proves that with determination and hard work you can achieve anything!
Responsibilities as the Creative Director of Elif Köse Fashion House
Elif is an Empowering Fashion Designer dedicated to delivering the best services for her clients. She understands that staying up to date with trends and colors is essential in order to create a new collection targeting women from all areas of life, be it stage performances or board rooms. Her approach towards keeping herself and her employees motivated focuses on planning ahead, regular meetings, celebrating successes together as well as taking responsibility when mistakes happen without playing blame games. On top of being devoted to running a successful business endeavor Elif always puts family first!
Never underestimate the power of fashion!
Elif Köse Fashion House is the destination for female entrepreneurs who want to make a powerful impression! Elif knows that style can be so much more than just clothing – it's an engine of self-empowerment and inspiration. To every businesswoman out there, she says: "You have the power to express yourself through fashion – don't let anyone tell you otherwise. Dress in what makes you feel confident and capable, because when your wardrobe reflects attitude people will pay attention!"