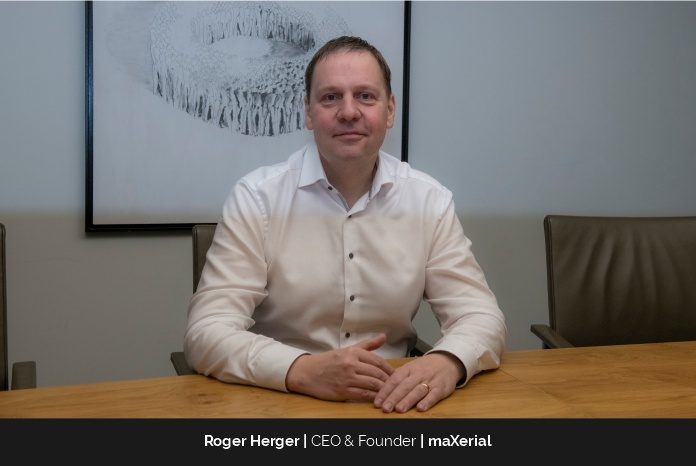 X-rays have been shown to be an invaluable tool in materials research: More than 20 Nobel prizes in physics or chemistry have been awarded for X-ray studies since 1901. It goes without saying that X-rays have had a significant influence in the realm of medicine. This success is fuelled by X-rays' capacity to interact with matter in a non-destructive manner. As industrial goods become increasingly high-tech and costly, their component material systems become more complicated, necessitating the use of high-resolution non-destructive testing procedures. Then there is X-rays. We are seeing a surge in the use of X-ray technology for industrial testing and inspection jobs, thanks to the production of high-quality X-ray analytical equipment. That's what the 'X' in "maXerial" stands for.
maXerial's CEO and founder is Roger Herger. Roger has a scientific background in X-ray analytics and has worked in the sector in a variety of technical and managerial roles.
As a result of the present growth of data-rich industrial settings, manufacturing firms are creating an increasing amount of data. For example, rising quality standards necessitate single-piece traceability. Roger believes that the capacity to handle data quickly and efficiently, utilizing cutting-edge tech stacks and statistical methodologies such as data science or machine learning, will be a crucial success factor for customers. Roger and his team created their tech stack with AI in mind, as an AI-first firm. "We want to be tech nerds and geeks doing sophisticated data analysis from large data sets for our clients," says Roger.
The Inception Story of 'maXerial'
Prior to maXerial, Roger had the fortune to work in inspirational environments and had been led by great bosses. "I am thankful for all the guidance and trust they put in me throughout my career," says Roger.
Roger began his career by studying chemistry and earning a PhD in physics at the Swiss Light Source, where he investigated materials using X-rays. He met some of the brightest minds of our day, all of whom are pursuing amazing professions. Following his PhD, he worked in a prominent consultancy's pharma R&D practice before entering the chemical contract manufacturing sector. He reported directly to the CEO, who is also a highly successful entrepreneur. Roger's business mentality was cultivated mostly there.
Roger went on to work for a worldwide tier 1 automotive supplier afterwards. His employer there was always willing to give him new tasks and responsibilities. Roger happily absorbed them before getting the sensation that his maXerial rucksack was well-equipped to begin his own business adventure.
maXerial
To explain materials, maXerial employs X-rays and artificial intelligence. The firm primarily employs X-ray computed tomography (CT) to provide comprehensive 3-dimensional volume data on industrial components such as gears, electronic control units, or plastic components in the realm of X-rays. This allows the organization to explore the inside of such parts in a non-destructive and quantitative manner. For example, one can measure features from the outside and hidden inside, detect pores, cavities, or fractures that may have formed during the manufacturing process, or analyze electrical connections and soldering effects, to mention a few examples. The team also employs X-ray diffraction to analyze phases, residual stresses, and texture in components, as the microstructure of materials is frequently critical to component lifespan. Roger says, "We have laboratory partners for accessing other chemical or physical analysis methods to characterize materials." The company's access to huge accelerator-based synchrotron and neutron sources at Switzerland's famed Paul Scherrer Institute (PSI) completes the experimental side.
The maXerial approaches outlined above create enormous data sets that might be difficult to comprehend. It analyses such data using industry-leading tools. If the software does not have a module to extract the data, it will program it on its own. Since he was a PhD student at PSI in the early 2000s, Roger has been writing his own tools to analyze enormous data sets.
To evaluate data, the organization also employs emerging approaches such as data science and machine learning. Its CT data, for example, is well-suited for usage in machine learning approaches.
"Critical to all these efforts is to have the domain-knowledge – in our case, materials sciences – to parallel these computer vision or statistical approaches," says Roger.
Challenges are a vital part of any Journey
Setbacks, according to Roger, are akin to an entrepreneur's myalgia: They happen on occasion, when one tries hard enough. As an entrepreneur, he thinks that obstacles must be faced, but that they do not last: get over it and try again. Roger says he reminds himself of this every time something unfavorable occurs. He says, "Of course, we had our struggles being a relatively young company in times of a global pandemic. We analyzed them thoroughly and implemented corrective actions. In other words: We took them sportsmanlike and moved on."
Pushing Frontiers and Exploring New Fields
When it comes to his leadership skills, Roger believes that others should assess the effect of his work, his leadership style, or his problem-solving abilities. People seem to enjoy working with him so far, he observes, since he has a clear approach to defining measurable goals and allowing latitude in achieving them. "It is the people that I care about, as they are the most valuable resource of a company," says Roger. "I have high expectations for the quality of the work. I support my team with every fiber of my body to master the challenges we agreed on. This is what I call "leading by example".
Roger constantly explores new fields and pushes frontiers, as he loves to discover and learn new things. He shares, "I have had the fortune to work with people I consider the most gifted in their fields, who share this desire to embark on new adventures." He further adds, "So, if you intend to work 9-to-5, I am probably not the right boss for you. But if you are keen on meeting new challenges and being on the road to creating something unprecedented, reach out to me. Maybe that's the red thread that characterizes my career best: pushing frontiers and exploring new fields of real-world applications."
Stepping into Every Role from Down to the Top
As CEO, Roger is responsible for all of the duties that come with the position. Roger is maXerial's "first salesman" and concentrates on the commercial elements of the company during regular work hours. He strives to interact with his clients as much and as often as possible. Nothing pleases him more than good technical talk about a material system or a challenging engineering problem. He devotes a significant amount of effort to technical and development duties each day. He spends a lot of time thinking about how to tackle analytical and technological challenges as quickly and easily as feasible. He meticulously records trends and patterns that he notices because they are the foundation of the company's future strategy. He minimizes and automates administrative tasks as best he can.
Future Roadmap of maXerial
According to Roger, the maXerial team is happy with the progress it has made so far, given that the company is a relatively young tech startup. "We are achieving our business plan and technical goals equally," says Roger. "We want to continue this work and trustfully strengthen the bonds with our clients."
maXerial is aiming to grow its customer base and persuade prospective clients that maXerial is the chosen go-to partner in the industry for X-rays and data-driven materials sciences. It is heavily investing in its analytical capabilities in order to provide first-rate outcomes to its high-tech clientele. Roger emphasizes, "With our machine learning and data science tools, we can create literally clever algorithms for our clients." The team is convinced that maXerial's technology will also be appreciated internationally and looks forward to exciting global collaborations.