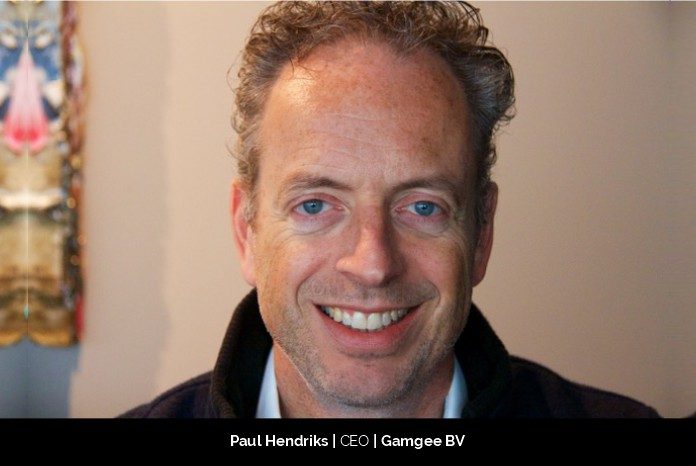 "Witness your smart homes transform into an ultimate place of joy with Gamgee"
Smart homes are the future of every home. To ease the use of different intelligent devices, Paul Hendriks, Founder and CEO of Gamgee, has come up with a vision to achieve the best customer satisfaction in using smart home devices. Gamgee's persona is that of a Bernese Mountain Dog that has all the explicit characteristics such as excellent strength, loyalty, intelligence and obedience. Gamgee app acts as the best wireless smart home network companion. It is renowned for its ultra-fast performance, high-end safety, amazing privacy, superb convenience, and easy control features.
Paul says, "We are both proud and humble of our current achievements. Our customers give us very high satisfaction ratings. That is our ultimate performance indicator. We also believe there is still so much more we can do to make people's digital life at home easy and pleasurable. We are just getting warmed up!"
Facing Initial challenges Boldly
The two big challenges for any starting company are to look for the right product market fit and to put together the right team. Paul also faced both of these problems during the early days of commencing work on Gamgee. He shares, "Involving potential customers and conducting tests are the best way to determine if the product fits the needs which remains a moving target. Finding the right talent is an ongoing challenge, involving tapping into your personal network, roaming LinkedIn and occasionally using recruitment agencies." But he was able to find the solutions for both of these issues and establish a great number of users over time.
Exhaustive services and vision of Gamgee
In 2018, Gamgee came into existence with its headquarters in Amsterdam, Netherlands. It comprises of an integrated service by which all consumers can manage their wireless home network, smart devices in the home, internet access, cybersecurity, and special "work from home" services. The best part is that everything can be easily accessed via an easy-to-use mobile application.
The company has done deep competitive analysis and knows what will keep them on top of all competitors. Paul adds, "Gamgee does not manufacture its own hardware. Instead, our service is available on many different brands and types of router and mesh networks. Next to that, we deliver excellent experiences and support, 24/7. Our competitors bring a more limited set of functionalities on their own router platforms and offer no customer support."
Gamgee has a simple yet empowering role to play in the lives of all consumers. As consumers always tend to get less than what they deserve, Gamgee holds the power to help people experience technology that enriches their lives in the best way possible. Thus, the chief vision of everyone working at Gamgee is that all consumers get the perfect personal experience for their smart home.
Paul says, "With the growing proliferation of smart home devices and solutions, wireless home networking and smart home represent both opportunities and challenges for consumers. They look for a simple answer to a simple question: "How can wireless networking and smart home improve and not complicate my life?""
Gamgee's Unique Features
Even though the smart home market is rapidly growing, the adoption of new smart digital services is still relatively low. To help in consumer adoption process, Gamgee has come up with the outstanding solution that fights all the challenges that consumers might face – from poor interoperability of smart devices to limping cybersecurity, Gamgee has an answer for all!
Gamgee imparts the ideal platform for all consumers to "connect" their smart home devices and solutions of different brands under one roof without any hassle. Encapsulated with supreme privacy and bulletproof cybersecurity features, it also ensures smooth operation of all devices on the network as an integrated smart home ecosystem. Additionally, Gamgee also includes an intuitive self-care platform and several dependable digital services such as parental controls and VPN..
For Gamgee to keep growing at a steady pace, Paul and his team considers partnership as the essence to achieve fast and sustainable growth in no time. He shares, "We have partners for marketing, sales, distribution, technology, and research. Each partner brings added value to our value chain and we bring value to these partners."
About the Founders
Gamgee was the outcome of combined efforts of two founders, namely Paul Hendriks and Shaul Levi. Both of them blended their knowledge and skill-set to derive a terrific solution in it. Paul is currently the CEO of Gamgee and a passionate technology leader and high-end innovator. He has been working in the telecommunications, media and cybersecurity space for over 25 years. Having worked in both large companies and startups, he is well-versed with everything needed to transform the business and technology.
Shaul Levi, the renowned Chief Strategy Officer of Gamgee and an experienced technology entrepreneur has been already involved in a plethora of successful innovative companies and projects. He has tremendous experience in delighting the consumers with explicit and extraordinary technological inventions.
They both met a few years ago and even decided to build a company to fill the current gaps in the connected home market. The secret to the success of their joint endeavour is relying on excellent IoT technologies powered with AI and machine learning. All the innovations in Gamgee impart a safe and friendly environment for people using it.
Future Plans of Gamgee
Over the time, Gamgee has become an international company with a widespread market. Thus, company officials need to maintain strong local and regional partnerships to keep all the future customers happy. Not just this, some of the regions even need to have direct-to-market business.
Paul shares, "We continue to push boundaries by simplifying complicated and sophisticated technologies into useful capabilities for consumers." The future will bring more out-of-the-box features that will enable people to use their intelligent devices in a perfect manner.