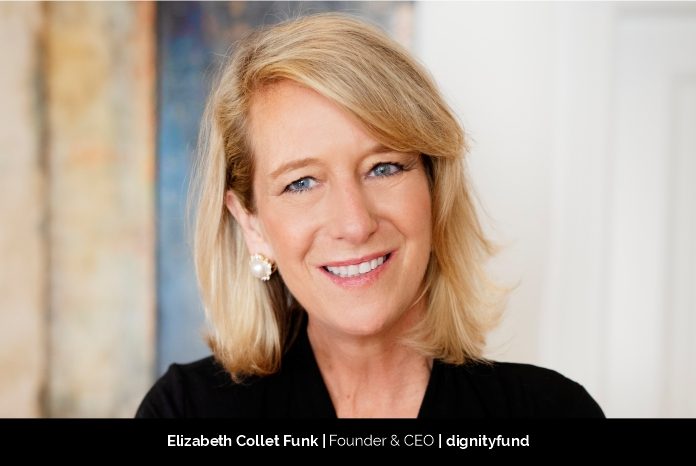 Many individuals are concerned about the climate catastrophe or global poverty, yet they do not consider these issues while making investment decisions. Dignity Capital, founded by Elizabeth Funk, provides investment options for people to invest in global issues they care about.
Elizabeth has been a pioneer in impact investing.  She started her first impact investment fund, the Dignity Fund, in 2004 before the term "impact investing" had even been coined.
Elizabeth believes that people should invest aligned with their values.  With her first fund, the Dignity Fund, she created a vehicle allowing investors to invest in microfinance organizations in developing countries.  Microfinance makes small loans to people living on less than $2/day allowing them to be entrepreneurs and build their own way out of poverty.
"Harnessing the power of entrepreneurship and capitalism is a very powerful tool for addressing the world's most pressing problems."
Elizabeth has also focused on impact closer to home, specifically focused on unsheltered homelessness.
With DignityMoves, she started from the assumption that whatever cities and counties are currently doing isn't working. Governments keep spending more and more money, and the problem of homelessness just keeps getting worse. As per her, this is the time when the government and people need 'out of the box' thinking. "Thinking outside of the box is fundamental to our culture," says Elizabeth Funk.
When Elizabeth started DignityMoves she first came at it with a beginner's mindset. Sometimes, not having been in an industry for decades is actually a benefit, and it allows one to ask "silly" questions and think creatively, without being preconditioned by the way "things are always done." Elizabeth first started by doing over 300 30-minute zoom calls with anyone she could find in the field and listened, learned, and took notes. "Only after that did I form my hypothesis about what the right solution was," she says.
Always a Focused and Contented Mind  
Elizabeth was born and raised in Kansas City, Missouri. She used to compete in figure skating. She attended Stanford University ("I graduated with honours in International Relations and Economics"). Elizabeth's first work was as a Product Manager for Microsoft Word, back when the operating system was brand new. She was part of the team that created the features and functionalities, and she sought to predict how people would use computers now that graphics and visual applications were available. She was part of the team in charge of the company's Word-Excel "Value Pack," which had two software in one package and was offered to students. That was the precursor to Microsoft Office.  So she ended up on the founding team of Microsoft Office when it first launched that product.
Elizabeth proceeded to Harvard Business School after Microsoft and graduated as a Baker Scholar (top of the class). She wanted to get back into technology after HBS and was introduced to a very little start-up named 'Yahoo!' in Silicon Valley. This was shortly after Yahoo! obtained their first round of funding—the crew was so small that there was no sign on the entrance. She spent the next few years creating several of Yahoo's most essential features, including Yahoo! Shopping, Yahoo! Finance, Yahoo! Mail, and many more.
Elizabeth departed Yahoo! in early 2000, just as the internet boom was about to collapse. She rose to become the CEO of CML Global Capital, a publicly traded investment firm with subsidiaries such as a large office/commercial real estate firm in Calgary (Canada) and Imperial Parking (in Hong Kong). Elizabeth was the CEO of that firm for five years, during which time the majority of the portfolio companies were sold and the corporation was privatised. She had two children at the time (now 15 and 17) and travelled frequently for business, bringing her children with her wherever she went.
She says, "When my daughter was born, my two-year-old son had 42 stamps in his passport.  I take my work-life balance very seriously, and have always prioritised my kids above anything else."   
Dignity Capital
Dignity Capital is a collection of social impact companies and funds dedicated to poverty alleviation. It makes investments in businesses that serve to alleviate poverty or promote economic growth, such as those who build extremely low-income housing. Dignity Capital invests heavily in firms that work with impoverished rural farmers, since extreme poverty is disproportionately rural.
The Dignity Fund was the inaugural fund, and it invested in 14 microfinance companies in developing countries around the world. Since then, she has been involved in a number of impact investing funds and enterprises, all with the goal of bringing for-profit money to bear on the world's most pressing issues. Elizabeth recites, "One of my current funds, Dev Equity, is based in Latin America (Nicaragua, Honduras, Panama, Costa Rica, Ecuador and Peru)." 
Most of Dignity Capital's work has been in developing countries, but during the pandemic it started to focus closer to home, on addressing homelessness in California and the United States.  Elizabeth started a new organisation called DignityMoves that is building very cost-effective transitional supportive housing communities for people experiencing homelessness.
Love for Microfinance
"I stumbled into working in impact investing," says Elizabeth.  She got into the Microfinance sector because she was intrigued by the notion of allowing individuals to be entrepreneurs and construct their own path out of poverty. She had a strong respect for the strength of the entrepreneurial spirit, having spent her early career in Silicon Valley. She was passionate about microfinance and wanted to get engaged, which she believed would entail philanthropically supporting various groups while continuing her "day job."
Elizabeth went to visit a microfinance organisation in India, where she met a single mother of three children. Elizabeth recalls, "She owned a cow, and didn't make enough money to feed all three children every day; she would have to pick which one would go hungry that night.  She said the look in that child's eyes was just too painful for her, so she'd decided to save her extra pennies to save up and buy poison so she could end the misery for them all. Instead, she was connected to the microfinance bank who lent her $400 to buy a special thermometer, so that she could pasteurise the milk and make cheese, which sells for far more than milk. When I met her, the mother's business was thriving and her children were all in school.  That $400 literally saved their lives."
Elizabeth became captivated by microfinance and wanted to do everything she could to help it grow. As a result, she founded the Dignity Fund to invest for profit in microfinance businesses. Since then, she has been an outspoken proponent of using for-profit models to solve the world's most serious problems.
DignityMoves
Through her new endeavor, DignityMoves, Elizabeth has a vision where everyone who is unsheltered has a safe, dignified place to sleep and work on the underlying causes of homelessness.  She says, "We will do the first few projects (in San Francisco and Santa Barbara) with philanthropic money to demonstrate the model—then we will raise impact investment dollars to buy the units, and lease them to cities or counties." Using low-cost, prefabricated modules for the housing will allow the team to build 10x as many units as they could build with traditional permanent supportive housing and really start to get US cities to "functional zero" (meaning essentially no unsheltered homelessness).  She asserts, "Homelessness in the United States in this day and age is fundamentally unacceptable.  It's time to get serious about sheltering people."
Visioning to Provide a Home for Everyone
Elizabeth's primary focus right now is DignityMoves, a Dignity Capital company that works to end unsheltered homelessness. Governments on the West Coast, according to Elizabeth, have been overly focused on creating permanent homes, which is too expensive to provide for everyone who requires refuge. She aims to alter that by demonstrating that investing in transitional/interim housing (which costs a fraction of what permanent housing does) yields better benefits. She believes, "Giving people a safe, dignified place to stay while they wait for permanent housing (or find other exits out of homelessness) allows people to get out of "survival mode" and begin to rebuild their lives." 
Being a Company Head
Elizabeth's responsibilities at Dignity Capital change based on the project, fund, or firm she is working on. In general, she chooses which companies/projects/funds to invest in, hires people, and develops long-term plans. She attempts to take on the role of mentor, enabling the project teams to make their own decisions on day-to-day operations and planning. She is generally also actively involved in fundraising to ensure that the activities are appropriately funded. She is currently devoting 90 percent of her time to getting her newest project, DignityMoves, off the ground.
The Source of Elizabeth's Drive
Elizabeth considers herself to be an optimistic person. She opines, "It is fundamental to who I am. I somehow just believe that things are going to work out, regardless of the obstacles."  She believes that optimism is not only what allows her to be an entrepreneur, but also what gives her a sense of joy in life despite having encountered many hardships. She further adds that unfortunately, optimism has its drawbacks. For instance, she always trusts that people are inherently good, so sometimes she is naively taken advantage of. She also says, "It also perhaps allows me to take risks that might be ill-advised, because I always seem convinced that things will go the right way I don't always focus on protecting against downside risks."
Word on 'Success'
Elizabeth explains that having an influence on the world is her definition of success. She decided years ago that genuine "success" is defined not by personal financial gains, but by feeling proud of her work and company's contributions to making the world a better place. Elizabeth puts impact first in everything she does, whether it's her business or her investments.
Finding Balance by doing Small Things
 "I love what I do, it is my passion.  I made a choice to pursue a career that gives me great joy and really defines who I am, "says Elizabeth. She feels that the lines between personal and professional life are blurring, but she does have some concrete means of ensuring that she maintains a sense of balance, such as driving her daughter to school every day and picking her up every afternoon. As per her, "It forces me to take time away from my desk and work, and gives me quality time with my daughter, as well as quiet time for myself on the way home."