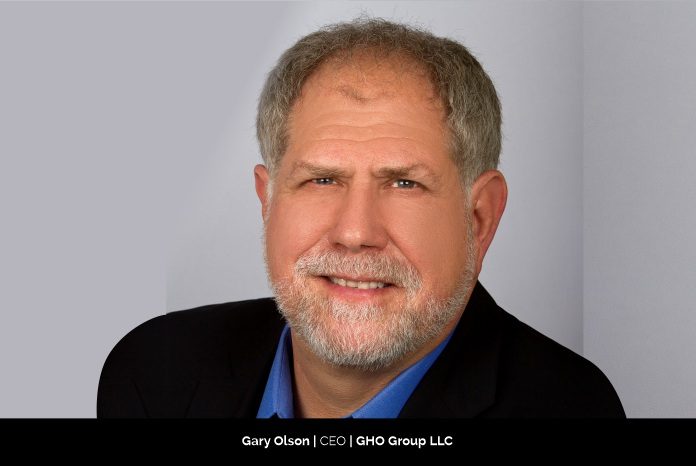 It all started with a phone call when he completed his BSEE degree in Computer Design and was asked to join an innovative program in the NY City high school system, establishing a video production class, teaching, and running the studio. The idea intrigued him, and he joined in until the phone rang again at the end of the school year. This time he was offered an opportunity to build a video studio for The National Playwrights conference and once again he accepted the offer. Ever since, the phone has not stopped ringing, with numerous offers making Gary Olson, CEO of GHO Group LLC, one of the leading businessmen in the industry today. The journey of GHO which is an independent top-tiered consulting firm paints an inspirational picture for countless young business minds aspiring to achieve their dreams.
Building a Network
Every business depends largely on its networking activity, which helps them build contacts and develop business relationships that facilitate the growth of their business. These networks are usually colleagues, clients, and businesspeople one meets in their professional career. This factor created challenges for Gary who had an eclectic background and had always worked for himself in his professional career. As Gary worked on building his own business, he did not have the connections that come from working in a large organization which changes access to opportunities. He soon realized that when entities look for outside consulting, they typically reach out to people they have worked with before.  Building a strong network was an initial challenge that Gary faced; however, he soon overcame it by making prudent decisions at the right time that fostered the expansion of GHO.
The Consulting Firm
GHO Group is an independent, objective consulting firm that specializes in planning and designing media production facilities for broadcast and cable companies, corporations, educational institutions, and cultural organizations. GHO does not represent any products or services. They use their experience to benefit their clients, sharing best practices in design, addressing budgets and schedules with special attention to crafting the process to assure the best results for their client's needs. GHO is a recognized leader in technology implementation. Their design philosophy is based on sustainability and the understanding that this type of opportunity and investment has to be '`future-proof".
GHO has been providing unique, practical, and cost-effective solutions to the challenges faced in building new facilities or implementing new technology strategies. GHO builds the bridge between technology and business, working with a new vision and converting it to reality. They manage the expectations of senior management and stakeholders throughout the execution of a project. As a strategic adviser and project portfolio manager, they identify the requirements to achieve the goals and resources that will bring the vision to reality. They work closely with an organization, using their internal resources, preferred service providers, and approved contractors. GHO functions as a senior project administrator coordinating the implementation process and strategy.
The GHO Mantra
GHO believes that strategic initiatives need a sound vision, hence they define or implement business visions for organizations generating business growth. Their goal is to remain independent and objective while striving to meet their clients' needs to the fullest. With the creation of new workflows and technologies, organizations get drawn to new concepts that are different from the conventional way. Delivering tangible results, creating a comfortable level of communication between business units and all stakeholders, GHO works relentlessly to continue to be an objective advisor and designer. Their ability to understand their client's goals and help them achieve them in a cost-effective and manageable implementation distinguishes them from the crowd.
The Expert Talk
Life before GHO was quite engaging for Gary, as he spent most of his time solving interesting challenges that typically bring together computer and video technologies. He was on the team that created the first interactive satellite video conference network, launched the first satellite business television network and was involved when Teletext was being introduced in the US.
He was engaged in launching a satellite transmission facility that included implementing the first video fiber network, once again the phone rang, and he was asked to design a new shopping network. Citing this as the opportunity to start his own company, Gary began designing and launching new satellite and television cable networks. In the early days of the Internet, he designed the first live cable news network that had a live person doing real-time research on air. As the company continued to grow, they received requests from visionaries to start television networks in countries that did not have commercial television, only state TV. They designed and launched the first commercial television in Trinidad and successfully designed, built and launched new national television networks in Czech, Poland, Romania and Slovenia. Each of their projects presented unique technological challenges, attracting visionary thinkers who have interesting and new ideas in media and are looking for a technology group that understands and can build their ideas.
As the CEO of GHO, Gary provides vision and direction to the company. He enjoys challenges and appreciates the rewards when there is successful completion of a project. Gary has been publishing articles helping the media industry understand the transition from proprietary technology to computer technology. The 2nd Edition of his book "The Planning and Design of the IP Broadcast Facility – A New Puzzle to Solve" (Amazon) was released in March of 2020 and has been adopted by the industry as a virtual bible. This provides GHO with exposure to a broad audience. He has reaped the support of a responsive audience encouraging Gary to produce more information and knowledge.
The Future Awaits
As the market is growing with companies largely outsourcing and downsizing, there are new consulting entrants in the industry. Additionally, manufacturers and system integrators are looking to provide design and consulting services making it easy to start new projects. However, GHO is identified by its unique style of being objective and independent that enables them to overcome competition paving the path of a brighter future. Going forward GHO is looking at how Artificial Intelligence will be playing a role in the entire media supply chain and how it may impact other areas where media and data converge.
Gary recalls an interesting conversation with his father who was running a small business. His father would often complain about the business whether good or bad. When it was good, he'd complain about how busy he was and when it was bad, he'd complain about how bad it was. A curious young Gary once asked his father, "I understand when you complain when business is bad, but how can you complain when the business is good". And his father replied, "You will understand when you have your own business!"
Well, this short conversation gave Gary a life lesson that stayed with him for years, and today as he has established a leading business in the industry, he truly understands what his father meant. Gary did not choose his path, but he believes that it chose him and as he walks on that path he influences millions across the globe, making his journey an inspiration to young minds that are full of dreams.
Quick and Fire
What was your dream job as a child?
I wanted to be an astronaut (I had 2 uncles who were Sr. Rocket engineers for NASA)
What is your success mantra or your life quote?
Always answer yes, then solve the problem.
Who is your inspiration?
My father
What is your definition of fun?
Sailboat racing and skiing
Which is your favorite book?
Sherlock Holmes