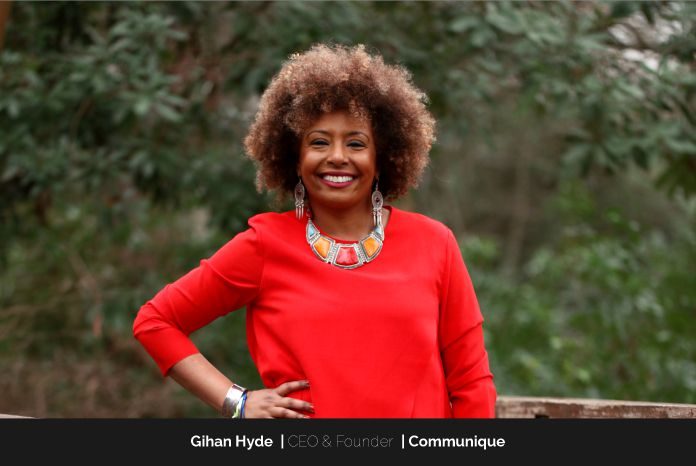 In today's world, consumers and investors are more aware of the impact of businesses on the environment and society. Companies that prioritize ESG practices and have leaders who champion these practices can build a positive reputation and brand, which can attract more customers and investors.
ESG leaders help companies identify and manage risks related to environmental and social issues, such as climate change, labor practices, and supply chain management. By addressing these risks, companies can avoid negative consequences such as legal action, public backlash, and loss of business. These leaders can drive innovation and efficiency within their organizations. By focusing on sustainability, companies can develop new products and services that meet customer needs, while also reducing costs and improving operational efficiency.
Gihan A.M. Hyde is the award-winning CEO and founder of Communique, an ESG Business Strategy and Communication Advisory firm. CommUnique is a certified B. Corp, making it the first ever black, Arab, female-founded organization to join the top 4000 most sustainable businesses in the world and one of B. Corp Equity Growth Boaed Advisors.
"Stop worrying about the future, because no matter how long you stay awake or think about it, you still have zero control of what will happen."
Prior to founding "CommUnique" Gihan led and advised on some of the largest ESG change projects and communication departments, including Katalista Ventures, Barclays IA, HSBC AMG, M&S HR, Philip Morris, SUEZ Waste Management, and the Riyadh Metro. Her work impacted more than 150,000 employees and 200,000 customers, and she closed $300 million worth of investment deals. She is a board advisor to communication agencies, an avid investor in numerous start-ups, and the ESG Course Director for Chartered Institute of PR (CIPR) and a guest lecturer for the Chartered Institute of Marketing (CIM). Her thoughts have recently been featured in one of the most successful Fintech books, "Digital for Good," written by Chris Skinner; some of her co-authors include the founder of Extension Rebellion, the CEO of Monzo Bank, the founder of Metro Bank, the VP of Ant Group, and many others.
The Firm
CommUnique is a consulting firm that focuses on incorporating environmental, social, and governance (ESG) factors into the business models of its clients and effectively communicating the same. They specialize in offering advice and guidance on ESG business strategy and communication, and provide the following services and product:
ESG Business model integration
ESG Communication Strategy design
ESG Training
ESG Strategy Audit
There are three services and one product. The first service is aimed at assisting startups and scale-ups in integrating ESG considerations into their business models.
It is common for startups and scale-ups to consider integrating ESG factors into their business model during investment rounds, when investors may ask or require them to do so.
CommUnique's second service involves developing and implementing ESG communication strategies for organizations that are already focused on sustainability, but lack the necessary skill sets or team capacity to design effective communication strategies and messaging to promote a stronger narrative and story.
The third service provided by CommUnique is ESG audits, which are designed for companies that have already implemented their sustainability plan and are highly sustainable. CommUnique's ESG audit service is geared towards highly sustainable companies that may not be certain whether their sustainability plan effectively resonates with their intended audience or whether it has been well understood.
In addition to their services, CommUnique also offers a product, which is ESG training. This involves training and upskilling employees, board members, leadership teams, and customers on the meaning and importance of ESG as well as their role in bringing the ESG strategy to life. The training covers topics such as what ESG means, why it matters, and how individuals can contribute to the organization's ESG goals.
Contributing to Saving People and Planet 
Gihan believes that her role as the public relations leader is to highlight to businesses the crucial role of communication professionals in saving people and the planet. To achieve this, she is creating customized training sessions for the Chartered Institute of Public Relations that cater to the specific needs and demands of the PR and internal communications industries.
Gihan's contribution to her profession is invaluable because she is providing them with exposure that they have not received before, due to her unique background as an Arab, black, female professional based in the UK. Her reputation has earned her a place in boardrooms and important discussions where she tirelessly advocates for her fellow communication professionals and especially those from diverse backgrounds and ethnicity and defends their value. She states, "We are seen as a nice to have function and not a MUST have function. This needs to change, and I am doing so by showcasing to the CEOs, CFOs, and other leaders whom I talk to every day as their peers that communications is as important as strategy and budget." Gihan acknowledges that there is still a lot of work to be done in the public relations industry. According to the PRCA, the industry is predominantly white, and there is a significant pay gap in favor of white professionals. In fact, 74% of PR professionals identify as "white British," while only 13% identify as "non-white" and 13% as "other white." Despite an increase in the number of LGBTQ+ practitioners in PR and communications, the industry still lags behind the national average. Currently, 84% of the workforce identifies as heterosexual, with only 5% identifying as gay or lesbian and 4% as bisexual, which is only a slight increase from 2020.
"I stopped comparing myself to others and seeking happiness from others, because I realised that they will never make me happy because my happy is MY happy… it's an inside job."
Team-leading Methodology
In addition to coaching, mentoring, and ensuring the welfare of her team, Gihan is responsible for the general management of the company, as well as sales and development. However, as CommUnique is still a young company, many people knock on their door because they want to speak with the founder, Gihan. Despite this, Gihan takes it upon herself to make sure that clients understand that she is involved and that they are in good hands.
Gihan's vision for the company is ambitious; she hopes that CommUnique will become the biggest academy and the most diverse and the most impactful sustainability and ESG advisory firm in the world. She is passionate about making a positive impact and believes that by offering top-tier education and advisory services, her company can contribute to a more sustainable future.
Invaluable Achievements
In 2014, women were not allowed to work in the construction sector or be in the boardroom within the Saudi construction industry. Despite these restrictions, Gihan became the most senior and only woman to work on the Riyadh metro project, the largest infrastructure project in Saudi Arabia's history. Through her hard work and perseverance, Gihan managed to assemble an all-female team, which was a significant achievement for her.
Gihan's second greatest accomplishment was when a team member came to her and expressed their gratitude for to her and CommUnique's team. The team member confided in Gihan that they were contemplating ending their lives, but because of her and because she belived in him and gave him a job, they found hope and reason to live. For Gihan, this was an incredible achievement and a testimony to the impact of her work.
Future Aspirations
Gihan's objectives in the upcoming years are to become an even better person, allocate more quality time with her dear ones—her family and friends—and cultivate the practice of pausing and introspecting. During her childhood, her ambitions and aspirations were centered around making her parents proud and succeeding in the family enterprise. Growing up in an entrepreneurial household instilled in her the values of unconventional thinking, questioning norms, and striving for excellence from a young age.
Rather than engaging in leisure activities with her cousins and friends, Gihan accompanied her father to board meetings, and instead of enjoying school breaks at the beach with her siblings, she was enrolled in summer camps to improve her education and English language skills. Being the eldest among her siblings, she was anticipated to succeed her father in running the family business, and this was her ambition until fate took an unfortunate turn. Tragically, her father passed away unexpectedly in his sleep when Gihan was only 16 years old. Due to her young age, she was unable to take charge of the business, which was subsequently sold.
The turn of events was incredibly disheartening for Gihan, as it upended her life. She had been prepared to follow a particular path, but the sudden loss of her father left her directionless. Consequently, deciding on her next steps was a daunting task, as she had to identify what she wanted to do, which was different from being expected to take over the family business. It was those events that made her the person she is today.
"Don't expect everyone to share your joy, your passion, and your work ethic; everyone has their own way of being who they are, so accept it and embrace it."