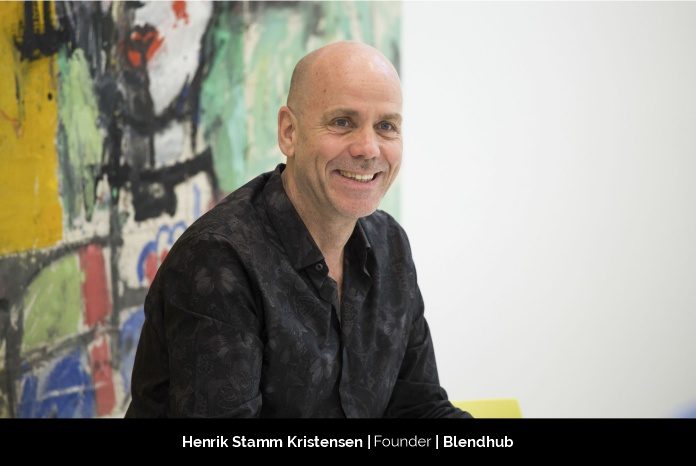 Food-as-a-Service may seem to be trending nowadays but Henrik Stamm Kristensen, Serial Founder and Chief Moonshot Officer of Blendhub, was one of the first ones to implement it. He has revolutionized the global food industry with his remarkable service platform called Blendhub. This platform assists everyone who wants to innovate and produce sustainably for higher quality food access. He shares, "I founded Blendhub based on a collaborative model between the different operators in the supply chain with localization of operation and production closer to raw materials and final consumers. We were visionary and the first ones to develop a safer, fairer, more efficient, and sustainable food production model."
While most couldn't anticipate this initially, now more and more stakeholders are joining hands to share value. Recently, Unilever also announced that they were now stressing on localization of production, which was spearheaded by Henrik more than a decade ago. He is happy to have made an influence and tasted great success by making people believe what he believes.
Crossing Hurdles along the way
Carrying perseverance along the journey of success and failures has helped him make a difference. He says, "I firmly believe in my ideas and despite both the incomprehension and resistance of adoption that I have encountered, we are today showing that visionary ideas developed decades ago are about to revolutionize the agri-food production model. The key is to have confidence in one's ideas and to fight to make them real."
Laying the foundation stone of Blendhub
Henrik hails from Denmark and has traveled and worked across the world. However, 30 years back, he finally settled in Spain to follow his passion for food. With an idea to establish his own food technology company, he founded Premium Ingredients in 1996. The brand countered the challenge of disappearance of every pure food ingredient into black box recipes by manufacturing powder-based food recipes with traceable ingredients for the food industry. However, after learning valuable lessons, he plunged into following a different approach for the future. Thus, he came up with a collaborative platform concentrating on Food-as-a-Service. This has now been named as Blendhub.
He says, "After building a traditional static factory in 2004, I challenged my engineers to develop a portable production unit. In 2011, we patented and deployed our first Portable Powder Blending factory in India."
After that, they have progressed ahead using localized production models for being in close proximity to raw materials and final consumers. They even deployed a network of production hubs with the help of portable factories as per a unique replication model. They even patented their recipes to foster transparency of ingredients. Till date, Blendhub has deployed 7 hubs in Spain (2), India (2), Mexico, Colombia, and Thailand.
Redefining 'Food-as-a-Service' with Blendhub
Blendhub empowers the stakeholders to design, launch and produce their own food products at a rapid pace with low investment and risk. Localizing the food production helps in cutting the cost by 30 to 50% and results in the global supply chains efficiency. He believes decentralizing food production and stimulating local supply chains can help generate local employment as well as reduce gas emissions as well.
He states, "Replication is at the core of our business. We deploy identical production hubs featuring portable powder-blending units worldwide. One unit, all hardware and software included, fits in a 40′ container. It can be deployed in less than six months anywhere: near the raw materials and the final consumer."
With Blendhub's Food-as-a-Service platform, they are even meeting UN's SDG 17 (Partnerships for the goals) that states, "Real value sharing includes stimulating open, multilateral trading systems, disseminating technologies in developing countries and assisting domestic economies in their development." By formulating a large network of affiliated partners (raw material producers, machinery producers, food technologists, technology companies, blenders, distributors, food producers) via Blendhub, they are able to shorten prices, make food more accessible and enable them to become a branded food producer.
3 Growth Pillars for faster success
Driving a transformation in agri-value chain, he wants to prioritize the UN's sustainable development goals #sdg 2, 12, and 17. He adds, "We cannot tolerate having anyone going hungry to bed or suffering diseases or malnutrition because of harmful food products or the lack of the right ingredients." Thus, the company's growth strategy has three pillars:
Food as a service: With its extensive food-related services, Blendhub can help all food companies to launch a new product anywhere in the world in just 90 days.
Infrastructure as a service: Multi-localization of food production is cost-effective (saves 30% to 50% cost), is environment-friendly and can be easily replicable from ideation to production in the entire world.
Digitized food quality and supply chains as a service: Maintaining standard food quality is the key, thus they have software to check the food quality and ensure food safety in the entire chain. He shares, "Chemometric Brain is a quality certification software based on NIR technology that identifies the components of any ingredient or food product in powder, liquid, solid, or gel form in just a few seconds. In 2020, we decided to make it an independent company to digitize quality and supply chains for any food company independent of size and know-how."
Chasing dreams
As the Chief Moonshot Officer of Blendhub, Henrik is giving wings to his big and bold dreams. During his regular work day, he tries to connect with numerous people as well as companies to interact around the global platform model where 8.000 million+ consumers and the planet turn out to be the ultimate winners.
Being a firm believer of the old adage, "Coming Together Is A Beginning. Keeping Together Is Progress. Working Together Is Success," he knows that only with collaborative efforts, a global impact can be observed.
When the goals are far-reaching, they need more dedication and eventually more time. Since his goal of making basic nutrition accessible to more people worldwide is quite ambitious, it is not a job for him anymore! It has transformed into a lifetime project with no actual work-life balance.
He adds, "I lead with conviction, show by example, and know that we can only do it together. My companies are linked to a social goal, which is to produce more sustainably and ensure basic food for more people, which makes it easy for people to decide if and how they want to participate." Having witnessed the chief goal of changing the world for the better, the entire team gets constant motivation for doing the best.
Marking the Future goals
Henrik and his industrious team are striving hard to accelerate the deployment of new production hubs on 5 continents so that the multi-localization production model gets facilitated. For that, they are looking for collaborating with local like-minded partners/investors. He shares the business success mantra, "Smart money from smart people is the only way forward."
As per fulfilling his personal dreams, he says, "As a business leader, I will continue to work on the growth around a collaborative platform with more value-aligned stakeholders joining our purpose-driven business model. Not only will it create shared value and make food production more efficient, safer, and cheaper, it will definitely leave a net positive impact on our planet."