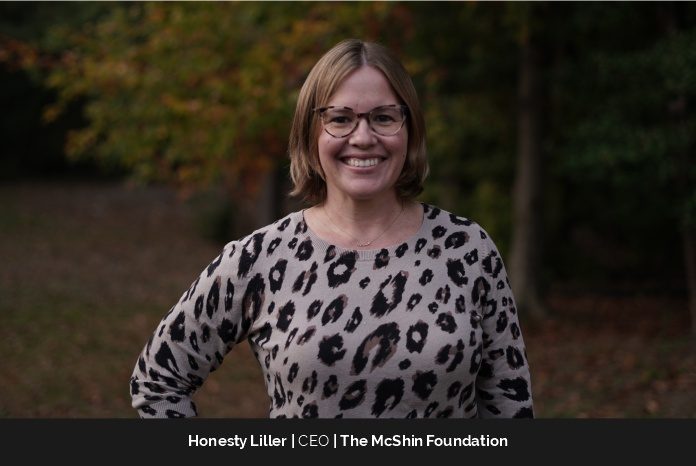 CEOs are leaders who ensure that their companies have an effective risk operating model, governance structure, and risk culture. Great CEOs spend time thinking about, articulating, and championing their company's purpose as it relates to the big-picture impact of day-to-day business practices. Today boards of directors, senior managers, and investors intensely look forward to how CEOs handle the ups and downs of running businesses.
Honesty Liller, CEO of The McShin Foundation believes that "success" means achieving goals in your life. Some may say success is a fiscal word, but she has so many different successes that make her a happy human that isn't just her paycheck. Honesty's mission as CEO is firmly rooted in community outreach and involvement. She gets to walk in her purpose every day helping those in the community heal from their addiction. She is responsible for community and fundraising events, advocacy, and public relations, and is a Recovery Coach to females in our program.
Challenges make you stronger.
Honesty Liller is a woman in long-term recovery from addiction. She has been drugging and alcohol-free since May 27, 2007. "I am in recovery from an opiate addiction and there are more than enough challenges that I have had to overcome," she says. As a female leader, she has had to learn how to speak up for what she needs, what is ethically correct for the organization, and celebrate herself and those around her. The main roadblocks have been trying to control situations, wanting her voice to be heard, learning how to delegate duties, and letting things go.
The growth of the McShin Foundation under Honesty's Leadership
"McShin helped to save my life when I needed help with my addiction. There were three recovery homes when I moved into the female housing," states Honesty. The President, John Shinholser hired her once she left housing after residing there for five months. John, Honesty, their board of directors, and their amazing staff throughout all these fourteen years have built the foundation to where it is now.
They now have fifteen recovery residences, three judicial recovery programs, family programming, wellness programming, and a Recovery Community Center. She says that her contribution to this growth is staying consistent with programming, following a budget, fundraising/development, and knowing when to let something go.
The best recognition received as a leader.
"Honestly, I didn't really know what I was doing when I started working at McShin. I really just wanted to help the women in the housing with their recovery," says Honesty. Days turn to months and months to years. Along the way she has completed the Stanford Nonprofit Leadership week-long program, the Emerging Nonprofit Leadership Program here in Richmond through, The Community Foundation, and a lot of online pieces of training as well as in-person leadership too. She has been interviewed for many news articles, TV interviews, and podcasts. The biggest recognition she states that she can get from being a female leader is seeing the women that work at McShin achieve their goals and show them that females can be leaders.
"I am grateful to even be alive. The life that I led up to finding McShin was going to kill me so I have definitely achieved dreams I never even knew I could have," she says. She recently published her first book "Scattered Pink" and that was a huge achievement for her. She strongly states that the life she has today is something that she has worked beyond hard for and she is honored to be in it.
One major thing Honesty wants to achieve is to start a women and children's recovery home at McShin. And she really wants to take a trip to an island that has a house in the ocean. "Truly I just want to live a fun, happy, rewarding, and fulfilling life," she says.
Responsibilities as CEO at The McShin Foundation
Right before Honesty came to McShin, she was addicted to heroin. McShin's program helped to save her life and she claims that she is forever grateful. "Not only do I get to have a career that I love, but I get to help humans that are like me," she exclaims.
Her responsibilities include fundraising, donor development, advocacy locally and nationally, leadership development, recovery coaching women in their housing, budget management, grant writing, and event management.
Maintaining a balance in personal and professional life
Honesty doesn't believe in balance; she uses to but as she has gotten older, she believes she puts enough energy into all areas in her life when it is needed. She has learned throughout her career and home life that she has had too many expectations of herself to be the "best" leader, mom, and wife. Recovery has given her two amazing children, a loving husband, a family that supports her, her two doggies, and the ability to help others through the career that she loves.
"Every day I work on my soul a little more and try to live in radical gratitude. Every day is a true gift, why not live the best today you can? The work that we do at McShin certainly is rewarding, but also very challenging," she states. Helping humans that have an addiction is beautiful but hard. So, they incorporate staff wellness days, quarterly staff outings/events, lots of parties for celebrations, bonuses for recovery celebration dates, and day-to-day encouragement as well as affirmations. "We are a team at McShin and it is not just a job for us, we are family," says Honesty. Her mission in life is to make a difference, live day to day, be happy, and reduce the negative outlook of addiction.
Her message to all the aspiring business leaders out there is to be passionate, be kind to yourself, follow your goals and if they don't work out make more, and continue to work on your heart. "If I can do it, so can you!" she exclaims.