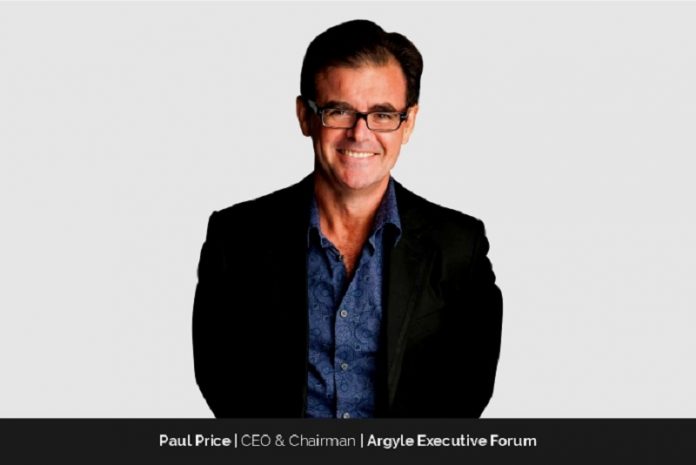 Paul Price has had a very successful global marketing services career. After steering various advertising, direct and digital marketing agencies toward growth for more than two decades, his desire to lead his own company began to crystallize and, in 2020, Paul took the entrepreneurial plunge by buying Argyle Executive Forum.
"After a long career in various leadership roles in multiple structures and with various partners, co-investors and stakeholders, I was motivated to own and lead my own business," Paul says. Now, as CEO and Chairman of his own business, Argyle Executive Forum, his focus is on making it the best digital event experience provider in its industry with strategic global growth ambitions.
Argyle Executive Forum
Argyle Executive Forum helps its clients and members grow their businesses by producing integrated digital event experiences, featuring inspiring, relevant, and insightful content delivered by invited thought-leaders from their target industry communities. And Argyle currently serves a curated membership community of over one million business leaders in finance, CX, data sciences, technology, human capital, supply chain, and cyber-security.
Members of Argyle get to be part of a peer-driven community of highly qualified senior-level business leaders who are focused on connecting with like-minded professionals and gathering forward-thinking insight to advance their organization's agendas. They can also access proven best practices, network with thought leaders, and tap into new resources to drive results.
Life before Argyle Executive Forum
Before Argyle Executive Forum, Paul led multiple marketing services companies, serving global clients. He served as Chief Partnership Officer at Omnicom's DDB Worldwide, one of the world's largest and most influential advertising and marketing services networks. "My first leadership role was at DDB in Australia," says Paul, who is a native of Australia. He led a turnaround of the agency which had suffered significant client losses, returning it to profitability and growth.
Following his success at DDB Australia, Paul joined DDB Worldwide, headquartered in New York to assume leadership of one of its largest global clients, ExxonMobil which the agency served in over 100 markets. His success in leading the client's rapid growth as an integrated marketing services client led to his appointment to the global board of directors of DDB Worldwide. He co-led efforts to expand DDB's integrated offering of marketing services to clients, introducing an innovative global approach aimed at unifying DDB's strategic planning process for serving multi-national clients. During his decade-long tenure at the company, he is said to have established a track record of marketing service innovation. Paul also served as Global President at Rapp Collins, another Omnicom Group company.
Under Paul's leadership, Rapp re-branded and repositioned itself as a digital direct marketing agency. He also successfully led the acquisition of multiple global clients with unique integrated service platforms through the repositioned Rapp offering. And, during his stint as Global President, RAPP was also named on Advertising Age's annual Agency A-List – the only direct marketing agency leader on this prestigious list in 2009. Paul considers this recognition by Advertising Age as the best recognition he received as a business leader. And his proudest moment, he says, is "winning Rapp's first big global assignment on behalf of a combined Omnicom team (HP). Other wins he led included database marketing and data sciences assignments from Humana, Pfizer, and ExxonMobil."
After exiting from Omnicom Group, Paul joined digital marketing systems integrator, Creative Realities as CEO, his first private equity-backed role which he exited a few years later following its public listing. In 2015, he was recruited to Creative Drive, where he became the first CEO of another PE-backed digital marketing services roll-up focused on e-commerce marketing solutions. And, from 2016 to 2018, he served as CEO at the world's first CX content studio network CoCreativ for which he had researched and developed the investment thesis, lead capital raising, and completed multiple target acquisitions forming the CoCreativ Group.
Paul was part of several Private-Equity based partnerships as an Operating CEO with PE partners, including Pegasus Capital, Bertram Capital, and Frontenac.
"My career has been characterized by leadership in delivering innovative integrated bundles of digital marketing services to clients, more recently e-commerce and CRM-based," Paul says.
Priority of a Leader
Paul does not like to measure his success in terms of his personal growth or material and financial wealth. Paul believes that leaders' success should be measured by the success of their team. "So, leaders' ability to rally people around them, unify them toward achieving a common vision and enabling them to be successful is every leader's priority," Paul says.
He also does not want his employees to do as he dictates; instead, he believes in leaving room for them to perform their roles. In addition to that, he ensures that they all share a collective vision, which keeps his team motivated to deliver the best service.
And, at Argyle Executive Forum, Paul has created a positive, respectful, and fair environment for his team. He, however, does not believe in ignoring mistakes as opportunities for improvement.
As a leader, Paul, too, has to deal with challenges. He feels that they compel leaders to make the best possible choices given their strategic goals. "It is important to address the challenge from that point of view or otherwise they are a waste of time and effort," Paul says.
Sticking to a Routine
Paul is a stickler for routine. His mornings are scheduled for regular one-to-ones with direct reports and team meetings. He devotes his afternoons to strategic initiatives, business development, and research as well as addressing any short-term issues that he can help with. Paul's routine also helps him prevent blurring of the line between personal and professional life.
He says that he maintains a balance between his personal and professional life by sticking to a routine and processes that prevent intrusion by one into the other. And he makes sure that he adheres to boundaries set by him.
"Setting and adhering to boundaries between the two helps let both – personal and professional life – help each other," Paul says.
Personal Goals as a Business Leader
Paul is not a rigid leader who resists change. He focuses on being adaptable. And because of his adaptive way of thinking and acting, Paul does not fear losing the power to call the shots at his company. One of his personal goals is to build a business that doesn't depend on him. Paul also wants to enable sustainable growth without compromising the quality of their brand.
Plans for Argyle Executive Forum's Future 
IT, finance, HR, and CX communities are the core markets of Argyle. Paul wants his business to achieve continued growth in these markets. In the future also, he expects to see a relevant and focused Market expansion of Argyle in key segments such as Data Sciences as well as select global markets primed for digital event marketing growth.
Innovation is a key part of Argyle's plans for the future. Paul says that they want to continue offering innovative new digital product experiences, which complements the business needs of their members and clients.
Message to Aspiring Business Leaders
Focusing on caring for his team and their growth makes Paul a great leader. And as he believes that people must come before profit, his message to aspiring business leaders is:
"a positive people-first culture with a focus on teamwork is essential to success."