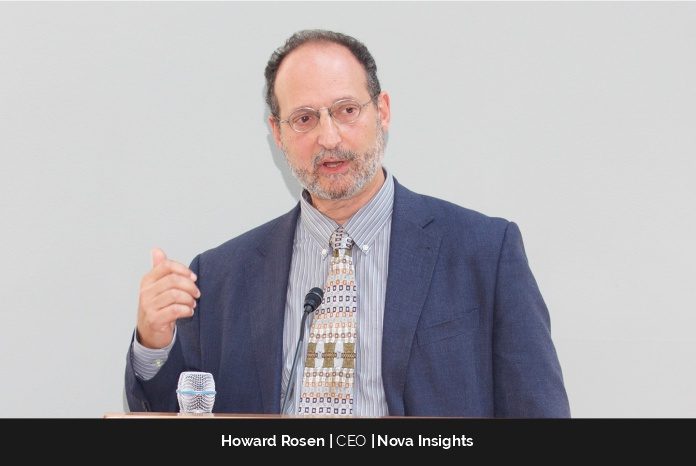 We've all heard the expression "born leader." The phrase implies that the qualities that make a good leader are innate. Certain traits indeed tend to be innate—such as charisma, humility, and a sense of humour. Key leadership qualities to be successful can be learned and improved over time, such as effective communication, goal-setting, and strategic thinking. Every successful leader has a unique definition of success.
Howard Rosen, CEO of Nova Insights states that fulfilling your mission, not just because of the nay-sayers but perhaps by being pushed by them, to create business good, societal good, and personal good. In the end, we all leave a legacy of one sort or another, good, bad or somewhere in between. "I think that if we are going to be here for 70 – 80 years, why not make the best of it and for others who follow,' he says.
Challenges are an excellent opportunity for growth.
Challenges force you to tap into your creativity to come up with ways to overcome them. They make you stronger. When obstacles stand in your way, you need to consider them as opportunities to find creative solutions to surmount them. Howard believes that the more an idea receives push-back, the more likely you are on to something. The hardest part is moving forward against that, learning to trust your instincts on where to push and where to listen.
Nova Insights in Redefining the Healthcare Space
Having built a health innovation company starting in the early days of the HealthIT evolution, Howard is using that experience, advising and consulting on innovation strategy, HealthIT, and engagement. A Schulich MBA with two decades as a film & television producer before HealthIT, Howard brought a unique perspective to patient engagement.
Great healthcare systems should transform the way we think and feel about our well-being. Nova Insights is a new venture, being Howard's 3rd venture throughout his career (the first being a film & television producer and the second was as a healthIT inventor) all of which have laid the groundwork for what he is doing now. He says it can be best described as Humanizing Digital Transformation. With his experience of what worked and didn't, implementing Health IT, though always part of the tech DNA, he has harked back to his first career incorporating that by helping companies to see the human side of technology, how to take into account the whole eco-system of customers both internal and external to the organization or health system. All as supported in a McKinsey report where they noted only 25% of digital transformation is considered a success and only 4% – 11% in health.
Howard's Career Path and The Best Recognition He Received as A Leader
Educated as an MBA, Howard started his career as a producer of film & television. At one point, when he had two productions simultaneously (one involving education on Diabetes and another doing promotions for mobile devices), in 2005, he learned that a disease like Type II Diabetes was preventable, but all the available solutions pushed people away from its management. This got him thinking what was needed was a means that can be tied to people's lifestyles while engaging them. Thus, when Howard started working on the promotion campaign for the cell phone, learning how in the future the phones can have programs such as tell us the weather (remember this was 2005), late one night it dawned on him that perhaps cell phones could be that lifestyle device that can be the means and the link between disease, health management and people's daily life.
Since then, it developed into a cloud-based solution called LifeWIRE, and Howard has since been awarded 6 patents and many honours. "The wildest recognition, aside from the patents, was perhaps being chosen as a Rockefeller Foundation Top 100 Next Century Innovator," he exclaims. Yet, Howard states that he has not yet achieved all that he has dreamed of.
Life Before Nova Insights
As the CEO and Founder of Nova Insights, Howard defines himself to be a tenacious and quixotic person. Before Nova Insights, but after a career in film & TV, he was CEO/Founder of LifeWIRE, taking the company from a solopreneur to a company operating in US & Canada with clients in both the public and private sectors, military and civilian sectors.
Plans For the Future of The Company
Nova Insight is on a trajectory, upward and forwards. "I believe that the best health service can be provided where there are insights and paths that lead to patients gaining access and care on their terms and where they allow clinicians, providers, and care workers to work at their best level and not be led to be satisfied to just be good enough," says Howard.
Maintaining A Balance in Personal and Professional Life
Howard states that he tries to maintain a balance in his life by engaging in outside activities during the course of any given day such as playing the guitar and walking his dog while also encouraging everyone else to find a way to break from the trance of work to allow the mind to rest and process.
His one message to aspiring leaders is that the more an idea receives push-back, be certain that the more likely you are on to something. The hardest part is moving forward against that, learning to trust your instincts on both where to push and where to listen.