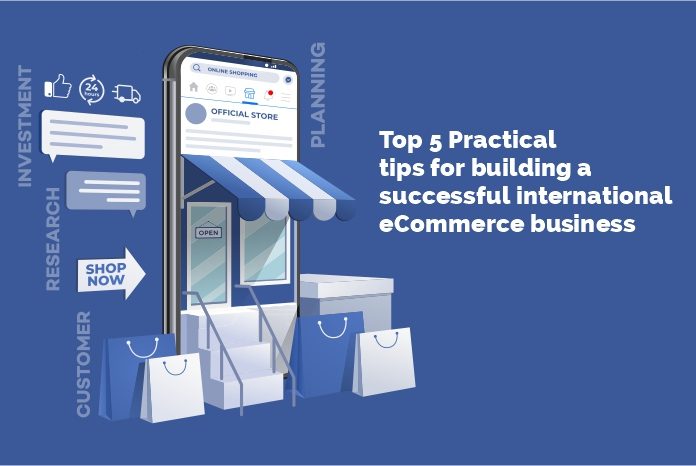 Developing an eCommerce business globally is considered a daunting task that requires months and sometimes years of strategic planning and execution. However, to streamline the whole process, we have come up with the most useful tips that are actionable and will surely result in the success of the international eCommerce business in no time. So, without any further ado, let's get started!
5 Practical tips for all aspiring to build a successful gloabal eCommerce business
All the following tips are helpful in creating a strong eCommerce business foundation so that you don't face any issues later!
#1: Research everything thoroughly and then plan to scale
Always start with your country-based research on different regulations and then, think of expanding your business ahead. Have a look at all the tax and customs-related information and the required export proofs, insurances, and restrictions. This will surely streamline your scaling process and help in keeping the customer's private details more secure. Contacting a legal consultant can also prove out to be very useful in understanding the handling of different cross-border taxation, payment etc.
#2: Planning the scaling of international logistics & warehouse management
Once the initial research and planning are done, you need to start planning the inventory management precisely using SKU. It helps in refining the logistics process in the best way and for starters, it can be done using a fulfillment partner for worldwide shipping. Further, optimizing the warehouse management strategy is also crucial as the delivery speed and overall operational costs rely on them. In this scenario, decentralizing the goods storage into different fulfillment centers can surely impact the shipment.

#3: Invest in easier data integration and scalable eCommerce platform
Always be on a lookout for hassle-free solutions that cater retailers' needs with easy and secure integration of customer and operations data sets. Moreover, opting for a scalable eCommerce platform will prove out to be very profitable. You just need to test all its localization features to check if it suits your specific business needs such as provision of multilingual functionality, number of SKUs, country-wise administration and ease of moderation.
#4: Use your competitive advantage for omnichannel customer engagement
Since your customers love your products, you just need to modify your existing competitive edge to target more regions with localized approach. Devising a strategy for omnichannel customer engagement will boost your reach and automatically augment the sales in no time. For that, make sure you target on all the customer touchpoints and keep tracking and personalizing all the customer engagements. Use the power of content to attract and capture organic customers.
#5: Customer experience makes all the difference
It is an old adage, "Customer is king." Thus, serving the customer needs to be top-notch to maintain his trust on your brand. Begin with formulating a return policy, handling fraud cases, selecting the best international payment methods, and prioritizing mobile eCommerce. Slowly, try to become a master in your niche and also engage in strategic partnerships. It is because in the end, seamless flexibility and customer experience is all that matters.
The bottom line
We understand that making an eCommerce business available in other parts of the world may seem easy on paper but takes a collective effort of many months of planning and execution followed by years of gaining trust. If you follow all the above-mentioned tips, we are sure that your eCommerce business sales will slowly touch new heights globally as well.