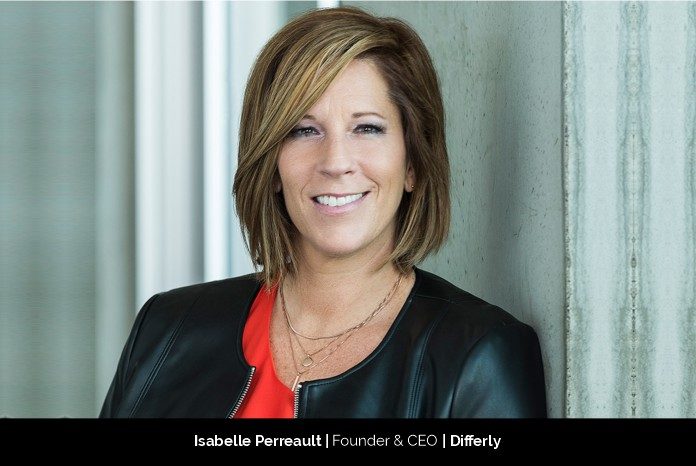 New and transformative technologies are disrupting every industry. The great irony here is that Digital Transformation is not about technology in and of itself. Rather, it is about how we, as leaders, adapt to the pace of change and continually rethink how we create and deliver value in a digital economy.
This disruption has forced businesses to look for tech-enabled strategic planning and road maps as a key to survive and thrive in the decades to come.
Isabelle Perreault is the Founder and CEO of Differly Inc. a management consulting group that helps organizations and their leaders uncover opportunities and become more competitive in a digital economy.
Safe and "Status Quo" Rarely Pay Off
Isabelle is a business leader who doesn't play it safe. She sees her journey as "unconventional" and characterized by doing things that scared and challenged her. Early in her career, she left a comfortable position at a University leading digital marketing for a 12-month contract with an NHL Hockey Club, the Ottawa Senators. It was there that Isabelle began to see first-hand the deep impact of technology on virtually all aspects of the business, in particular on consumer habits and expectations. After that, she turned her contract into a full-time career leading the marketing and digital strategies and spent the next eight years laying the foundation for the team's digital transformation. After having ample experience in the field, she then left to create and lead a digital transformation practice at a management consulting firm for three years.
However even with a healthy 6 figure salary, Isabelle felt unfulfilled. Like any other entrepreneur, she had a burning desire to create something of value and a clear vision for how she could fill what she felt would be a gap in the marketplace.
Isabelle launched Differly as a platform that aims to bring cross-disciplinary expertise together to focus on tech-enabled, human centered business transformation. She says, "The real challenge is planning out how to leverage technologies to solve human problems both internally from an operations perspective and externally, serving rapidly changing consumer needs." 
Why Differly Inc.?
According to Isabelle, "transformation requires us to upgrade our strategic and operating framework much more than out IT infrastructure. Organizations need to embrace a present-forward and future-back mentally to grow in the next 18 months and survive the next 10 years."
She adds that change is certain, but innovation is inherently uncertain. She sees innovation not just as a buzzword but as a discipline. She suggests that businesses need to build a framework around idea generation, idea evaluation, and making informed bets based on customer obsession. If you consider transformation not as a destination but rather a continual loop of learning, then innovation is the key ingredient.
The ability to adapt and innovate both as individuals and businesses is more important than ever. At Differly Inc., the team helps organizations and their leaders to understand the immense change brought on by technology. The team aims to remove blind spots and help leaders and organizations become "fit for the future". "Our focus is on developing and driving tech-enabled, human-centric strategic plans. We firmly believe that 'technology doesn't disrupt, people do'".
Mistakes are a Sign you're trying new things
Isabelle believes a common thread in her career has been doing things that make her uncomfortable and taking risks. She feels that "If you're not making mistakes, you're not trying anything new, which would be the biggest mistake of them all."
According to Isabelle, the most valuable lesson she learned is not to overthink or wait when contemplating big strategic shifts. She opines, "This is when fear sets in. Your brain will move you away from things that are uncomfortable. Momentum and action are the key., Success breeds success." 
The biggest recognition for Isabelle is to have other experts in the field want to join the collective she has built at Differly Inc. and work with fantastic clients (leaders) who trust the team with their challenges. She also finds it very rewarding when she is asked to speak or comment in the media on topics that she cares deeply about.
Ditching the word Balance for a Dashboard.
Isabelle defines herself as a curious person. At Differly Inc., Isabelle is responsible for vision, strategic planning, and business development. Like any other leader, she faces the balance of professional and personal obligations. She says the word balance doesn't suit her much as she feels keeping work, kids, family, relationships, health in a perfect equilibrium is an impossible aspiration. She asserts, "I prefer to see things like a dashboard. Define what makes you feel successful and assess if you're in the black or the red with each area. You'll know when one of these is in deficit and needs a bit more investment and time; adjust as needed."
Bridging the Gap
At Differly Inc., the team wants to expand the company's reach outside of Canada while bringing together expertise in all drivers of change to help as many organizations as possible. Isabelle feels the pandemic has forced many companies to fully adopt virtual work allowing smaller businesses like Differly Inc. to work outside of geographic boarders.
Isabelle sees the company as a platform for both clients and consultants where they collaborate as a team on pressing issues related to growth in a digital economy. At the company, the team supports the diversity of thought and respect that there are many avenues to get to the same goal. Personally, Isabelle is committed in her desire to create and support a movement of leaders who are building organizations that are fit for the future and the humans they serve.
At present, Isabelle is working on creating a Mastermind Group for senior leaders who want to be catalysts for change within their organization or those who must lead a transformation. She clarifies, "It will be a six-month accelerator program where we will dive into a topic every month from innovation to exponential tech." It will be a type of training camp that aims to inspire as many leaders as possible and arm them with the knowledge they need to disrupt themselves first, then their business.
Think Big. Plan Small Steps. Start Now
Isabelle's advice to aspiring businesswomen is to start with the first step; this builds momentum. She adds, "We greatly underestimate what we can accomplish in a year because we see the whole of what we have to do." She believes that doing what is hard gives growth, adventure, and surprise, while stagnation leads to 'being stuck'. Start. She says, "When that tiny step has been done, what is the next?"
Happiness is a Choice.
Isabelle defines success as continual growth. A lesson that she reflects for her younger self is that 'We are so much more than the sum of our accomplishments.' She says, "Who we are becoming on the way there is just as important. The fail-proof, highest return on investment we can make is the one we make in our growth and learning. Nothing provides more compound interest." She suggests, "Try new things and don't take yourself so seriously. Happiness is a choice we can make daily, not an outcome to achieve."