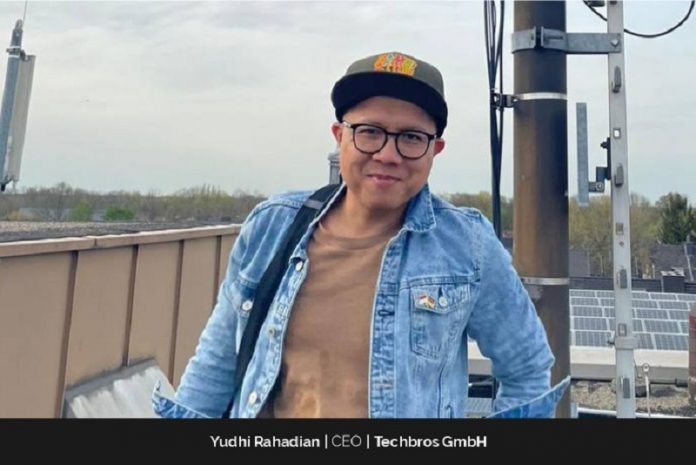 Success is the ultimate goal for most entrepreneurs taking their first steps into entrepreneurship, as their dreams and aspirations are at risk of being dashed if they fail. Yudhi Rahadian, Technopreneur and CEO of Techbros GmbH, however, is an anomaly in the world of entrepreneurs. When he founded Techbros, success was not his main goal. He was prepared to fail and intended to learn from that experience.
Yudhi believes that failures offer an opportunity to learn. For him, that matters more than spectacular success. He intends to learn as much as he can from his mistakes and bad experiences. "Learning from failure is the most important factor in developing strong self-leadership as well as solid management," says Yudhi, who is always persistent in the face of setbacks.
A telecommunication industry expert, Yudhi has worked in 16 countries around the globe. In 2017, he founded Techbros in Germany, which now has branches in Romania, Indonesia, and Singapore. Prior to establishing it, Yudhi had never dreamed of creating a company in Germany and expanding it globally. "It is one of the dreams that I never dreamed of," he says. Now, he hopes to see Techbros flourish even after he retires as its CEO.
Enabling Digital Transformation of Companies 
It is the era of digital technologies. Almost every company in the world is embracing them, and according to Yudhi, they are disrupting old industries and creating new ones. Plenty of opportunities spring up because of such disruption and creation, but new challenges also emerge due to that. Techbros was founded with the aim to offer answers to those challenges and provide opportunities for digital innovation. It invariably coveys that through its tag line is: "#yourdigitalinnovator."
Techbros follows a design thinking approach that is inherently customer-centric, and it then converts innovative solutions into technology use cases. The company offers services related to 5G Private Network Deployment, Artificial Intelligence, IoT use cases, and Big Data Analytics.
Although Yudhi did not think of success when founding it, Techbros is a successful enterprise today. It is known for offering every product and service that companies need for their digital innovation. The three products of Techbros are: Elang AI, a fusion of IoT, deep learning and computer vision; TechbrosFI, which is based on MagmaCore, an open-source platform for building carrier-grade networks; and Zero Touch Automation – the automation of various configuration tasks helps minimize the number of hours employees invest in the process.
Yudhi gives credit for their success to the "solid and reliable collaboration" of their team members, who complement each other. The company is built on the foundation of transparency and mutual trust, which ensures that a team member does not bring another member down. According to Yudhi, trust is built, not earned.
Yudhi believes more in rewards than awards. So, for him, managing to convert an idea into a prototype and then into a solution that is beneficial for improving the quality of other people's lives is as an achievement of Techbros.
For Innovation, Important to Identify Mistakes
Yudhi believes that innovation is critical to learning, but in order to innovate, one needs to know what went wrong. He explains that failure is not the end, but it leads to learning and offers the opportunity to identify where someone went off track. Once it is determined, "we can implement new ideas, new approaches, and new strategies," says Yudhi. "All of these result in increased innovation and creativity, which aids us in our learning journey."
He says that during his learning journey, so far, he has managed to understand:
Whatever we do in this life is a race for goodness, not a race for excellence against one another.
A growth mindset embraces challenges. It persists even in failures. It wants to learn and grow. It accepts and embraces constructive feedback and constructive criticism. As a result, people can learn, change, and adapt
It is not important how much treasure you have, but how can you be grateful for it
What matters is not whether we win or lose; whether someone is fighting or not is what matters.
Build not only your body, but also your mind and be mentally fit.
At the company, too, technological innovation brings benefits, says Yudhi. It increases productivity and offer employees new and better goods and services that improve their overall standard of living. "In fact, this increased efficiency in operation helps reduce costs as well as enables the business to grow," adds Yudhi.
And, for Yudhi, time management is the key to one's success. Everyone has 24 hours a day, and they cannot do just one specific activity in those 24 hours; for example, 7 hours for sleep, 8 hours for work, and the rest for other activities.
Someone who can position himself according to his function within the time he has is the key to success, according to Yudhi, who also adds that they have to dedicate at least 1% a day to that to become a better and more successful person.
Changing Industry Landscape 
Since 2001, Yudhi has been working in the telecommunication industry. Over the years, he has seen telecommunication technology evolve and become more advanced – GSM, 3G, 4G, and now 5G.
"Technology always evolves quickly and is also in tune with human lifestyle," Yudhi says. When the LTE was launched in 2009, he was one of the lucky people to be involved in the launch of 4G technology in Stockholm, Sweden at the time. After that, she saw people's increased dependence on smartphones following the appearance of the iPhone in 2010. "For this reason, the world of telecommunications is very vital today, and more and more use cases are related to technology every day," Yudhi points out.
Techbros strives to fill the gap that exists between technology and daily needs. Yudhi explains that technology can be an assistant to humans in many ways, depending on its own use. "Here, Techbros will try to make this happen by using telecommunications technology such as 5G," he adds.
Currently, the world of technology is undergoing a change. In the last few years, since Redhat was acquired by IBM, open-source technology has become something that can be a profitable use case, notes Yudhi. With open-source technology such as OpenRAN, for example, it has become possible to collaborate with the Telecom Infra Project (TIP) and also Telkom University. More use case innovations can also be done with OpenRAN 5G.
And Yudhi believes that competition is no longer a trend nowadays; it is collaboration. He also points out that without innovation, there is nothing new, and without anything new, there will be no progress. "If an organization isn't making any progress, it simply cannot stay relevant in the competitive market that is rapidly changing," he adds.
CEO Only During Working Hours
Yudhi believes that leadership provides energy in the form of trust and security, and in addition to that, it distributes wisdom, knowledge, solutions, and creates harmony for those around them.
As the CEO of Techbros, Yudhi leads the team, builds the network of strategic partners, develops business strategies, plans long and short terms objectives, oversees operations to ensure alignment with strategy and mission, and drives the company's financial planning.
Yudhi follows a participative leadership style. He encourages his employees to express their opinions and their own creativity. "Between the management, sales, marketing, technical and other non-technical teams, there is no distance and bureaucracy," he says. "The escalation of the problem is so fast that the solution is immediately found, and for us, the most important thing is to focus on the solution, not the problem."
In spite of handling multiple responsibilities, Yudhi completes all his daily commitments within his working hours. He works for only 8 to 9 hours as the CEO, and after that, he likes to spend time with his family. "I'm only the CEO during working hours," Yudhi says.
At home, he usually plays with his children or just hangs out with his family. Besides that, every Friday, he also plays music with his band. "We usually play rock music," Yudhi says. Sometimes he also plays badminton with other friends.
Future: To be Helmed by Next Generation
It is Yudhi's wish that Techbros remains in existence even after he retires. "I hope that when I reach the retirement age – turn 60 or 70 years old, Techbros is still very much active and thriving." He wants to see it become a company that can be continued by the next generation.
About 80 percent of Techbros employees are young people in the age group of 20-35. They have energy and immense potential, so Yudhi is hopeful that Techbros could continue for the next 50 years.
"I hope that the next generation can be tougher and stronger in the face of many failures and learn from those failures, Yudhi says. "I call it an intelligent failure, learn from mistakes, make it an experience, and become 1% better than before."
Message to Aspiring Business Leaders
Everyone can become a leader, but not everyone can demonstrate leadership authority, Yudhi points out in his message to aspiring business leaders. "Authority is obtained from a long process and may also be formed because of people's plural beliefs."
"Leaders who have a leadership spirit don't just give instructions, which can be seen in the managerial pattern, but are able to sow inspiration as well," he adds.