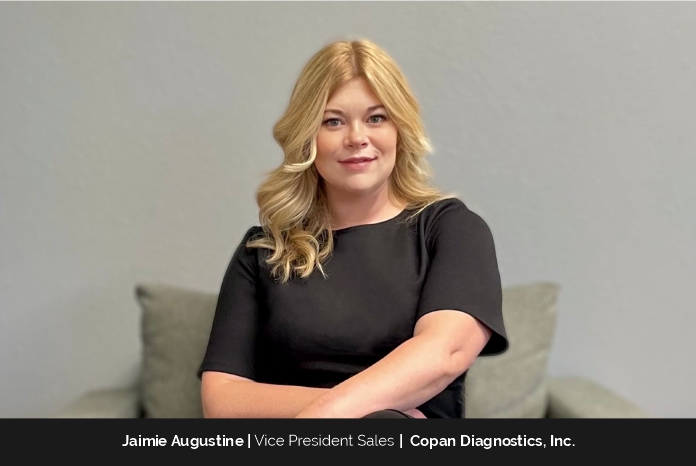 With a demonstrated history of success in the medical device industry Jaimie Augustine serves as Vice President of Sales at COPAN Diagnostics a leading manufacturer of Microbiology and Virology sample collection and transport systems.
Currently, Jaimie leads a group of six sales managers who manage business development of COPAN's sample collection and transport as well as laboratory automation in the hospital sector. Additionally, she oversees commercial relationships for COPAN's distributors and assay producers. Solution development and visits with end users who require assistance traversing the portfolio to locate the right product for their application are among Jaimie's everyday activities.
Jaimie enjoys her job since every day is unique. One day she may be participating in the development of a new sample collection kit to address the market's shifting expectations, the next she is in Europe meeting with business partners to discuss collaboration and strategy.
COPAN Diagnostics, Inc.
Jaimie enjoys her job since every day is unique. One day she may be participating in the development of a new sample collection kit to address the market's shifting expectations, the next she is in Europe meeting with business partners to discuss collaboration and strategy.
Meeting New Challenges Everyday
Jaimie's career consists of two phases. Prior to joining COPAN Diagnostics, Jaimie earned her BA from Point Loma Nazarene University with a specialty in premedical studies and philosophy. She went on to spend nearly six years managing a clinical research program for a neuroendocrine clinic. The second portion of her career began when she entered industry 11 years ago, and this is where she believes she will stay.
Early in 2020, in response to the COVID-19 pandemic, technology giant Apple announced that it was awarding COPAN Diagnostics $10 million from its Advanced Manufacturing Fund. The funds and partnership with Apple would support the rapid acceleration of manufacturing of sample collection kits for hospitals across the United States.
The relationship with Apple helped COPAN to open a new facility, supply the market with needed supplies and open new jobs in Southern California.
Since 2021, Jaimie has also been working with assay manufacturers supporting home-based diagnostic testing for common ailments. She believes the future of diagnostics will continue to move more into the hands of the patient, and says it is exciting to see the developments and advancements in technology making that happen.
Staying Ahead in the Growing Competition
COPAN is a true innovator and pioneer in Microbiology sample collection and transport. COPAN invented and holds the patent for flocked swabs. Additionally, the company has a long history of utilizing robotics and automation to maximize its production. COPAN's commitment to innovation in specimen processing led to the 2008 launch of WASP® (Walk –Away Specimen Processor), which enables automatic plating and streaking of bacteriological samples. COPAN later developed Smart Incubators and Digital Microbiology in 2012. The team at COPAN understands the value of their work and is passionate about it. A testimony to this commitment is the fact that all the original employees that joined COPAN in 1979, still work at the company. At every level within COPAN, creativity is encouraged, and a tremendous spirit of entrepreneurial creativity exists with few limits. It is this atmosphere that empowers employees to meet challenges, to be innovative and to deliver exciting solutions to the healthcare community.
The Challenges
Although there have been numerous obstacles along the road, none have been as significant as those that COPAN and the entire laboratory community had to overcome in the last two years. Jaimie and the team at COPAN had to make difficult choices about how to distribute the company's supplies to the market. She shares, "How do you keep a team sane as they field desperate calls from healthcare professionals? And how do you take care of your customers who have frantic clinicians and patients calling them? Insurmountable demands came from within and outside the industry, and I knew we had a solution. All we needed was time, people, and the space to do what we know how to do the best – make swabs and transport medium." 
Jaimie did her best to lean in during a challenging time. She offered to support in operations, established relationships and had conversations with government officials, speaking with corporate leaders and heads of state. By facing the situation head-on and with Apple's support, COPAN to constructed a new facility, provided jobs for furloughed employees, and helped provide the market with essential testing supplies.
The Life as a Leader and an Individual
Jaimie thrives in her career by watching her team overcome obstacles, win difficult bids, and support healthcare professionals as they navigate the pandemic waves. In 2021, she was ranked sixth among the Top Women in Biotech by the Healthcare and Technology Report.
Jaimie notes that finding balance between her personal and professional lives is difficult. "In the past few years, there was a tremendous need from our customers, and I spend much more time at work than I did at home." Jaimie stated. "In recent months I've had time to slow down a little, gather my thoughts, take a needed vacation, and reassess priorities."
Jaimie now tries to observe standard office hours. She attends an exercise class or spends time with friends three or four times each week because it's never easy to get away. Jaimie maintains her motivation by appreciating triumphs and finding happiness and meaning in each victory, big or small. She asserts, "Celebrating with my team when they close a tough sale, cheering on a new team member as she gives her first presentation, and holding a finished product that was nothing but a CAD drawing a few months ago–all of these things matter, and they fuel me to come back and give it my all day after day."
Becoming an Inspiration
It's easy to feel like a machine on certain days in a world where technology rules. Being evaluated largely on output, successes, and failures makes it easy to lose sight of the reason for one's daily activities.
She states, "I'd like women to remember that it is not OK for any person to make you feel small. We all have a voice and it's important to be heard, even if it means repeating yourself over and over again." She adds, "Work in your strengths, surround yourself with people who are good at things that you aren't, and most of all, don't waste time competing with others; only compete with yourself."
Sharing Thoughts on Achieving Success 
Jaimie explains that she has never achieved success by adhering to a set formula or process. Success, in her opinion, is defined by working hard, setting a good example, never turning down a challenge, assembling the proper team around oneself, failing, and then improving the next time. She continues, "It's also about fostering a culture where the team understands that failing is good since the greatest successes come from the lessons learned from failing."
Jaimie believes that women are sometimes instructed to suppress their intuition and rely on more of rational thinking. But when she considers her career's high points, she can credit hersuccess to a blend of a solid work ethic, reason, and instinct.
In looking at how she ended up in healthcare on the industry side, Jaimie relates that while in college, she had the experience of being a patient who was awaiting a result. It was crucial that she worked closely with her doctor and that the tests were completed promptly and accurately. At the time she was on her way to enrolling in a physician assistant school with the goal of becoming a clinician when she discovered COPAN. "During my Microbiology of Infectious Diseases course at Point Loma Nazarene University, I loved clinical microbiology. So, when the opportunity at a company specializing in sample collection in this space came up, it was an easy decision to pivot from my original plan to go into practicing medicine to working for a company that would support laboratorians."
The Future of COPAN Diagnostics, Inc
COPAN Diagnostics continues to support the US market with gold standard sample collection and transport systems. For Jaimie's part, she is now supporting areas of the business such as contract manufacturing of sample collection systems for various assay manufacturers. Jaimie enjoys this side of the business because it gives COPAN the chance to combine its expertise in specimen collection with cutting-edge technologies developed by some of the best minds in assay development.