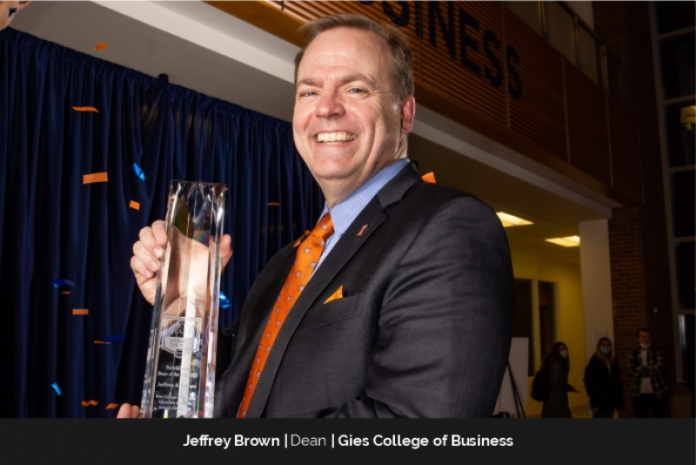 The University of Illinois' Gies College of Business has a century-long history of excellence in research and education, and under Dean Jeffrey R. Brown's leadership, the college has further established itself as an innovator in developing and delivering high-quality, flexible and affordable offerings.
Gies College of Business – which enrolls more than 12,000 learners across undergraduate, residential graduate and online graduate programs – has, for many years, been a premier destination for business education. Now the college is taking its success a step further, offering a variety of graduate programs tailored to meet the needs of both traditional and non-traditional learners as part of its purpose to create life-changing access to business education.
Under Dean Brown's leadership, Gies Business has broken down financial and geographic barriers to education, leading to significant growth in online graduate programs. Because of their unique combination of quality, flexibility and affordability, the college's online programs attract learners from all 50 states and more than 100 countries. To support this growth, faculty numbers are on the rise, too, with an approximately 20 percent increase since 2017.
Across all of its residential and online programs, Gies College of Business provides learners with the knowledge, skills and experience they need to succeed in today's ever-changing business environment. The college has also made experiential learning a required part of the undergraduate curriculum and has integrated those experiences throughout its residential and online graduate degree programs as well. This allows the maximum number of students to gain real-world experience through internships, case studies, and other hands-on opportunities.
Building a foundation for growth
Dean Brown's passion for education comes from his parents, who were both public high school teachers. He says he inherited his father's love of national politics and policy and his mother's aptitude in math, which led him to become an academic economist with a keen interest in policy.
At Gies, Brown has designed a business model that aims to capitalize on the emerging needs of learners at every point in their career. The college committed to offering an alternative to the traditional higher education culture that, for decades, has created and perpetuated scarcity by fostering a culture of rejection. Dean Brown, who has written and spoken extensively about the future of higher education, says many educational institutions have mistakenly equated excellence with exclusivity. He believes that in order to best serve learners moving forward, education should be more expansive and less expensive.
Charting a course for the future of education
Societal and technological change brings uncertainty, risk, and opportunity that can transform an industry. Dean Brown believes schools that are willing to experiment, adapt, and innovate in their educational programs have the potential to shape their future and excel.
At Gies College of Business, Dean Brown encourages bold thinking and disruptive solutions to deliver on the college's core purpose. He believes creativity and determination will create an era of unprecedented agility and innovation in higher education. He also thinks it is essential to explore flexible options that cater to the diverse needs of learners at different stages of their educational journey instead of relying on the traditional one-size-fits-all approach. Gies offers its learners nine undergraduate majors, two minors, six residential graduate programs, three online graduate degrees and five online credit-bearing graduate certificates. By reevaluating the role of degrees in education, Dean Brown sees countless new possibilities for adapting to the changing needs of students and employers.
As the Dean of Gies College of Business, Brown's responsibilities include:
Establishing a plan of purpose for the college
Devising a strategy that aligns with the vision.
Recruiting exceptional leaders and scholars to execute the plan.
A crucial aspect of the role is advocating for the school to its many stakeholders, including faculty and staff, students, alumni, University of Illinois administration and the broader higher education community.
Driving innovation and excellence
Navigating rapid growth in any industry can be challenging, particularly one that has traditionally been resistant to change. To achieve its purpose – which is to shape purposeful leaders through life-changing access to education, research and innovation – Brown worked with the college's leadership to establish five key commitments:
Expand ACCESS to world-class business education, transforming lives in an inclusive culture where all are seen, heard, and valued.
Foster EXCELLENCE in scholarship and teaching, which provides value for business and society and delivers educational opportunities at all stages in the learner journey.
Fuel INNOVATION through a diverse, engaged community that's inspired to discover new ways to do business and new ways to teach business.
INCLUSION is essential for our scholars, learners, teachers, and leaders to thrive.
Facilitate meaningful life-long ENGAGEMENT with the Gies community in our pursuit of a shared purpose.
Disrupting the higher education marketplace
Seven years ago, Gies College of Business gained national recognition for the launch of its online MBA program – which is known as the iMBA. Currently priced at approximately $23,000, it is a fraction of the cost of other residential and online MBAs. This bold move disrupted the marketplace by offering an affordable MBA degree from a reputable institution without compromising educational rigor.
The iMBA has grown exponentially. Its built-in flexibility allows learners to participate from anywhere in the world as long as they have a good internet connection and a smartphone, tablet, or computer. This access means they can take advantage of a highly engaging education taught by Gies' top – and often most experienced – faculty, who are leaders in their fields. And they can do it without having to quit their jobs or relocate their families to pursue an MBA on a college campus.
Gies has intentionally expanded access to business education to thousands of students and continues to develop content that addresses these learners' diverse needs. Brown says it has been both inspiring and fulfilling to see the positive impact the college is making on its students' lives.
Taking risks to achieve your goals.
Dean Brown acknowledges that the commitment to online education at Gies College of Business has been challenging at times. The college took significant risks to achieve its current level of success. One of the most critical decisions was suspending the residential MBA program in 2019. Such decisions are rare among educational institutions, as MBA programs are often considered flagship offerings and have a solid alumni base.
However, many schools lose money on their MBA programs, and they exist primarily for reputation purposes. Gies leadership understood that to build the best online MBA program, resources needed to be reallocated to the iMBA.
Redefining business education for all learners
Dean Brown believes online education can be a powerful tool for universities and colleges to achieve their objectives in a world where learners demand quality, flexibility and accessibility. However, to fully reach their goals, educators must reimagine the range of educational offerings they provide. In the future, competition will come not only from other regional educational institutions but also from international colleges and universities and private sector alternatives.
The technological advancements that make these new educational opportunities possible also necessitate constant updating of skills and knowledge by learners. As educators, Brown thinks it's essential to recognize that the traditional four-year undergraduate or two-year graduate program model is becoming less common. Instead, lifelong learning is becoming the norm. To meet this changing need, the educational system must adapt to provide multiple entry points for people around the globe to weave education into their careers and lives at a time, place and pace that suits their unique needs.
By incorporating online education with a broader array of credentials, those committed to staying current with the latest technology and skills will be able to continuously upskill or reskill as necessary and apply their knowledge immediately in the workforce.
Developing scalable, stackable, flexible solutions
To create a meaningful online education experience, Gies College of Business recognized the need to develop a curriculum specifically tailored to the needs of online learners. As a result, the college invested in state-of-the-art production studios and assembled a team of more than 70 experts in instructional design, technology and videography. Additionally, the college reduced the emphasis on GMAT testing as a criterion for acceptance, recognizing that it creates bias in the applicant pool and perpetuates the lack of diversity in the education industry.
Instead of requiring all students to earn a full degree, Gies recognizes that students today need to upskill or reskill specific capabilities. With the ultimate goal of providing access that changes lives, the college strives to reach and serve every category of learners.
To that end Gies launched a series of fully online graduate certificates in 2022, which are transcriptable sub-degree credentials. Each certificate consists of three courses in a specialized area. They hold value as a stand-alone credential and they can also "stack" into a degree should the learner choose to do so.
Keeping the leadership team driven and focused
Seven years into his tenure, Dean Brown continues to foster an innovative culture that develops purposeful leaders by providing access to education, research and innovation that changes people's lives.
Dean Brown encourages those looking to execute broad organizational change to follow these three strategies:
Make decisions based on what's best for the organization and stay focused on your current role.
Understand that unanimous support is rarely necessary to make essential change. Instead, it is vital to have the backing of internal faculty and core groups of alumni. This allows for faster progress and broader buy-in as the college moves forward.
Finally, be as transparent as possible and tailor your messaging to each stakeholder audience.