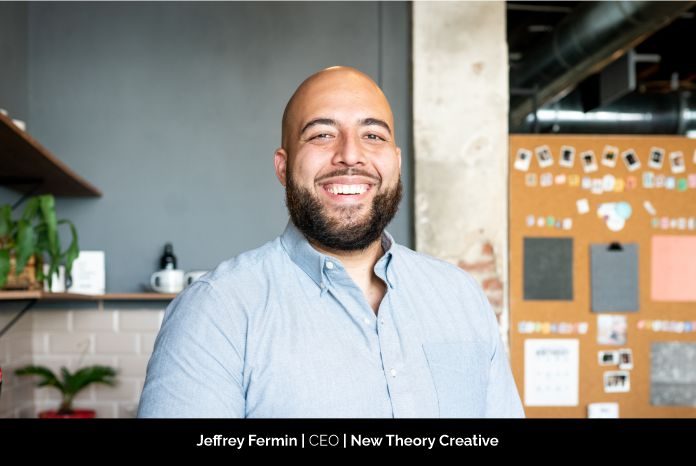 Having the freedom to make choices and positively impact other people's lives is the definition of Jeffrey Fermin's success, CEO of New Theory Creative. He focuses on trying without thinking about winning or losing and drives the company upfront in the right direction.
Ladder to success
Being able to make choices that affect people's lives around him has been a great motivator for Jeffrey in his career.
He completed his Associate's degree in psychology from the Miami Dade College in 2009. Then he went on to expand his academic base by completing his Bachelor of Education in Fitness Administration/Management from the Florida International University in 2011. While doing so, he also attained a Bachelor's degree in psychology from the same university.
He stepped into the corporate world as the co-founder of Officevibe, which was a pulse survey tool and fueled the growth of the startup with everything. As he progressed forward, he handled different roles and gained valuable experience.
However, in the back of his mind, he was not able to decide whether or not he wanted to be a marketer/content creator long-term.  He adds, "Fortunately, I took the month of December to really find out what I want to do, and I knew deep down inside that starting a company was the only way that I would feel fulfilled. Win or lose. I get to say I tried."
In 2019, he marked the advent of New Theory Creative to transform the marketing field with the help of creative people.
Hitting the curveballs with excellence
Jeffrey believes that the challenges while progressing through his career have made him stronger and more confident.
He states, "I've been blessed with having success early on in my career as the co-founder of Officevibe, but was even more blessed to be removed from the company; it enabled me to show more empathy and understand that business can be cutthroat, but I can persevere and still be brave enough to start something that can help others."
Starting a company during the pandemic has its own set of challenges. However, with his past experience in the industry, he was fully prepared to face them and tunnel through them to climb the ladder of success.
He also learned to be patient and find the right time to do a certain thing. Early on, he hired an international business development person to see if they can go "global" early on. Unfortunately, they failed miserably. For some time, he thought they weren't going to be able to expand outside of South Florida.
However, things changed recently through referrals. They have landed a couple of international clients in both LatAm and Europe. Now they are working hard to make sure that those clients are satisfied to continue getting more business in the area.
Revamping the marketing sector with New Theory Creative
New Theory Creative was founded with the belief that creatives are the ones that influence markets. He states, "With my experience in the startup realm and my network of creative professionals, I'm able to assist companies with content creation (photos, videos, audio, AR/VR, and more), website creation, go-to-market strategies, growth hacking, social media management, and influencer marketing. Having been a marketer for 12 years has allowed me to run nearly every kind of campaign. When working with my team, you're pretty much working with folks that will get you results and make your company look great, too."
Coming from the era of "Big Data" and previously starting a company that focused on people analytics, Jeffrey comments that data will play a crucial role in the coming future.
He adds, "The next wave of marketers and marketing campaigns will have done everything from a "data" perspective and will focus completely on content creation and storytelling. People and their stories are going to be what drive sales, web traffic, and engagement. People won't want to look at ads for sales. They will instead want to see how people have benefited from working with a company or using a product."
He expresses that the company is in a growing phase, so he likes to concentrate on the in-house aspects and stay away from the outer noise. He further adds, "I've put a lot of thought into the core values that we want to instill in our employees. I will say that no matter what, transparency is the number one thing. We have very young employees and a good relationship with our creative contractors, so we have to be honest in the way we operate, especially at such a delicate time. If there's something that's wrong, I let everyone know. If things aren't looking too good, I let them know. If we have an interesting person in the pipeline, I let them know. Whether it's good or bad, I let people know what's going on."
Life as the CEO of the company
Wearing the hat of the CEO of the company, Jeffrey oversees everything. He has a say in every aspect of the company. However, he knows when to get in the driving seat and when to delegate work to his expert team to get the best results.
While fueling the growth of the company, balancing both his professional and personal front at the time is a little challenging. Being a result-oriented leader, he expresses that it is vital to stay calm during troubling times, take care of all aspects, and look for the opportunity to jump back.
Talking about the source of motivation, he states, "I'm motivated to get to a point where my company is doing a good enough job of sustaining itself, and I can institute policies for myself and others to have a fun, flexible work environment where we can work hard and play hard. I'm probably a couple of years away from getting to that point, but I know if we do well enough, we can get there."
Future plans of the company
Jeffrey states that they are looking to expand the company's roots to new areas outside of South Florida. He further adds, "In terms of long-term business goals, I would love it if New Theory is a global brand and that we're able to still have that ma and pa feel while working with some of the world's largest brands. Aside from that, I want to go beyond marketing and build products, whether they're custom-built software, apps, and even down the road, hardware and wearables. If we can grow from being a marketing company to something like Google, it would be a dream come true."