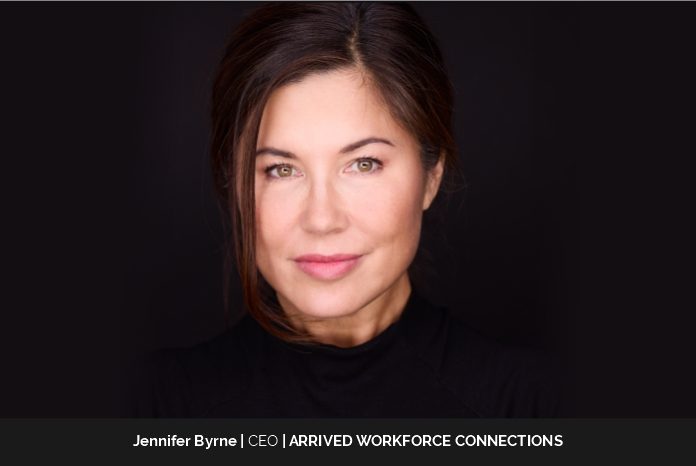 Self-belief And Hard Work Will Always Earn You Success
Every leader has a unique definition of success. Jennifer Byrne, CEO of Arrived Workforce Connections doesn't think of success as an end-state. For her, it has never been about the achievement of a single goal.
"I would say the word, "successful", has been more relevant to me because it better captures the smaller accomplishments that in aggregate lead to something bigger. Very few of us pursue a single goal that we set forth for ourselves at the beginning of our careers. Instead, we change course many times. We learn what we like and what we don't like, we seize opportunities that come our way, and we decide to stop pursuing work that no longer serves us," she says. This same concept also applies to the success of a company.  Almost every successful company changes course direction at least a few times. Small successes lead to bigger successes. It is just as important to focus on short-term wins because they often lead to the next opportunity.
Leading A Company To Success Is Not An Easy Road To Take
When Jennifer left Microsoft, she knew she wanted to spend the rest of her career creating a positive and lasting impact. "I'd led an innovation project focused on digital skills and I saw the need for solutions to help people develop the skills they needed to survive and thrive in an increasingly digital world," she explains. Over time, she broadened her view from digital skills to skills in general, as she saw the growing divide in the labor force between highly skilled versus lightly-skilled and unskilled workers.
Arrived Workforce Connections is building a platform that can change the dynamic for workers on the lower half of the wage scale and for Jennifer, leading a company with the potential to make a positive impact feels like work that is worth doing. Jennifer states that she is reminded every day how hard it is to grow a company but to her, the potential reward for what they do far outweighs the risk.
Challenges Make You Stronger
The only way to build any kind of strength is to constantly push against the forces that hold you back. Jennifer thinks that we all know this. It's why the saying, 'you have to get comfortable being uncomfortable, is so common. She believes what is easy to miss, is the fact that you can't just
apply yourself once in awhile. Getting stronger only happens when you push yourself every day.
"I've had so many roadblocks in my career. I changed career paths a few times which always meant starting over in a lower position and working my way up again. I also pursued a career in technology without a formal computer science background, nor an MBA.  I had to overcome a perception about my abilities and I had to do a lot of learning on my own," she explains. She also adds that ultimately, she learned a lot about herself and that helped her communicate to future leaders exactly how she could add value to their organizations. She landed several executive positions that way.  She further learned how to become a very efficient and effective learner which she states has been critical for her to acquire a broad set of competencies across different fields and different industries.
Arrived Workforce Connections – Its Services & Contribution In Redefining The Industry
The mission of Arrived Workforce Connections is to bridge the gap between great people and great work. Staffing Agencies and Employers in industries where work is predominantly shift-based and short-term need tools to attract and retain talent. In today's climate, those tools need to meet the needs of workers because simply put, there is more work out there than people to fill open jobs. "Our platform connects workers via a mobile app to available jobs with a matching engine that starts with a worker's profile. This means that anyone using the app is proactively notified of opportunities that are screened to meet their needs whether those needs are minimum pay requirements, type of work, location or schedule," explains Jennifer.  As workers build their career or their circumstances change, they update their profiles so that new opportunities are always relevant.
Arrived Workforce Connections sells the platform to Staffing Agencies and Employers that put their own brand on the app, and they are responsible for driving adoption across their existing workforce and talent pools. The mobile app and platform help them retain their existing workforce by changing the scheduling dynamic so that workers have more control over their work hours, their pay, and the type of work they do. The platform also automates most of the matching and scheduling process which drives a lot of cost out of a mostly manual process.
They truly believe in empowering people to find work that is both meaningful and rewarding. Their mission is to help the organizations that hire people, empower their current and future workforce with solutions that bridge the growing gap between great people and great work.
Innovation – The Ability To See Change As An Opportunity
Jennifer says that innovation is at the heart of everything they do. "We are a small company making our way in a crowded ecosystem of HR tech solutions. Therefore, we constantly need to innovate new approaches, and innovate our way around existing challenges," she exclaims. They believe their path to success relies largely on their ability to remain very focused on the core value they provide to their customers. With so much technology available to customers, it is easy to get confused about what solutions to choose. Arrived Workforce Connections speak clearly about the end-to-end value they provide. They also prioritize open platforms and an API-based approach because, for them, it is much better to integrate and offer a modular approach than try to be all things for all customers.
Responsibilities And Achievements As CEO
Jennifer took over the role of CEO in October 2021, after having chaired the Advisory Board for a year while the company made the pivot from a Staffing Agency with a killer digital platform, to a tech company offering that platform to the market. Shortly after she joined they changed the name and branding of the company to reflect a broader mission and so far, that has been very well received by the market. Their first customers have been very willing to provide great public references for them which have been such a great confirmation of the value they are providing.
She states that her primary responsibility is to ensure that they are achieving sustainable growth that is aligned with the company's mission. "In a small organization, this means I touch every aspect of our business on an almost daily basis: technology/development, sales, and marketing, business development, HR, legal, operations," she adds.
Balance In Personal And Professional Life
Jennifer says, "I've been practicing work/life balance for a long time so I like to think I've figured out how to allocate time and energy to both my personal and professional goals." She prioritizes her health because she states that when she has enough energy she can give more to the people around her: both at home and work. "I'm an avid trail runner and most recently ran a 30K trail race in Moab Utah. Trail running takes a lot of mental discipline and a willingness to suffer in pursuit of a goal. That mental training helps me a lot in my work. I believe that the best motivation isn't from something external, rather it is fueled internally by a combination of personal dreams and aspirations, and a belief that those dreams are possible," she further adds.
At Arrived, they believe they have a bold vision and as such, it won't be a short journey. Jennifer states that her priority is keeping everyone focused on their mission and continuing to adapt to the needs of their customers. She has always found that by working hard and with a sense of purpose, the future takes care of itself.
Jennifer strongly believes that as a leader her job is to cultivate an environment where people are fully seen and heard, and where they feel encouraged to pursue their dreams.