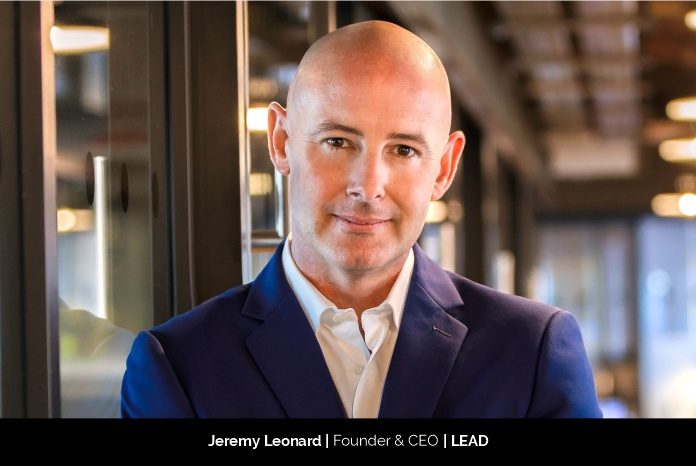 As digital marketing became a higher priority for brands and technology platforms evolved into end-to-end solutions, the big consultancies jumped on the bandwagon and started bolstering their digital advice offerings. For years, the only individuals advising businesses in this sector were their agencies, who would either promote marketing technologies that fit the agency rather than the client, or they were paid a commission by the vendor. A significant shift happened when huge consultancies started buying digital agencies, and their independence was thrown out the window.
Jeremy Leonard, the CEO and Founder of LEAD, has worked in advertising and media companies for the past 20 years. Before embarking on his entrepreneurial adventure, Jeremy worked for two multinational start-ups, gaining important expertise in rapidly and worldwide expanding businesses.
"It's easy to stay motivated when you care about your staff, and you carry the vision of the company that they have come on board to be a part of," says Jeremy. He believes, at the end of the day, his primary function is to ensure LEAD's vision continues to be realised and the business remains successful long into the future.
Currently, Jeremy owns 80% of the business and his Managing Director, Jack Shearring, owns 20%, but everyone that works at LEAD knows that they can own a piece of the company as well.
Jeremy's objective is to sell down his ownership to them as the company expands and management hires additional people who share the firm's vision and culture. This way, they'll be driven to maintain LEAD's success by their own personal ownership. Jeremy hopes that the company's culture of passing on ownership is maintained in the future as the company's next generation of leaders and owners grows with it and then passes on their expertise and ownership to the generation after them.
The Idea behind Starting LEAD
Most of the world's biggest consulting firms now own digital agencies, and while they claim to be unbiased, they take commissions from huge tech vendors and then advocate their group agency services. It was this change in the market that drove Jeremy Leonard's desire to move away from being focused on primarily marketing technology solutions to providing impartial advice across the entire digital marketing operating model.
LEAD evolved from another company concept created by Peter Goodman, a software entrepreneur who made millions selling his marketing platform and discovered there was no one offering businesses unbiased marketing technology advice. Jeremy was so enthusiastic about the concept that when Peter asked if he wanted to help him create it, Jeremy leapt at the chance.
LEAD
LEAD, a digital consultancy, assists multinational businesses in optimising their digital marketing operations and results. It creates and implements digital operational models for global companies that increase marketing effectiveness and efficiency by concentrating on their people, processes, technology and data. Jeremy asserts, "We deliver everything from digital auditing, organisational & process design, all the way through to reporting frameworks and stakeholder training."
One of the main differences between LEAD and many other consultancies is that we specialise in implementing the changes we propose and our whole staff has real-world expertise in the areas we counsel on.
The teams at LEAD are often brought in (once a big consultancy has delivered a recommendation) to help a client make sense of it, cut away all the irrelevant and impractical parts and then design and deploy the changes that are needed and achievable (or quite often the ones that were missed completely).
Jeremy opines, "Even now there are very few digital consultancies in the world that are truly impartial and I'm fiercely proud that LEAD is one of them."
Success is the Result of Previous Failures
Jeremy thinks that success is a mental condition. "Your own personal success can only be measured by the challenges you set yourself and how you approach them," he adds. There have been several occasions in his life when things did not go as planned, forcing him to rethink and change course. They were failures for Jeremy because he didn't accomplish what he set out to do, but they were also significant life experiences that helped him get to where he is now, according to him.
Jeremy has always considered himself successful because he has never attempted to compare his life to anybody else's and has always understood that his decisions are his own and that he has done them without remorse, regardless of the consequences. Jeremy believes that successful individuals are those who can remain optimistic in the face of adversity.
Jeremy says, "Success can be measured by the people around you.  If you can build a team, and that team wants to stick around and join you on your journey, then you must be doing something right, because they believe in you, and that's a huge part of what drives me."
Upgrading to Meet Market Dynamics
"At the risk of sounding cliché, agility and reinvention are at the core of our company culture."
Every year, Jeremy sits the entire company down and tries to identify what they believe are going to be the key challenges for its clients over the next 12 months. The teams review the areas they have been focused on for their clients in the past 12 months and predict the challenges that these changes will throw up in the future. Then it literally builds a service offering and tries to be the first in the market to provide solutions to clients around those challenges. The last major trend was all about in-housing, and LEAD was the first to talk loudly about that and offering clients solutions to getting in-housing right.
More recently, the focus has shifted to optimizing the client's operating model, so LEAD has focused on that. The team states, "We're already looking at where we believe the next market trend will be and we'll pivot again to develop and provide services that address whatever it might be."
According to Jeremy, every year, LEAD teams completely reinvent themselves and their skills to meet the current demands that the market is putting on their clients.
Helping Others to Grow
For Jeremy, "it's always about the people you work with and help along the way."
Nothing gives Jeremy more pride than seeing someone who worked for him achieve great things in their own careers. He remains in touch with the employees he mentored closely, and it's hugely satisfying when they tell you that your mentorship helped them to get where they are now. For Jeremy, "it's always about the people you work with and help along the way."
Jeremy recalls, "I had someone who I gave their first job in advertising to, call me up to pitch me his idea for a startup.  I am now working closely with him in an advisory role, helping him to build and launch his own company. For me, that is the ultimate compliment."
Future Roadmap of LEAD
Jeremy wants LEAD to be known as the consultancy that delivers realistic solutions that measurably improve clients' digital operating performance. He says, "Our mission is to deliver no nonsense impartial advice that makes sense."
As per Jeremy, there are several global brands that the LEAD team has been working with for years who continue to use the company's services because they speak in a language that people understand. He states, "We don't charge hugely inflated fees and we deliver tangible results on the project (s) we undertake."
Jeremy's vision for LEAD is to be known as the consultancy big brands can trust because of its impartiality and its ability to understand the problems clients have through firsthand experience.
Currently, the management at LEAD is working on expanding its successful model through further engagement with other great brands. It already works with some of the world's biggest brands like HSBC, Sony and Farfetch. The company has built a model for successful expansion that enables it to scale up quickly and effectively.
Jeremy asserts, "Our business is constantly evolving; we have two new service offerings that we'll be launching this quarter, and no doubt in 2022 we'll identify more.  Our ability to deliver these services in person through more regional offices is the key to our expansion." According to him, the nature of the work the company does means it needs to be in close proximity to its clients to understand their immediate challenges, continue to build their trust in the company and allow them to deliver solutions more cost effectively. Over the next five years, LEAD will open offices in Asia and North America.