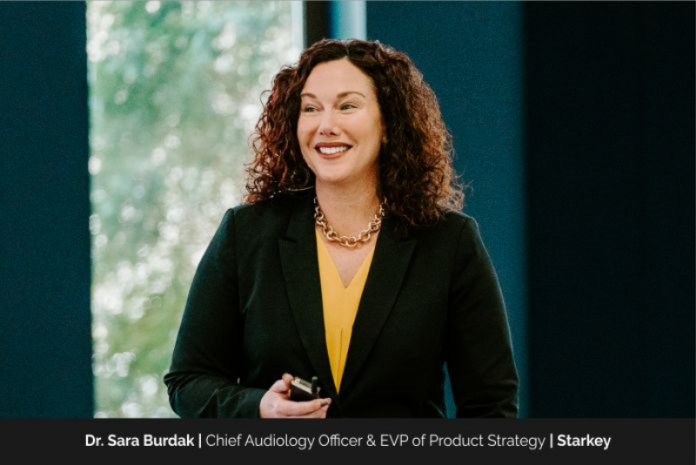 As Chief Audiology Officer and Executive Vice President of Product Strategy at Starkey, the largest American-owned hearing aid manufacturer in the world, Dr. Sara Burdak works to ensure that Starkey hearing aids improve the lives of those living with hearing loss. Bringing her clinical and educational background to the manufacturing space, Dr. Burdak has been able to pursue her passion for supporting the professional growth of women in the industry, as well as audiology students. Highly regarded among her team as a thoughtful and effective leader, she provides the perfect blend of science, technology, education, and caring service to others.
"We strive to be better today than yesterday, and better tomorrow than today."
Reimagining better hearing from the inside out
Since 1999, Dr. Burdak has been a part of the Hearing Research and Technology team at Starkey, doing everything from managing production lines, to developing the company's product roadmap. However, her interest in hearing health and the role that audiologists play goes back even further – stemming partly from her childhood experience with hearing loss.
"I have a mild hearing loss in my left ear because of chronic ear infections when I was growing up. I ended up needing a surgery called a tympanoplasty to repair a perforation in my ear drum, and because of that, at a young age, I was quite familiar with the role that audiologists play," she recalls.
In her current role as Chief Audiology Officer, Sara is responsible for developing and aligning Starkey's global audiology strategy, as it relates to the education and training programs, clinical research, and government services work. One of her primary objectives has been leading Starkey's partnership with the Department of Veterans Affairs (VA).
Sara notes that the nature of this work is critical, as hearing loss and tinnitus, often known as a ringing in the ears, are the two most common service-related injuries, with 3.6 million veterans currently being treated for these conditions. Because of this important partnership, thousands of veterans have received Starkey's most advanced hearing technology available through the VA.
The 'Executive Vice President of Product Strategy' addition to her title began when Starkey was looking for a leader to direct a global product launch in 2021, as well as define the future of Starkey's product roadmap for years to come. With her background and expertise in hearing healthcare, Sara stepped up to the challenge and took on this role, in addition to her other responsibilities.
"I am a great fit for this role due to my own experiences, especially with direct patient care as a clinical audiologist. I deeply understand what professionals, patients, and their families are going through, which helps me know how to provide exceptional patient care. This knowledge puts me in a unique position to define our future product roadmap and deliver products that make a meaningful difference in patients' lives," Sara stated.
Since taking on this role, Sara has helped lead the research, development, and launch strategy for the company's newest and most advanced line of hearing aids to date, Genesis AI. Sara and her team truly started from the beginning with this launch, undertaking a mission to redefine the future of hearing health not just with incremental improvements, but with breakthrough benefits. Completely reimagined from the inside out, Genesis AI is a new, unprecedented experience for both patients and hearing professionals, marking the biggest leap forward ever in Ear-Brain Technology™.
"At Starkey, our core values are more than just words. We take action because we believe everyone deserves the best hearing health."
Developing hearing care technology that supports overall health.
Sara graduated from Michigan State University with a bachelor's degree in audiology and speech sciences, Wayne State University with a master's degree in audiology, and the Arizona School of Health Sciences with a doctorate in audiology.
After graduate school, she worked as a clinical audiologist, but quickly realized that she could make a difference on a larger scale if she went into research and development. "I moved from Michigan to Minnesota to start my career in the industry and really understand the various dimensions of audiology. It's fascinating, and I have not been bored a single day," she states.
Sara's audiology background extends from the clinic to manufacturing, distinctly qualifying her to lead the strategy behind Starkey's technology, which puts patients at the center. In addition, she has been a strong advocate for hearing loss prevention and the importance of maintaining hearing health. Everyone should protect their hearing and seek treatment options if there is a hearing loss suspected. As she notes, untreated hearing loss has been linked to several comorbidities including increased social isolation, loneliness, and increased risk of Alzheimer's disease and dementia.
"In an effort to support the aging population who wants to remain healthy in their homes for as long as possible, I have been deeply involved in developing hearing care technology that not only supports the patient, but also gives caregivers peace of mind," Sara remarks. Starkey is the only company to provide a caregiver app for their hearing devices, which allows patients to share information such as activity tracking and social engagement with their caregivers.
Hearing is an essential part of overall health and well-being, as it plays a key role in both physical and mental health. That's why Sara and her team at Starkey lead the industry when it comes to incorporating health and wellness features into hearing aids.
"We were the first to integrate 3D sensors; the first to enable step counting; the first to track and encourage social engagement; and the first to provide benefits that went beyond just better hearing," Sara states. She also notes that Starkey was the first manufacturer – and still the only one – to make hearing aids that can detect falls and send alerts to specified caregivers or loved ones.
"Our devices are the world's best personal health assistant in the world's smallest wearable technology. And it's literally one of a kind."
"In leadership it isn't always easy to be fair and seek the understanding that is required to do so, but it's critical to success."
Helping patients hear better so they can live better.
"At Starkey, we are caring, fearless, and dedicated," states Sara. "Caring is our most important value and has always been at the core of everything we do. It's our 'why' and something that we weave into every area of the company."
Starkey's passion for changing the world starts with product innovation, and comes to life through the people and communities, whose lives are forever made more vibrant as a result. Sara notes that the entire organization pursues ways to consistently hone their purpose, mission, and vision. "As a company, we strive to be the best, not the biggest. Our mission is to serve our customers better than anyone else, and when we do that, we help our patients hear better than anyone else," she declares.
Sara maintains that Starkey's core values are more than just words. They take action, because they believe everyone deserves the best hearing health. Sara has participated in several hearing missions supporting a sustainable model to provide better hearing around the globe.
"We recently launched a corporate social responsibility program called Starkey Cares as a way to give back to our community and help people get access to the hearing health resources, they deserve," she shares. "As a company with a long history of supporting communities around the world, we strive each day to make a difference in the lives of people who need it most."
Sara notes that Starkey fosters a culture of continuous improvement. "We strive to be better today than yesterday, and better tomorrow than today. This vision has guided and inspired me throughout my professional journey," she affirms.
She also believes that challenges and adversity are part of life, and shares that she's had many roadblocks throughout her 26 years in the industry, including a global pandemic. "Not everything always goes as planned. Most of the roadblocks I have experienced come from having to quickly make fact-based decisions versus emotional ones," she recalls.
Sara recounts that, when Covid-19 began, they had to overhaul their education and training approach to be 100% virtual, including all new content, to help thousands of hearing healthcare professionals learn about navigating patient care during the unprecedented times. She and her team train thousands of hearing professionals on an annual basis and are one of the largest providers of continuing education credits in the U.S.
"Better hearing is in our hands at Starkey, and I am committed to providing hearing technology that seamlessly and easily integrates into patients' lives," she proclaims.
An intensely insightful, well-rounded, compassionate leader
Sara has received numerous accolades for her outstanding work, such as being named to the 2021 Notable Women in Manufacturing list by Twin Cities Business Magazine, winning the 2021 Globee "Women In Business" World Award, being named one of the "Top 50 Women Leaders of Minnesota for 2022" by Women We Admire, and most recently, being named a Women MAKE Award Honoree by the Manufacturing Institute for being an exceptional leader for women in manufacturing.
"I have been very fortunate to have received recognition as a business leader," she observes. "That said, the best acknowledgement I have received has been from my team members and employees. My department leaders tell me I'm supportive, direct‑—people know where they stand—strategic, passionate, fearless, and caring. I am proud of the fact that I have a lot of longevity on my teams and have consistently high engagement scores."
But Sara doesn't believe that success just happens. She notes that, for her, it has been a series of events occurring over the course of many years, allowing her to develop and grow the critical skills she needed to get to where she is today.
"The path is sometimes jagged and takes hard work, some failures, taking risks, perseverance, and determination. I keep an open mind with a 'how can I help' attitude, leading me to say yes to opportunities—even those that have felt a little uncomfortable, or when I didn't necessarily think I had all the qualifications. I firmly believe in embracing stretch goals to get to your own unique definition of success. Why not try?" she asks.
Sara has taken on multiple roles in various disciplines from audiology, research and development, quality management systems, manufacturing, marketing, product management, and much more. She believes that this allows her to be intensely insightful and well-rounded, which in turn, has made her a more compassionate leader and supportive mentor. "There is so much that comes from diverse experiences," she observes.
Sara maintains that she never set out to manage people in her career. Rather, she set out to do meaningful work that she enjoys, and where she can learn something new every day. "The traditional definition of success is reaching a goal or accomplishing something you've set out to achieve. I'm there. I am still learning new things every day, and if I can continue to help others do the same, I consider that success," she states.
Sara notes that, in leadership, it isn't always easy to be fair and seek the understanding that is required, but it's critical to success. She reveals that one of her most meaningful moments happened when she moved into a new position, which meant leading a different team. Her current team asked her directly, "how are we going to find another leader that is as fair as you?"
She points out that who's on the team with you matters. "I don't expect my team to do anything I wouldn't do myself. That doesn't mean you know how to do every job, but you have respect for each individual function, and are always willing to roll up your sleeves. This expectation establishes trust and a sense of mutual purpose and camaraderie."
"Speak up to get what you need and play an active role in your own path forward."
Supporting audiology students in their education & future career path
When she was at Michigan State University, Sara took a class on public speaking that was in the Communication Science and Disorders department, where audiology resides. This is when she fell in love with the blend of science, helping people, and the endless opportunities in this career.
"I recognize that taking that initial class also aligned with my core passion: to educate. Being able to speak effectively to an audience is one of the greatest skills any leader can have, and I encourage everyone to practice public speaking."
Sara is passionate about supporting audiology students in their education and future career path. For example, she organizes Starkey Student Series workshops throughout the year, which provide soon-to-be audiologists with the chance to hear from industry experts and learn outside of the classroom.
"I hope to provide valuable insights to students at conferences, and even shared opening remarks during a recent Student Audiology Association Conference," she says.
Sara also participates in Hearing Industries Association Task Force groups and has been a part of the American Academy of Audiology Education Committee. Additionally, she has worked alongside the Hearing Loss Association of America, American Speech-Language-Hearing Association, and the American Academy of Audiology.
Play an active role in your own path forward.
Sara admits that she's not always very good at maintaining a work/life balance, as she has two active teenagers, and it can be very challenging.
Her solution is to set up "success traps" that remind her to change her routine when she is done working for the day. "For example, set your shoes by the door (trip over them if you have to) to remind yourself to unwind and go on a walk after work," she recommends. It also helps to create small habits that you know you can achieve.
Sara tries to keep commitments outside of work and use vacation time. "It is important for me to be in the moment with my family and friends. I rarely cancel any plans unless I just can't make it happen. It is important to have passion for other things, and it certainly makes me much more well-rounded," she maintains, sharing a message that really resonated with her: "make sure you're not only a human doing, but that you're a human being."
Sara notes that while it may be a cliché, she's really working on active listening and prioritizing the right things for herself. As for her advice to aspiring businesswomen, she points out that there are so many ways to make it work, more than ever before.
"Speak up to get what you need and play an active role in your own path forward. While anyone can become a great leader, regardless of their background, I am incredibly proud to oversee a team of leaders who are predominantly female. Supporting the professional growth of women—especially in the technology field —is a passion of mine, and I cannot wait to see what the future holds."