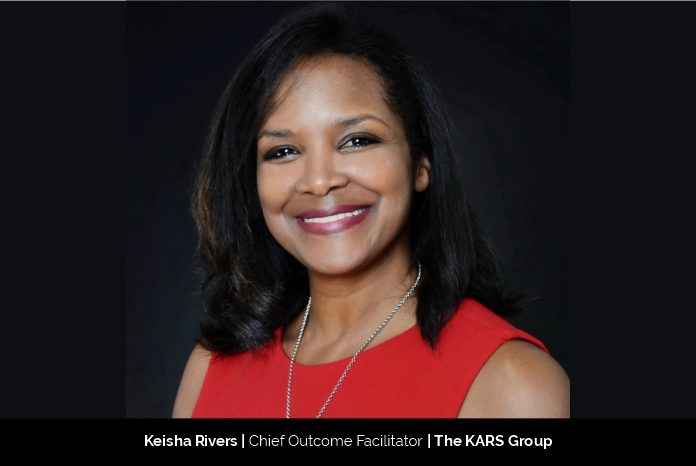 People concentrate on what success 'looks like' based on external materialistic factors and miss the small victories that come through the everyday process and the journey of reaching a destination. For Keisha A Rivers, the Chief Outcome Facilitator and Corporate Learning Leader of The KARS Group LTD, the true definition of success lies in the process of doing things that are "hard" or a challenge – overcoming an obstacle; doing something that you have never done before; showing up in a new way; learning something new; pushing past a fear to do a small thing. She wants people to rethink their mindset about success and have the power and presence of mind to define success for themselves.
Facilitating Change
Keisha never dreamed of being a business owner. When she resigned from the General Manager position of a minor league soccer franchise, she was approached by three different teams for the same position. Since that required relocation, she refused the offers and proposed a different solution. It was then that she envisioned her own consulting company, which would allow her to work with multiple teams, without relocating. And The KARS Group LTD was born! Sixteen years later, she is working with corporations, municipalities and private companies from a variety of industries.  Keisha has created a novel approach that enables her to work with a varying type of clients focusing on different projects to facilitate outcomes. Clients trust her enough to share their vision with her. She then assists them in achieving those goals and making their vision a reality. She finds the process humbling and extremely satisfying.
"There is something exhilarating in guiding clients through their 'ah-ha moments' and witnessing their people, process and policies change and evolve for the better!", she exclaims.
There Are No Limits!
Keisha is a firm believer in accepting the learning that comes from missteps and mistakes. Challenges are a necessary part of the process of growth. She has always looked at roadblocks or challenges as reasons to rethink her approach or to learn something new that was needed to pivot and shift.
She took a huge leap of faith and started her company in New Orleans in June 2005 just to be shaken and uprooted by Hurricane Katrina a couple of months later. She was left with nothing, but this did not deter her from moving forward. Hurricane Katrina prompted her to shift focus from being a locally based company to becoming a virtual one. She was air-lifted out of New Orleans and dropped into a small town called Eatonton, Georgia, where the options for new clients were slim. This required her to create a new network and branch out to attract new clients that she could serve remotely. Through this process she discovered that she could create whatever opportunity she needed simply by being willing to look at things differently. This way of thinking has served her well over the past 16 years. It enables her to serve clients in innovative ways.
Facilitators, Not Consultants
The KARS Group LTD is a specialty consulting firm that facilitates outcomes by equipping people to embrace, manage and lead through change. They achieve this through an approach that encompasses three main areas: engagement, learning and leadership. They believe in the power of guiding people and organizations through the process of Apply – Build – Sustain. The ultimate goal is to create sustainable and successful change initiatives. They provide resources, tools, learning sessions, customized curriculum and learning initiatives, strategic planning and organizational development and management to clients across industries.
Their approach is centered around creating an immersive learning environment for clients. They are not mere "consultants"—they facilitate learning journeys designed to shift the way people think. It is not about 'training'. It is about learning, growth and development. This foundational philosophy makes them educators, innovators and change agents. Trust is an inherent part of client relationships. Therefore, Keisha and her team take their role very seriously. Organizations going through change are at their most vulnerable. The KARS Group LTD respects that vulnerability and honors their clients' trust. The company's goal is to equip, enhance and enrich their clients.
Ripple Effect
Keisha correlates the growth of the company to her personal growth. As the leader and founder, she is willing to pivot, transform and be open to new ways of thinking, being and doing.
She prioritizes learning in her personal development and seeks out opportunities to connect and collaborate with others. She hopes to create a bigger ripple effect and expand the ways in which she can make positive changes in organizations and individuals.
Her vision for the company is to become a global consultancy, with specialists around the world, and to be a company that embraces diversity and creates a sense of community for all involved. She envisions a global teaching and learning platform; immersive learning experiences; leadership institutes and change leadership curriculum being utilized across a variety of industries. She wants the firm to be a leader in organizational transformation and change leadership, complete with a podcast, executive roundtables and collaborative learning communities.
She wishes to venture into philanthropic endeavors, creating new approaches to addressing issues, mentoring, speaking and traveling extensively. Whatever the approach or medium, the goal remains the same—to create a ripple effect of change that transforms organizations from the inside out.
A Passionate and Committed Educator
Before The KARS Group LTD, Keisha spent twelve years as an educator, teaching everything from first grade to special education, gifted education, summer school and college undergraduates. She has served on various leadership committees for school districts and has developed curriculum, mentored teachers and advocated for innovation and change in the school system. That work prepared her for leading The KARS Group LTD.
Her proudest moment was being recognized as a transformational leader in the school district. She is honored and humbled by the many recognitions she has received for her work. But she confesses that "nothing compares to being seen as someone who transforms and impacts the educational experiences of generations of students."
Transformational Leader
As the Chief Outcome Facilitator and Corporate Learning Leader at The KARS Group LTD, she is responsible for creating strategic approaches, identifying and creating learning systems and facilitating the change management process for various organizations. She loves the variety that her work offers. She gets to collaborate with people from different cultures, experiences, backgrounds, roles and responsibilities. The work is challenging but exciting and rewarding.
She has learned over the years that "balance" is a relative term. For her, balance creates a rhythm and flow, which keeps you on the course. She can spend time relaxing in silence for hours and then turn around and binge-record episodes of her Mindset 2 Mastery podcast or retreat to the "lab" and design hours of leadership curriculum. She believes that honoring your natural rhythms keeps you motivated and invigorated because you are free to be creative and innovative. This is a foundational approach that she teaches her team and encourages them to follow.
Building a Legacy
In the future, Keisha plans to launch the KARS Learning Academy, release the KARS Approach—a model of transformation for organizations– and continue the expansion of her team. She is currently in talks with a variety of companies to form strategic partnerships as a way of multiplying her impact. As a businesswoman, Keisha is in a 'legacy-building mode' – where the focus is on creating a body of work and a model of influence that will continue to impact and assist others long after she is gone. Her message to aspiring businesswomen is "No one else is you and that is your superpower. Building a business is great but building yourself in the process is even better", she asserts.