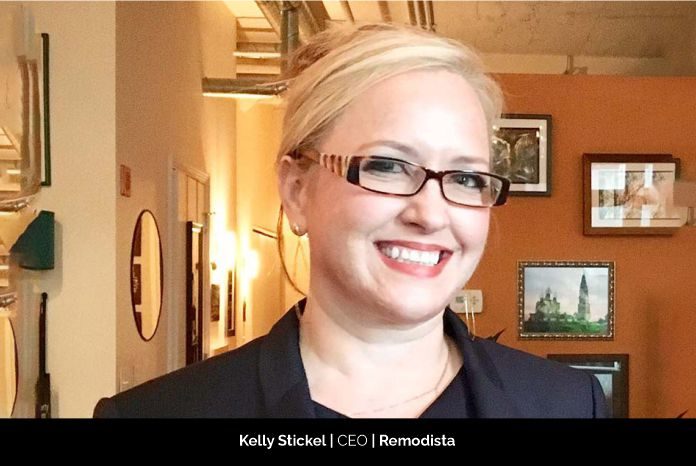 Purpose is the essence that guides you throughout the life path, and Kelly Stickel, the founder of Remodista, is a rising star who sets targets for herself to achieve good success over time be it, personal or professional life. She says, "In 2010, my purpose was to educate brands on disruption, cultivate women leaders while connecting globally. A decade later, my purpose has evolved to educate brands and companies on the future of business, cultivate underrepresented women and all other voices yet to be heard, and reduce our global footprint while connecting globally." She strongly believes in being transparent as a company for all future buyers.
Conquering Roadblocks and establishing Remodista
Kelly's inner calling always piqued her to include cultivating women leaders to help them reach the zenith by utilizing the community platform technology to create new tools for researching through collaboration.
However, turning a child idea into action is a considerable risk as only an entrepreneur knows that huge courage is required to take the first step. She says, "While others might support you, it is your job to have the where-with-all to do it. My only rule is that I can't quit on the days I want to. I like the risk and the challenge. Fear is overrated because once you are able to stop worrying about money, the fear moves to another area of the business -like delivery, so get comfortable with it. Make fear your friend."
Kelly and her team worked together to develop many different tools that help in binding group of innovators together. Not just this, she also shared, "I am talking to a few innovative technology companies about spending a few years learning something new, while the community authentically grows. I don't think there is anything wrong with growing a "slow" company over a lifetime."
Kelly's Efforts and Long-term Vision for Remodista
Forming the foundation over 2 pillars, purpose and solving problems, Kelly and her team is all set to branch out and grow the company's roots further. She states,  "Community as a Service is still a new way to acquire customers and create innovative revenue streams. We have had competitors as we develop products along the way, but I haven't seen many research companies that sit ahead of the market or use community as a business model." Not just this, they are helping businesses to bring higher returns as well. She further adds, "Community as a Business Model can give back ten times the return of a normal business model, but you have to make the investment of time and money to build it first."
Over the course of time, she plans to step out running and building community tasks and join the selling of an incredible new tech product or service that helps in solving the business of tomorrow. She also wishes to help in flourishing someone else's fantastic idea. Her collaborators like Diann Muck, Monika Tockstein, and many other partners helped in unfolding growth through new and interesting challenges.
She even co-created Mobile University, Breaking Glass Series, The Digital You, and the Bricks and Mobile Conferences in Chicago. She even enjoyed teaching mosaic art to her fellow coworkers and friends for many years.
Her marvelous efforts always brought her laurels. She says, "I was awarded Women of Influence by Bizwomen + Business Journals in 2016. The honor was for women entrepreneurs that had new ideas and were also focused on helping other women win. It inspired me to build Women Influence Chicago, a not-for-profit program to help bring enterprise, NFP, and startup women leaders together to get each other to the top."
Balancing the Home and CEO Weight
Kelly has a purpose-oriented take on life, and even though COVID-19 impacted her business, she was pumped with motivation to take up the challenge and revamp their business plan. So, during that time, she meddled with many things on her plate. She adds, "We launched a monthly Town Hall, a COVID channel, a Black Lives Matter channel, an LGBTQIA channel, The Purpose Oath Project, a weekly hour for Workforce Development, Meditation and Selfcare." Rest, she improved her culinary skills and allowed positive mantras, affirmations, her creative outlet, and meditation keep her composed and super balanced.
Being the CEO, Kelly keeps juggling her hands in all the works. But she loves the community that she grew with different partners bound with the same purpose string. She further says, "I do it all, but a lot of my time is focused on mapping out tomorrow and working to sell that in the present day. It is no easy feat, but apparently, I like difficult puzzles. I am also working with a few startups to help them accelerate their purpose products and services."
Currently, she is working on creating a unisex, sustainable, global executive bag, built with upcycled materials from Remeant, a women-owned company in Israel. She is quite thrilled to launch her "Reserve My Bag" campaign that will release during NY Fashion Week. Moreover, her team is running a working research group that resolves all the real-time problems and simultaneously teaches others about tackling such issues.
Future face of Remodista
Remodista will have a superb future as an outlet to explore new ideas where many programs have taken place to cultivate women globally. The company even wants to lend a hand to all organizations that share similar purposes. She adds, "I have always gone at building this community as an ongoing funding project. It is my Community as a Business Proof of Concept. Someday I will sell it, or maybe my nieces and nephews will run it."
Kelly is also in talks with other companies to help them grow via HALO Business Community. Learning and growing her great business network is what keeps her all-time excited. Her Women We Watch Channel is dedicated to helping women leaders develop their personal brands along with more like-minded leaders.