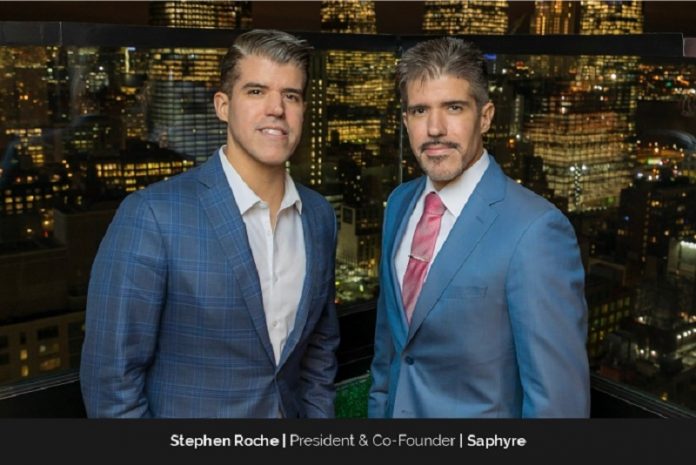 Fintech company Saphyre taps into patent-approved AI technology to solve pre-trade setups and post-trade issues. As of May 2022, it has 105 patents to its credit, which shows its commitment to innovation. The company has attracted the attention of several big players in the financial industry, including JP Morgan and BlackRock. The growth of Saphyre has accelerated since its foundation in 2017. So much so, that the industry has been accustomed to seeing every few weeks a new episodic press release and/or partnership that gets announced.
Co-founded by twin brothers Gabino and Stephen Roche, Saphyre was bootstrapped until March of 2022. The family and friends of the brothers "literally" funded the company for five years. Earlier this year, Saphyre secured $18.7 million in Series A funding.
Gabino, also the CEO of Saphyre, reveals that there were many opportunities to take a severely diluted round of funding or even cash out. However, their investors, who are obviously the closest people to them, would not have been taken care of properly.
Saphyre stuck it out until it was in the right position with the right partners to secure its next stage. "It was risky, but we knew it was the right thing to do," says Gabino. Both he and Stephen take their commitments seriously and will honor them until the end.
Saphyre has reached plenty of milestones in the endeavor that started five years ago. Getting to the proper Series A milestone is among the proudest moments for the company. "I'm quite sure there will be plenty more to come," says Gabino.
Agnostic Interoperable Cloud Solution
Outside of actual trading and risk analytic tools, no company really has any applied intelligence to middle office operations across the pre-trade and post-trade space. There are a lot of one-trick-pony, siloed solutions, but there is nothing that connects them all.
Stephen notes that in many cases, the solutions created in each of these departments, such as KYC/AML, Legal, Tax, Onboarding, and Operational Configuration teams, reuse the same data and documents. Each department and tool have its own database with a snapshot in time, which is not synced between them and may at any point in time be out of date.
From inception, Saphyre has sought to be an agnostic interoperable cloud solution. Stephen explains that it connects to third-party vendors and internal home-grown tools and passes a "reliable golden source" of reference data quickly – from pre-trade to help eliminate failed trades, with enhanced post-trade benefits.
Story Behind Founding of Saphyre
The fund onboarding process had been broken and disparate for many years. That has resulted in bottlenecks, which have materially impacted the bottom lines of firms. Gabino points out that middle offices had no other option but to contend with scattered faxes, obscure phone records, disorganized emails, and rekeying information across multiple platforms. Along with noting that, he and his brother also recognized that the availability of automated intelligence could enable them to build a platform that integrated this process while streamlining and augmenting it. The industry, however, had yet to develop a solution. "We brought our combined experience in technology and middle office operations to build that solution," says Gabino.
As the pain points felt by middle offices, struggling with a disparate onboarding and management process, were acute, the adoption of Saphyre by some of the industry's biggest players, such as JP Morgan and BlackRock, happened quickly
Some of the early adopters believed "so ardently" in the Saphyre solution that they also participated in its first funding round of $18.7M, which was led by HCAP, with participation from J.P. Morgan and BNP Paribas. "That cemented the pivotal role Saphyre played in transforming the middle office," Stephen says. The funding also made the financial services firms realize that.
Saphyre Platform
Saphyre's platform allows companies to accelerate pre-trade onboarding and simplify the post-trade process. By leveraging it, firms can achieve faster revenue with streamlined, automated processes. Saphyre can do that because it harnesses globally patented interoperable AI to digitize, structure, and maintain the memory of shared documents and data. This allows for direct collaboration between investment managers, brokers, custodians, third-party administrators, and asset owners.
Saphyre helps eliminate the inefficiencies in the onboarding process across multiple departments such as KYC/AML, Tax, Legal & Compliance, Operational Configuration teams, and Onboarding (and Maintenance) teams, says Gabino.
Right Play to Address Core Issues
There was no great appreciation for fixing massive operational trading issues in the pre-trade space, according to Gabino. Most of the available funding and solutions were focused on post-trade, since traders wanted their trades not to fail, and the market reacted to this. Stephen and his brother evangelized that if someone took care of these issues when funds were set up in the pre-trade space, they could eliminate most of the issues in the post-trade altogether. "It is kind of like putting in the right security protocols and a black box (our AI) to provide safe air transportation before any flight – or in this case, for any trade in flight," says Stephen.
Stephen and Gabino knew this were the right play to address the core issues with operational finance, and they stuck with it to prove it. About two and half years into their adventure, they formally announced a joint press release with BlackRock and JP Morgan, which helped drive the company's success.
As mentioned earlier, some of the exceptional clients Saphyre attracted early on also participated in its first funding round. Stephen points out the momentum that was created for them was enormous. Saphyre saw a rapid rise in the number of firms adopting its platform.
The unparalleled product that Saphyre has built has paved the way for it to double its growth repeatedly.
Staying Ahead of Potential Competition
Gabino notes that AI (Artificial Intelligence) is a large umbrella term. When most people hear it, they usually think of Skynet from the movie "The Terminator". In reality, currently no available technology can interpret the full context of operational finance-related data without human intervention. For example, in the English language, when someone says the word "to," do they mean to, two, or too? Stephen explains that when someone applies the English language to the world of finance and its acronyms, Machine Learning (ML), which is the highest level of AI, human intervention is required to continuously cleanse the data to avoid it providing unintended results.
To provide true data integrity, you need to proactively clean the data to make it reliable. That's when you apply it to ML or Automated Intelligence– which establishes rules to enforce the system to act based on memory of the data and drives better results. This is homework to achieve true data integrity. "This is how
Saphyre is staying ahead of any potential competition," Stephen says. "We understand our clients and our industry and are, therefore, consistently providing them with the experience they desire."
Brothers are Evangelists
Gabino and his identical twin Stephen consider themselves evangelists who are helping the industry see a new way of doing things. As the President, Stephen seeks partnerships with their clients and other up-and-coming and well-established technology vendors. He believes that helping create win-win situations for everyone involved is always the most exciting of endeavors. Hence, Saphyre has established so many partnerships in its 5-year existence.
The year 2022 and Future
The year 2022 has been a happening one for Saphyre. It can be seen from the number of press announcements that were released this year. Stephen points out that they have had more press releases in 2022 than all the previous years combined. In addition to securing the Series A funding, Saphyre also won the "Innovation in Automated Intelligence" Award by Global Custodian and was nominated by The Trade for their annual "Fintech of the Year" award.
In October of 2022, Franklin Templeton joined the community of financial institutions using the Saphyre platform for custodial and broker fund onboarding as well as maintenance. The other companies that became part of this community this year include Citi, Legal & General Investment Management, Northern Trust, American Century Investments, Standard Chartered, and Societe Generale.
With the current trend and exponential growth realized through 2022, the expectations are extremely high for the Saphyre twins going into 2023. What new heights and feats are going to be achieved in the new year? "We have great set of cards in our hands, that we are waiting to play out. If you thought 2022 was impressive with the wins and partnerships we've made, trust me when I say, you haven't seen anything yet. The best is yet to come.", says Stephen.