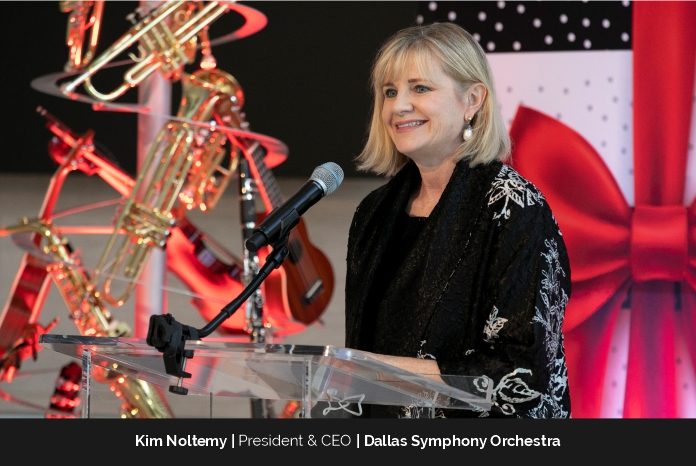 In her 26 years as a not-for-profit executive, change agent, and passionate promoter of music and culture, Kim Noltemy, President and CEO of the Dallas Symphony Orchestra, is a trailblazer in the application of cutting-edge technology and creativity in the arts. After the COVID-19 shutdown and with her imaginative leadership, the Dallas Symphony became the first large-budget American symphony to perform for a live audience in their hall with their Music Director Fabio Luisi. During this challenging time, she pioneered health and safety to ensure the safety of the performers, staff and musicians.
As the former Chief Operating and Communications Officer of the Boston Symphony Orchestra, Kim has a wealth of experience. She was in charge of a 65-person team and managed $46 million in revenue and ticket sales. She is an expert in media strategy and while in Boston, executive produced two seasons of New Tanglewood Tales for PBS in addition to the Boston Pops' award-winning television shows. Kim graduated from Smith College in Northampton, Massachusetts, with a Bachelor of Arts in East Asian Studies.
Kim Noltemy joined the Dallas Symphony in January 2018. In January 2020, she took office as the chair of the board of the Dallas Arts District a position she held for two years. She also serves on the boards of the Dallas Black Dance Theatre and Aging Minds, and she is a member of the Dallas Assembly, Dallas Summit, Dallas International Women's Forum, and Executive Women's Roundtable. Noltemy was appointed to the City of Dallas' inaugural Economic Development Corporation, she was named as a D CEO Dallas 500 in 2020 and 2021 and was a 2020 finalist for the Dallas Morning News' Texan of the Year. In 2021, Noltemy was named Visionary Nonprofit Arts Leader at the Dallas Business Council for the Arts Obelisk Awards.
The Dallas Symphony Orchestra
In the Morton H. Meyerson Symphony Center, one of the greatest concert halls in the world, the Dallas Symphony Orchestra performs orchestral music under the direction of renowned Music Director Fabio Luisi. The DSO is dedicated to inspiring the broadest audience possible via distinctive classical programming, creative pops concerts, and cutting-edge multi-media presentations. The orchestra touches more than 243,000 adults and children annually through performances, educational activities, and community outreach efforts as part of its commitment to the community. The Dallas Symphony was one of of the only large American orchestras that presented socially distanced concerts with live audiences throughout the 2020–21 Season. Additionally, since the summer, the orchestra has performed more than 200 outdoor chamber concerts in local communities across Dallas. As part of its Young Strings and Young Musicians education initiatives, the DSO continued to provide online music instruction to more than 300 students.
The Dallas Symphony has been a leader among American orchestras in digital distribution by utilizing online and broadcast media to share music beyond its geographical borders. Together with Bloomberg Media, the DSO presented a three-concert broadcast series in 2021 that attracted millions of viewers worldwide. One Symphony, Two Orchestras, a documentary about the historic performance of Mahler's First Symphony by the DSO and members of The Metropolitan Opera Orchestra in May 2021, aired on PBS stations nationwide in October 2021. In May 2022, that PBS program received a Daytime Emmy Award nomination. Through its Next Stage Digital Concert Series, presented by PNC Bank, the DSO also records and streams musical concerts for online dissemination. Programs can be found at watch.dallassymphony.org, the DSO website.
The DSO has a history that dates back to 1900, and it is a cornerstone of the distinctive, 118-acre Arts District in Downtown Dallas, the largest district of its sort in the country, which is home to numerous performing arts institutions, museums, and parks.
Prior Work and Professional Embarkments
Prior to joining the orchestra world, Kim worked in international marketing and became acquainted with the Boston Symphony through that work due to their frequent overseas tours. She later fell in love with the music itself, as well as the excitement and community-building effects of the orchestra.
Even though a live orchestra is a traditional art form, technology is employed to produce a digital work that broadens the audience for narrative and education, benefiting both adults and children. Kim's efforts are focused on orchestral work and symphonic music. She is a true believer in the idea that it is her job to educate the audience and prospective audiences. She says, "Creative uses of technology, including an NFT launch and a fully developed plan to bring the music to people in their everyday lives, for example, music at grocery stores, in parks, and at hospitals."
Keeping Balance Between Work and Life
Kim spends most of her days building relationships with donors and board members to support the organization. Additionally, she concentrates on establishing new connections, working on the artistic output, press strategy, and collaborates with personnel to advance new strategic objectives.
In her spare time, Kim enjoys running, hiking, and other forms of fitness. She recently began taking cello lessons, and she likes to travel. She shares, "I am completely self-motivated, and I try to hire team members who are that way, but I do my best to create an environment of openness and inspiration so that people love to come to work."
Success for Kim
Kim defines a successful team as one that has a single goal and works together in the most effective, efficient, and collegial ways possible. According to her, this environment makes team members more receptive to fresh ideas and different viewpoints, fosters mutual respect, trust, and empathy among employees, and makes it possible to forge partnerships both internally and externally.
Kim is motivated by how music transforms people's lives, sometimes physically by opening doors to new encounters, acquaintances, and locations, and metaphorically by transporting listeners on a daily basis to new places by mending, recharging, and invigorating them. She started working in marketing, and as she thought about ways to expand the audience, she realized that making people happy is how she wanted to spend her career. In 2021, the Dallas Symphony Board named an education program she developed in her honor. It was a recognition of her dedication to sharing her love of music, and she considers it the highest honor she has received.
Visioning for a Changing Paradigm of Orchestra Management
Kim is dedicated to raising the DSO in every area, including artistic excellence, audience size growth, and financial viability. She wants the DSO to be well recognized as one of the top orchestras in America. She intends to personally alter the orchestra management paradigm in order to guarantee the sector's success in the future.
Her goal is to make symphonic music accessible to as many people as she can, as well as to inspire a new generation of listeners and non-traditional attendees to appreciate and respect classical music.