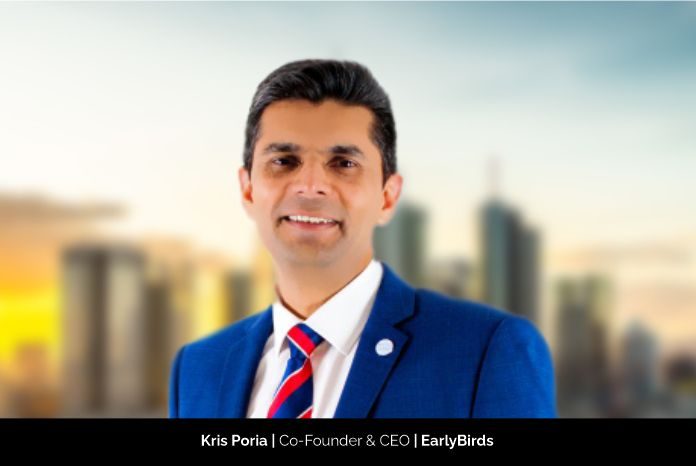 Kris Poria, Co-Founder, and CEO of EarlyBirds (https://earlybirds.io) was born in India, to a farmer. His parents did not have any education, and Kris had no access to the English language. At the age of 16, he began attending an English school, where for the first three months, he did not understand anything that was being taught. This experience was one of the first that helped Kris realize that through challenges, opportunities can arise. Kris had patience in understanding what was happening and patience to learn and identify the opportunities in that situation. Throughout his journey, Kris has continued to look at challenges as opportunities, and these opportunities have helped guide him to where he is today.
Life Before EarlyBirds
Kris was married and started a family by the age of 21. He was still attending university at the time while running two businesses. He gained interest in software and software development and had noticed that many people were starting to move to the United States from India, so he began to explore working overseas in different countries. In the mid-'90s, he sold his business to get his second education and certified as a Microsoft Certified Solutions Developer. Once that was completed, he got a job and started working in big cities in India, then Europe, and the U.S., until he decided to settle down in Sydney, Australia about 18 years ago. Upon his move to Australia, he immediately got an IT job, using his core technical skills. However, he desired to own a business again, so he started a media company and ran a magazine, called Invest in Australia, that promoted Australia for investing globally. All the Chief Ministers across Territories and State Premiers took interest in the magazine and began writing articles for the publication. When print media started to decline, Kris decided to make the move back to IT to help companies strategically find customers, which led him to work with some of the largest IT product companies and system integrators.
Foundation of the Company
The foundation of EarlyBirds was inspired by bringing together experiences, passion, and services with the intent to deliver better value to society. Both Kris and his co-founder, Jeff Penrose, have similar experiences as far as starting their career in the public sector and living and working in various countries. They work closely together, and both understand that they need to combine their experiences and passion while understanding what they want to deliver and what value they can provide.
The idea for EarlyBirds came when Kris was working for a large systems integrator. There was a lot of engagement working with customers on big transformation projects. He had identified that one challenge in the market was that some of the big customers could not access or engage with startups that had innovative solutions.
While working on one project, Kris needed a solution to manage a multi-cloud environment. The startup Jeff worked for at the time had created a multi-cloud management solution. After several meetings, they felt that they had a strong solution for the client. However, they could not get buy-in from the systems integrator, who ultimately decided to build the solution in-house. Kris and Jeff did not feel that the client received the best solution, so the two of them continued to discuss their idea and began researching the problems they witnessed when working with customers. Based on their findings, they decided to build a global platform and business model to connect tech innovators, startups, and scaleups to early adopter customers. Early on, the co-founders interacted with tech incubators and accelerators globally and found the platform worked well, and as a result, the platform was launched in September 2019.
Aligning Services with Customers in Mind
In the past six months, EarlyBirds has pivoted its services to better align how they are helping customers. They have put together a new vision to help customers become self-learning organizations. EarlyBirds believes that for businesses to become a self-learning organization, they must: 1. Encourage continuous learning and improvement across all business functions. EarlyBirds believes that an organization cannot only improve one business function but that all business functions must improve. 2. As a business, you need to resolve technical and business challenges quickly. For large businesses, it is common for it to take months or years to act once the challenges and opportunities have been identified. 3. Companies must look at how they explore innovations and apply new technology solutions and new business models and understand how these can impact their business model and outputs.
EarlyBirds helps companies in these three areas by providing three key capabilities: 1. The Challenger Program is designed to solve one Early Adopter business challenge at a time, and then search for relevant innovators that meet the business, technical, commercial, and business risk requirements. The focus is solving the challenges but doing it quickly by working with technical experts. The goal is for this to take weeks, not months or years. Based on the challenges that are identified by the innovators, the experts provide solution options. 2. The Explorer Program is designed for businesses needing Innovation as a Service to supplement existing innovation programs or to conduct innovative projects as required. This is an ongoing program to identify potential opportunities based on the challenges. They look into the global market and at what the innovators are doing based on what the customers are exploring. Often, customers do not know, so EarlyBirds helps them identify examples of what innovators are already innovating in the specific areas of focus and help them take action. 3. The Innovator Ecosystem is a platform that has more than 1.3 million innovators, including many startup and scaleup companies. As part of the ecosystem, subject matter experts work with customers to deliver the outcomes. Customers have access to the platform and the subject matter experts. This platform is focused on shortening the innovation life cycle and allowing organizations to find and engage with innovators that have already created solutions to their business challenge.
Challenges Create Opportunities
Kris admits that leading any company is not an easy task. However, he explains the importance of looking at the services his company is offering, and by understanding the value they are delivering to their customers, it makes it easier.
As Kris reflects on the challenges he has faced in life, including not knowing any English at an English school to working in different countries, to the challenges he faced when they started EarlyBirds, he also realizes how everything was a continuous learning experience. When Kris faces challenges, he tries to look at what the challenge is teaching him, and what opportunities can arise from the challenge.  As Kris looks back on his own failures and challenges, he explains how they have taught him that he needs to combine all his skills, passions, and capabilities to deliver more value to society. Challenges allow people to bring insights together to deliver a better outcome to potential customers and society.
Learning and Improving by Failing Fast
The number one focus of EarlyBirds is their customers and the value provided to customers. The company is always looking at what they are delivering to the customer and if they are meeting customer expectations. Additionally, EarlyBirds believes in failing fast to learn fast. They believe if you want to try something and it does not work, it is still a good outcome because you are learning. Collaboration is another core value of the company. They believe in bringing value amongst all teams, not just on the customer side, but the whole ecosystem which consists of innovators, subject matter experts, etc.
Kris explains how EarlyBirds does have competition, but they do not focus on the competition. They continue to focus on how they can solve their customers' challenges and help them change and evolve on new thinking. They help customers on an ongoing basis on how to do their job better and be more productive and therefore, adjust their solutions to better help customers and everybody involved in the ecosystem. EarlyBirds focuses on the insights they are gaining based on challenges their customers have and are continually working on understanding that and pivoting as needed to improve their customers' businesses.
Kris does not have just one core focus in the business. Some days he is working with the subject matter experts and other days he is focused on customer engagement or solutions (products and programs). Jeff mostly focuses on helping him across the board on all things, but they have tried to divide the work, although they come together on many tasks. Each week, they run a webinar with innovators which brings together startups and scaleup companies to help expose them to their customers. Additionally, they have about 14-15 advisory board members that they work closely with. Depending on the day, Kris explains that most of his time typically goes into customer engagement and how they can improve and develop better services and solutions.
"Actionable outcome" would be the phrase Kris uses to describe himself and his work ethic. They use that term internally to determine how they identify innovations that can be used today or tomorrow for actionable outcomes that businesses can use. When thinking of his personality, Kris explains that he is the kind of person that is always working on the actionable outcome. No matter who he is working with whether family members or businesspeople, he is always looking at actioning that journey.
The Journey of Success
When Kris thinks of success, he sees success needing to impact three areas of his life: personal, professional, and spiritual. Kris describes success as a journey, involving continuous change with the ultimate goal of delivering to stakeholders, which includes family, business, customers, and society as a whole. From the spiritual level, Kris believes it is important to look beyond his current roles in his professional and personal life and understand what kind of journey he is on. He believes success in this context is about accepting you are on a journey. There is nothing to be achieved or accomplished, but rather understanding it is an ongoing journey. Kris reflects on the journey of his own life, growing up in India in a farmer's family, he recalls days where they did not even have electricity. From there, he moved to bigger cities, and then to other countries, including the U.S., Europe, and Australia. From all these experiences, he learned that life and success is an ongoing journey and not only about reaching one goal. When you learn that it is an ongoing journey in all three aspects, you can start enjoying the journey.
Kris believes the best recognition he has received is customer success and feedback. Kris genuinely enjoys helping customers get from point A to point B and guiding them on their journeys. Seeing the satisfaction, and then continuing to help them is what drives Kris to keep going. He enjoys evaluating customers' struggles and helping them understand the big problems and then dividing big problems into smaller chunks and identifying how they can help them and take them on a journey, working on some of the big problems that they could not previously work on.
Maintaining Balance
When dividing up his time and finding balance in life, Kris looks at his time as a triangle. The top of the triangle is the top priority, which is family. The second priority is customers and the third is the business and the team. Kris puts his family first and he delivers to them first and foremost. This includes spending regular time with his family. Kris also exercises and meditates regularly. Next, he is focused on helping customers because there is no business without customers. The business, team, and everybody else comes third. His mornings are usually spent with North American customers and innovators and at night they spend more time with European customers, due to various time zones. To continue to find balance in his busy schedule, he will often take time at lunch to take a walk. In the evening, he will take a two-hour dinner break where he can spend time with his family. Throughout the week he plans times for the gym/running/exercises. In the morning or evening, he plans time for mediation. By scheduling time and keeping his priorities straight, Kris manages to maintain balance in his busy schedule.
The Future of EarlyBirds
EarlyBirds is already a global platform that anybody can use. In the past year, they have been pivoting and will continue to pivot as needed. They are not changing anything or doing anything different but adjusting to better serve their customers. Recently, they have been focused on enterprise customers and working with big customers. This year they are focused on building enterprise customers first in Australia and New Zealand, and then in other countries. At a personal level, Kris consistently looks to see if he is delivering the best value to the business and customers, and society and seeks to continuously improve.
Through owning multiple businesses and working in different countries, Kris has realized it is all about learning about yourself, why you are here, what you should be doing, and how you can add value not only to your family but to society. This is also the reason he wanted to leave his corporate job and do what he is doing full time because he saw an opportunity to help change society. Over the next 50 years, Kris discusses how we will be a more machine-led society. He sees a lot of opportunity in a technology-led society but also sees challenges and pros and cons that will come with that, as people can use machines for both good and bad. Kris often reflects on what his role is at this stage, and he feels he has a role in helping society in this transition. Kris explains how it is not just about becoming technology-led, but we as humans need to look at what we need to do if we have everything automated – what will we do, how we can help, and how we can get value and satisfaction from our work. In the next ten years and onward, he believes these are things we need to consider. At the same time, Kris admits that we cannot always think long-term or run too fast. We need to consider how we can help today.