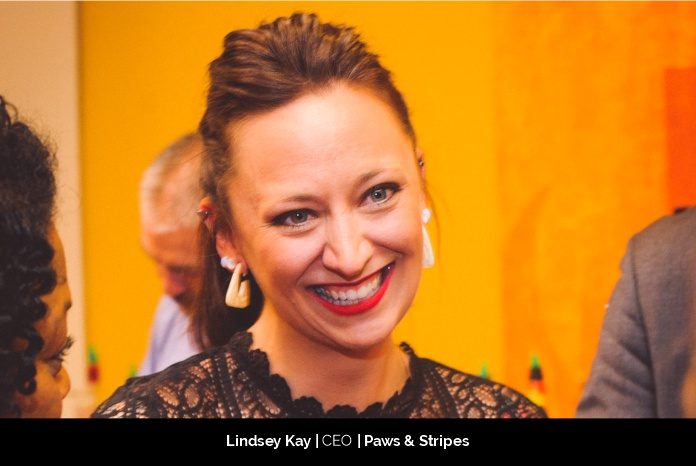 The experiences of military service members are not exciting in the way often shown in movies. The intense trauma that many have faced in combat is only one way that service members are impacted, many have experienced military sexual trauma as well. With the vision to ease that pain and helping families of veterans, Lindsey Kay started Paws and Stripes, a non-profit organization that helps military veterans by providing animal-assisted therapy with PTSD, MST, and TBI using rescue dogs.
Eleven years ago, Lindsey was inspired to help a family member who was struggling with post-traumatic stress and a brain injury. Having worked in animal rescue and veterinary clinics, she felt a dog could be an enormous help to improve his quality of life. After many phone calls and research, she recognized that there were few organizations that could train a dog as a service dog, she became determined to create a program that could fill this need. As soon as Lindsey started, she was surprised to see as many more veterans quickly reached out to Paws and Stripes.
Challenges that become Lifelong Lessons 
Lindsey started Paws and Stripes at the age of 24 when she had no experience working in a non-profit or running a business. After few years of working, she realized that the company was heading to a financial deficit, and there was an immediate need to crop up with a way to manage spending and more substantial funding. "This was a sobering period for me as a leader, as an entrepreneur, and as a young professional," recalls Lindsey.
According to Lindsey, through the last decade, she has also learned the immense importance of mental health to the mission of Paws and Stripes. In the beginning, I solely focused on the impact of dogs on veterans with PTSD. But after the challenges, and experiences she has had over the past years, she has realized that dogs are amazing and healing, but veterans and their families need so much more than that. Now, mental health is the backbone of what Paws and Stripes does.
Signifying Success by Improving
With the growth of Paws and Stripes through the years, the definition of success for Lindsey has also improved. In starting, success for her was, "If I can help at least one veteran that is a success." Now, she considers the definition of success as complex and dependent on the subject: program efficacy, staff satisfaction, and financial health.
For Lindsey, building trust between staff and clients is all. She opines, "If my staff all trust each other to work together, our clients trust our team to assist them as best we can, and donors trust us to be good stewards of their contributions, then that is a success." She further adds, "Leadership is a lot of things, but you cannot effectively lead without trust. That is why it is so important for our team to work together for each client, using creativity in problem-solving hearing each individual's needs."
Leading with the Motto 'Working to Save Lives, Two at a Time'
Paws and Stripes is a veteran service organization, providing mental health and service dog training for veterans with post-traumatic stress disorder, military sexual trauma, and brain injuries. None of the program's dogs come from breeders as the organization only uses shelter dogs unless a client can use a dog they already have. In that sense, the team is able to not only train service dogs but also provide forever homes for dogs in shelters. The training is bond-based, using only positive, reward-based training philosophies.
In 2021, Paws and Stripes launched a new program to assist veterans through a pet program focused on building a relationship with their canine pets rather than training a service dog.
Valuing What We do
Seeing today's competitive world, Lindsey believes that innovation is vital to the growth and viability of Paws and Stripes. Over the past eleven years, it has consistently focused on evaluating, improving, evolving, and innovating as an organization. She says, "As we continue to serve more and more individuals, we learn new things all the time. No one veteran is the same, so through our experience with these former service members, we examine how our team can best assist them in achieving reintegration and a better quality of life." 
Integrity is always a significant part of Paws and Stripes' core values. The organization behaves and acts with integrity, building lasting relationships with honesty, openness, and demonstrating mutual respect and trust in others. At Paws and Stripes', the team takes responsibility for its actions, doing what it says and will do, and demonstrates professional communication with each other, clients, and the community. She says, "Integrity is one of our pillars working in conjunction with authenticity, respect, family, and resilience." 
An Idea that becomes an Inspiration
Seeing others carve out their careers through Paws and Stripes is certainly something Lindsey considers a great achievement from starting this organization. Considering biggest achievement is that she was able to create something that is now its own, able to stand up on its own, with a team of professionals, and as something that will sustain with or without Lindsey one day. The idea that this organization can continue on with its own fortitude is the best possible outcome for any entrepreneur.
Working to Achieve Common Goal is Real Motivation 
Motivation drives people to become more than staying limited. But as one person, it is impossible to keep everyone motivated every single day. Lindsey thinks it is a dedication to the mission of the organization, to help veterans and the dogs that stand beside them paired with a close team structure that motivates the team each day.
As the CEO, she primarily oversees the operation of the organization from financial planning and sustainability. She works with the COO on any HR issues and compliance oversight and operating with the Board of Directors to establish and execute strategic planning goals each year. She also determines organizational priorities and programmatic efficacy throughout the year.
Lindsey serves as a visionary for Paws and Stripes and always looking ahead and doing her best to steer the ship as needed. She posits, "As is the case in many nonprofits, my days are not always the same. I often jump in with both feet on many situations as they arise, from donor management to client program evaluations, to crisis intervention support." She believes that the company's close-knit staff is an enormous asset to the organization, and they often keep her motivated to put her best foot forward every day.
Every day a New Hustle
Leading a business with maintaining family responsibilities can be a difficult challenge to handle. For Lindsey, her day starts between 5:00 and 6:00 am with daily routine chores, reading, journaling, walking the dogs, or starting the day off with some exercise. To manage her daily routine, she needs to pick the primary tasks of the day from family, school, or work. She asserts, "Work-life balance may be one of the most difficult parts of my job and my professional trajectory." She incredibly grateful to have a supportive partner and family.
More offerings to Include in Future
Lindsey's vision for the future of Paws and Stripes is to grow beyond service dogs for veterans. It's been over a decade that is the primary service the company has provided to veterans in the state. Moving forward, and on the heels of a particularly traumatic year (2020), it is more important than ever to expand services for veterans, and frankly, for their families, and launching the new companion animal program is just the start.
Paws and Stripes plan to incorporate additional therapeutic programs to include Seeking Safety, CBT for Insomnia, DBT Skills Development, as well as more individualized therapy for veterans and their family members. While dogs are an incredible part of healing, there are more ways to incorporate animals into therapy and opportunities to assist clients with some fundamental services before introducing animals. Included in these new services would be telehealth options to provide more accessibility to more veterans in the state of New Mexico.