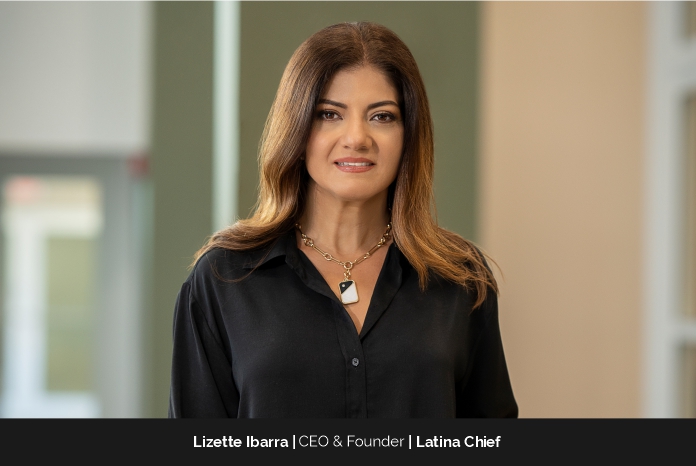 The diversity of our life, work, and cultural experiences, as well as our individual differences, drive each of us to view circumstances, opportunities, and challenges through a distinct lens, leading to various ways of thinking and making decisions. Future-proof organizations exhibit a high level of competency in their capacity to capitalize on the advantages that come from this variety of vision, thought, and viewpoint, utilizing this rich array of resources to generate greater innovation and commercial performance.
As the CEO and Founder of Latina Chief, Lizette Ibarra is on a mission to close the gender and ethnic leadership gap and assist her clients in building diverse, bold leadership teams. Latina Chief is a retained executive search firm that values diversity. It holds that having more Hispanics in leadership positions is not only the moral thing to do, but also the sensible thing to do and a necessity for business success to promote economic growth. Latinos account for 19.2% of the US population and they are awfully represented in corporate America – only 4.7% of them are part of it.  Hispanics are an economic power, with 2.8 trillion dollars in GDP and over 2 trillion in purchasing power. The company's business concept is straightforward: its candidate slates include the most qualified Latinos and Latinas in each sector.
The Road Leading to Entrepreneurship
Being a leader or entrepreneur is one of the most challenging and interesting roads one can take. In order to handle the stage where as a mother, she needed a more flexible work schedule, Lizette realized she had to leave her corporate career. She had always believed that if other people could be successful business owners, she could too. Lizette has never experienced any kind of fear.
As a businesswoman, Lizette constantly considers the worst-case scenario before making a significant choice. She decides to "go on" if the response reassures her that neither she nor anyone else will perish, and that nobody's integrity will be jeopardized. She asserts, "I have always liked to take the road less traveled and go against the current, because I believe it is there where the real opportunities are. Of course, I cannot say that all my decisions have been correct, I have made many mistakes that have helped me grow and do better next time. I would not change a thing of what I've done in my professional life since everything has given me one of two things: learning or satisfaction."
Lizette's favorite definition of leadership says, "A leader takes people where they would never go on their own." (Hanz Finzel). Leadership has nothing to do with you and everything to do with one's impact on those who follow him or her and entrust his or her vision to lead the way. She further adds, "As a leader, you must ensure that your team and people are better off after every interaction with you."
An Inspiring Journey towards Success
Since she turned 18, Lizette has been a worker. She began working as an English teacher in a kindergarten while still in college. When Lizette graduated, she began to work in the corporate world for two fantastic firms, Eastman Kodak and Johnson & Johnson, in the fields of human resources and talent acquisition. She was given managerial responsibilities at a very young age, and about 8 years later, she decided to enter the field of executive search and management consulting since she needed a more flexible work schedule after the birth of her first child.
Lizette has worked for boutiques and global search firms, as well as founded and developed two executive search firms that grew rapidly, both of them founded on women and diversity long before the term became fashionable. She has also had the privilege of serving on the boards of several non-profit organizations, which has been a transformative experience in her professional career.
"I've always believed and witnessed firsthand that diversity is an imperative for company growth and for societal equality."-   Lizette
Every position Lizette has held has been demanding and fulfilling, but she is especially proud of having built her first business around exceptional professional women who had left their corporate jobs to become mothers or wives and were turned down by many employers when they wanted to resume their careers because they had been "inactive" for three or four years. Because she experienced that herself, Lizette hired those women, in her organization, who were dealing with similar difficulties. She created a company that provided access to these amazing ladies with impressive backgrounds. She says, "We taught them the search business, and we built a very successful company together."
Back then, remote or flexible work was not really an option in many corporations, and Lizette envisioned an organization where women could be women, wives, mothers, professionals, and human beings. She is incredibly proud of that, and now, with Latina Chief, she and her team have assisted many corporations in becoming more diverse and debunked the myth that there is not enough Latino and women leaders available to fill executive positions.
Growing as Woman Business Leader
For the most part, as a woman, Lizette has found more opportunities than obstacles, but it hasn't been easy. Although organizations have made good strides toward gender equality, most leadership tables are not set to accommodate minority women by default. She says, "We have to find ways to get a seat and find our voice at the table. And it is through my work that I want to help correct that imbalance by bringing more Latinas into leadership roles and empowering more women to believe they can and should have a seat at the table." When Lizette decided to quit her corporate career to find more balance and then found success as an entrepreneur, she promised herself that she would find a way to help more women climb the ladder to success.
Lizette envisions a society in which the capacity for leadership will continue to change in favor of embracing empathy and exemplifying leadership in its broadest sense. ESG regulations will continue to be a key priority for corporations and directors since it is crucial to take into account the regional differences that shape global priorities. Lizette says that the entire business ecosystem will put a lot of pressure on organizations to act ethically and responsibly towards the environment, its social components (employees, suppliers, customers, and the community), and to uphold the highest standards of governance as a result of the acceleration of digitalization.
Take on Challenges
"When you face a challenge, you have two options: undertake it or walk away. If you walk away, you will very likely regret not knowing the outcome," says Lizette. She further adds that if one undertakes it, then he or she will know for sure. Lizette has faced challenges where she has found herself scared and overwhelmed to death, but in those circumstances, she turned on the volume of her intuition and her internal voice. This is a lesson that she has learned over time and through experience. Lizette has always valued the opinion and advice of the people she trusts, but early in her career, she believes it was more about seeking validation. Now, she quiets the external noise and pays more attention to her internal voice.
As per Lizette, she has always treasured a piece of honest advice, but she also learned to dissect who she can trust, and after receiving input, it is then that she tunes in with her intuition.
An Opportunity to Connect with People
Success, for Lizette, only has an internal thermometer. She opines, "Success is not measured by your material possessions or how fancy your career or title may be. Success is being at peace, being whole, happy, and fulfilled with who you are. It is knowing that every day, you have done your very best and tried your very best. Success is also knowing that you can make a difference in the lives of others and that you choose to leave a positive mark." She also believes that the nature of her career has led her to interact with hundreds, thousands of people, including candidates, opinion leaders, colleagues, business leaders, and those associated with non-profit organizations. She points out that continuing and nurturing these relationships even after many years in the business is a good thermometer of personal and professional satisfaction. She opines, "The true satisfaction of my work has been having the opportunity to touch the lives of many, many people."
Balancing Personal and Professional Life
Not many know this about Lizette, but when she was little, she wanted to be a professional tennis player. She recalls, "I did not have the opportunity to learn the sport or even take lessons because back then tennis was not a very accessible sport in my hometown in Mexico."
So, when she moved to Florida at the age of 40, she decided to grab a racket and take a few lessons. At first, Lizette thought it was ridiculous and that she would not be able to play well, but she still wanted to give it a try; "Ever since, tennis has become a passion of mine." There is nothing there but the court, the opponent, and Lizette's focus on the game, so it is both highly exciting and calming for her.
Lizette feels that her love of tennis is her Zen zone, where she does not have to concentrate on anything but the game. It gives her balance and keeps her mind, soul, and body in check.
Lizette has been playing the sport for 8 years. She now plays at a competitive level, and she leads adult mixed doubles teams. They have won local, state, and national championships. From a leadership standpoint, Lizette feels her tennis experience has also been very educational. She shares, "I must strategize for every match, study the opponent team, and select the players and positions. It very much resembles the focus I must have every day to deliver the best services to my clients."
Breaking Traditional Norms
In the future, Lizette sees herself continuing to debunk the myth that not enough Latino/Hispanic talent is available for executive positions and, at the same time, assisting corporations in becoming more successful and innovative by adding Hispanics to their leadership teams.
The Hispanic population is projected to grow 54% by 2027, and Latino GDP is the single fastest-growing GDP worldwide with a striking 2.8 trillion dollars. Corporations lacking Latino leaders are missing opportunities for growth, and according to Lizette, her company, Latina Chief, is there to help them correct that imbalance.
Message to Aspiring Businesswomen
"Find your passion, what moves you to the core," Lizette says in her message to aspiring businesswomen. "You shouldn't have to try that hard: your passion might be right in front of your face. Your passion is unique to you, and that's the beauty of it: find a niche within a niche and build your dreams around it!"