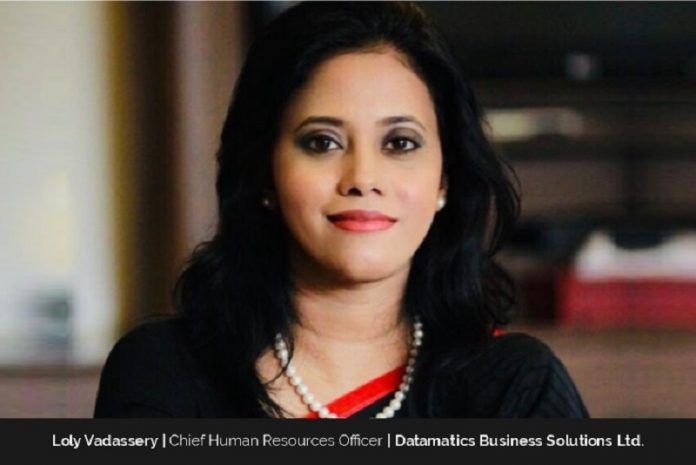 Loly Vadassery has spent more than two and half decades in human resources (HR). She started as a trainee in the HR function straight out of college, way back in October 1995. Later, she moved on to a software company to head the HR function in 2000 and worked at couple of software companies and an education technology provider. Essentially playing the role of a Strategic HR business partner through most of her career. In 2013, she joined Datamatics Business Solutions Ltd., where she currently holds the position of Chief Human Resources Officer (CHRO). The saying "a journey of a thousand miles begins with a single step" encapsulates Loly's journey in the HR field aptly.
"I consider myself an ordinary person who has worked relentlessly over the last two-plus decades to reach where I am today. None of this would have been possible without the undying support of all my teams over the years and so also my colleagues and most importantly, the absolute confidence that all my bosses had in me across all the different organizations I have worked for" says Loly. With compassion as her biggest strength, Loly adheres to "Be compassionate and kind always," a lesson she learnt very early in her life. She learned it from her mother, who also taught her that, "as human beings, we are all here on planet Earth to serve people to the best of our abilities."
If we can sum up Loly's leadership style in one word, it would have to be "compassionate." Being a servant leader is deeply ingrained in her work style. Throughout her HR journey, she has followed the 'people first' approach. She first practiced it in her HR leadership role back in 2000. According to her, this approach is inherently about "you take care of the people, and the people will take care of the business/ clients." This mantra, Loly says, has always helped her – in every decision she made related to people and to create win-win situations for people and the Companies.
For Loly, leadership means making others better as a result of the leader's presence and making sure that impact lasts in the leader's absence. And by being part of the human resource function, Loly feels, she gets the opportunity to make a difference to the people and the Company!
Loly may not have known this in 1995 when she started her career, but over the years she realized "Being in HR, has been my true calling of sorts as I love my job."
Effective and Outstanding HR Leader
Loly has been an impeccable HR professional since the start of her career. Way back in 2000, when she got the first opportunity to head the HR function with a software company, she transitioned into a Strategic HR partner role within a year.
In her career spanning over two decades now, according to Loly, the most significant learning has been: "to become an effective HR leader, you have to understand the business inside out, as much as the business owners do." One can offer strategic solutions only when one understands the business, which enables one to command respect and a seat at the table, Loly adds that, it requires a lot of hard work, perseverance, determination, and grit. Loly is now known for creating a culture of trust and care in her current role as the Chief Human Resources Officer (CHRO).
Loly has been a partner, mentor, and coach to the leadership team on all people and business challenges. In addition to leading the people function that supports the vision, culture, and pace of the company, she also actively participates in business issues as a catalyst for change, problem solver, and a role model for effective collaboration. Loly partners with and influences the company's board of directors as well.
She performs the role of a primary strategic partner and architect to define and craft people programs that have practical and business impact. She has also been successful in designing and driving long-term strategy for the people function.
As the CHRO at Datamatics, Loly is responsible for human resources, administration, compliance, and process excellence functions. Her work entails getting a pulse on what is happening across the business verticals and assess the challenges be it people or process, if any, that need to be addressed.
Loly also spends time with business leaders to find out if there are people or process challenges that needs to be addressed by coaching leaders or being a "sounding board". She also determines if they need to take preemptive steps to address potential issues which may arise in the future.
In the past one year, as part of the core management committee – in the absence of the CEO, Loly has been instrumental in guiding, problem solving, and decision making across all the functions at Datamatics.
Company's Services and Core Values
Datamatics is a leading provider of intelligent business solutions. It is a four-decade-old Company but still has maintained the agility of a start-up. "We thrive on creating a culture of trust, openness, and care," says Loly.
The organization primarily offers four services: B2B Data Solutions, B2B Demand Generation, CPA Accounting, Taxation & Payroll, and Business Research and Analysis.
B2B Data Solutions is a technology-driven data solution for global enterprises. Loly points out that their AI-driven B2B data solutions deliver close to 100 percent accurate, structured, and bespoke B2B data to global fortune 1000 companies, growing enterprises, and startups. B2B Demand Generation, on the other hand, enables companies with customized lead generation to empower clients' demand gen programs.
The company's technology-enabled CPA services help clients overcome complex accounting, bookkeeping, tax, and payroll challenges, and thus, enabling them to achieve their business goals; the comprehensive research & analysis services offer business intelligence, which can transform information into actionable insights and outcomes.
At Datamatics, Loly along with the leadership team promotes a culture where people and customers are at the core of everything. She points out that they encourage people to share their best practices, seek guidance from their peers, and solve problems as a group. "This has been a great tool to foster creativity among the people and create innovative solutions," she adds.
The ethos of the Company has essentially been: "We take care of our people, and the people take care of the business." It has helped bring in the right vibe within the organization. And people imbibe the company's core values right from the moment they are onboarded. The core values of Datamatics are:
Excellence – EXCELLENCE is not just an act but our habit
Accountability – We are ACCOUNTABLE for our actions and inactions
Innovation – We are INNOVATIVE and think differently
Customer Focused – Achieve customer delight through CUSTOMER FOCUS
Collaborative – We COLLABORATE to succeed together
Honesty & Integrity – HONESTY & INTEGRITY are at the core of all that we do
Every learning and development intervention helps emphasize these core values so much so that they are ingrained in the people, and this becomes the basis for their interaction with all stakeholders, internal or external, says Loly.
Employee Engagement Initiatives
All the company's employee engagement initiatives are focused on helping people feel connected with the Company. Investing in people development has been a clear focus area, and according to Loly, it has helped Datamatics reap rich dividends over the last several years. Several OD interventions have been focused on creating strong cross-functional teams, which has helped in transforming the culture and helping people grow within the organization and deliver "impeccable quality levels," resulting in delighted customers.
Loly points out that their employee engagement scores have been in the 85 – 90 percent range over the past few years, showing that people love to work with them. Many of them have called the workplace a "second home." There are many employees who have left and joined back the organization over the years because they love the Company for the warm culture. Our customer satisfaction levels have been in the range of 88 to 93 percent over the last several years.
The company's L&D programs focus on creating a ready talent pool across various levels. "Our talent development programs and career progression plans are structured in a way that helps develop and groom in-house talent to take on leadership roles effectively," Loly says. "These programs have helped us not just have readymade talent in-house, but talent aligned to the company's culture."
The leadership development program, called "Ignite," has helped create many leaders within the organization, while iRise, the in-house Coaching program, has helped several employees reach their potential. Loly and her team also plan the talent engagement programs very thoughtfully. "These programs help people connect and come together as one big family, be it the Independence Day celebrations, Datamatics Got Talent, Datamatics Premier League (annual cricket tournament), or the other fun events during the year," says Loly.
Embracing Competition
Datamatics has always embraced competition. Thanks to the growing competition, they have been able to innovate, grow, and eventually achieve their business objectives optimally. Loly points out that the outsourcing industry is driven primarily by factors such as improving business efficiency, increasing business agility, minimizing operating costs, and allowing small to medium size enterprises to strengthen their core competencies by establishing a global delivery model to sustain the persistently changing business dynamics.
"Our mantra to stay abreast with the growing competition has been meeting all the aforementioned parameters for our clients," she says. They are able to do that by creating a pool of in-house experts across all their business lines, removing redundancies in business processes, and streamlining them to keep up with the technological advancements, staff augmentation, and emphasizing upskilling of resources across all business functions.
The company also runs dedicated training and upskilling programs across all teams, which ensures that each team manages its time and resources at optimum levels. Enormous attention is also given to the tech stack that teams across functions work on, to ensure they are in touch with the latest developments in the technology world. All that has worked well for the company, but as an organization, they believe that there is always scope for improvement.
According to Loly, they are always looking out for processes or resources they can improve to serve their clients better. "We are constantly innovating, improvising, and implementing the next big thing in terms of people, process, and technology," she says.
Be the change you wish to see in the world – Mahatma Gandhi
Always Giving It the Best
Loly believes that "success is bound to follow" when one takes personal responsibility and ensures to give it their best. From very early in her career, she has had an innate belief that hard work, patience, and perseverance always pays off, it is only a matter of time. Loly quotes Martin Luther King, "Faith is taking the first step even before you can see the whole staircase," to stress that it is important to move forward and take the first step and not wonder whether or not one would receive the reward for their efforts.
Throughout her career, Loly has tried to execute whatever has come her way by going the extra mile instead of striving for a particular goal or position. She has never worried about whether she would gain recognition for her work.
In all her previous companies along with the current one, Loly has been instrumental in redefining the role of HR – from being a transactional one to a more strategic role. Cultural transformation has been another accomplishment of hers. Loly says that she introduced people policies and designed organizational development (OD) interventions, which helped create high levels of engagement across the board. That resulted in increased revenues and business growth.
Loly is also the go-to person for leadership teams and the board of directors. Over the years, she has been coaching and advising them on how to handle people's challenges. "Through all these years, I have been the go-to person whenever they face a dilemma, be it with internal or external stakeholders," Loly says.
Through her journey as a leader, even while she has been the only woman in several leadership meetings, she has always had the courage of conviction to "call a spade a spade". She says, "If I believe what I am saying is right, I always express it, even though my views may sometimes be completely contradictory to what others may have expressed", She believes it is important to say what people "need to hear" and not what they would "like to hear."  The credit for her fearless attitude goes to her father. He taught Loly to be fearless, have the courage of conviction, and do what is right and just under all circumstances. He would say, "when you speak the truth, you have nothing to fear," she recalls.
The famous Martin Luther King quote "Our days begin to end the day we become silent about things that matter" has been a guiding force for Loly to become a conscious business leader.
Loly has had a decorated career with achievements aplenty in her bouquet. In 2016, she was one of the finalists for LinkedIn's Conscious Business Leadership award. It is an achievement that is very close to her heart. The other recognition she closes to her heart is getting featured as one of the thought leaders in the LinkedIn Coffee table book in January 2017.
"These two recognitions are close to my heart because they exemplified what I have believed throughout my professional journey of what conscious business leadership is about," Loly says. "It is essentially about supporting the people within the organization by purposefully cultivating a culture of trust and care; and being a leader with the courage of conviction."
"WHEN YOU TRULY DESIRE SOMETHING, THE WHOLE UNIVERSE CONSPIRES TO MAKE IT HAPPEN." – P A U L O C O E L H O
Toughest Time in Professional Career
One of the most famous quotes of Martin Luther King on leadership "The ultimate measure of a man is not where he stands in moments of comfort and convenience, but where he stands at times of challenge and controversy." is one of Loly's guiding principles when it comes to handling crisis situations.
Loly has always been able to make decisions or influence the decision makers to do what is in the best interests of people and the company. While there has been numerous challenging times in her professional career, she cites the COVID-19 pandemic outbreak, one of the toughest times in her professional journey, she played a significant role in addressing the business as well as people needs.
"Thanks to the swift timely decisions and collaborative efforts of all the functions, we could transition to a complete work-from-home model 'within a week' for our entire workforce before India went into a complete lockdown state," Loly says. "The transition was so seamless that our clients were delighted and appreciative of the seamless deliveries." This was possible because of the brilliant display of some amazing teamwork and collaboration by all teams across the board who strived to make this happen.
During the lockdown, we focused on the People Development initiatives so that people could enhance their skills and we had lot of eager learners attending the courses and upskilling themselves. They also conducted workshops on meditation, stress management which also contributed to enhancing the emotional well-being of the people. She also points out that work-from-home scenario for the past two years meant working very closely with the various supervisory teams and leadership teams to ensure that they are taking care of the people and are being overly sensitive to the challenges the people are facing during the difficult time. To help people cope with the COVID-19 scenario, Loly and her team enlisted Well-being counselors and a Spiritual coach. They addressed concerns raised by employees as well as their family members who were dealing with the pandemic or coping with the loss of a loved one. "We received overwhelming responses from our people and many of their family members who were very appreciative of this initiative."
Loly says, "Every discussion with the leaders and managers was to reiterate on the need to be compassionate and create win-win situations to help their team members take care of themselves and their families during these trying times. People were provided all the flexibility to operate at hours convenient to them and some of these measures ensured that while we took care of the people, they in turn took care of the clients and the business."
"During the pandemic, we saw our productivity levels shoot up. Even the overall business revenues increased (higher than the industry growth rate) and consequently the clients were delighted with the timely deliveries of the teams".
FAITH IS TAKING THE FIRST STEP EVEN WHEN YOU CANNOT SEE THE WHOLE STAIRCASE" – – M A R T I N L U T H E R K I N G
Datamatics plans to Attain Leadership Position 
Scaling any business requires one to know the pulse of the market, but as Loly points out, the past couple of years have taught them – and almost everyone – that one can never fully prepare for what is to come. "You can anticipate, yes, but to say that you're fully equipped come what may, might be a tad presumptuous and can eventually cost you," she says.
Datamatics strives to be a leader in its business space. And, to attain that goal, it is always looking for technologies, expertise, and resources that can future-proof its processes. Loly says that dedicated teams for market & product research ensure that the company leverages the latest technologies and processes to achieve its business goals.
The company values feedback. It constantly seeks it from its clients and in-house teams to make the necessary improvements. Datamatics, according to Loly, also maintains absolute transparency within the organization to ensure that the business objectives and the strategies required to achieve them are known to everyone at all times. "It helps us chalk out every individual's role in achieving those objectives," she says.
Datamatics also does extensive market assessment ahead of any business expansion to ensure that it has a complete understanding of the market and the customers before executing its go-to-market strategy. It also invests equally in preparing the business for new markets and in getting it compliant with the policies of the new regions. Loly points out that it requires onboarding skilled resources and familiarity with new geographies, new guidelines, and technologies, which they intend to incorporate.
"We plan to create a global delivery model without borders, accessible 24×7, and compliant with all business guidelines etched out there," she adds.
Vision for Human Resource Function 
Loly's vision for the human resource function is one where they can ensure that each and every individual's goal is aligned to the organizational goal and help each of them perform to their optimal potential.
She also believes in constantly evaluating the "future of work" and strategizing in advance for — emerging trends. Loly feels that they can make huge impacts by creating agile workforce models. It will enable companies to anticipate talent needs, adjust in real-time, and leverage a variety of employment arrangements to achieve their goals.
Workforce flexibility is another major transition in the talent market that CHROs must address today, Loly notes. Employees are increasingly blending their personal and work activities throughout the day, and organizations that remain rigid will likely miss out on top talent.
"Today's workforce is focused on work-life fluidity — not just work-life balance," she points out. "We will need to work collaboratively and gain executive and managerial buy-in, to get support for practices such as flexi-time to enhance workforce flexibility."
Loly also says that HR professionals need to serve as custodians of culture, design specific programs and strategies to ensure a healthy and engaged workplace where all team members feel valued and positively impact business.
Loly feels that today, "no less critical to top talent is diversity and inclusion (D&I)," which means diversity in every sense: age, gender, ethnicity, sexual orientation, background, and perspective. "This has been a priority area for us," she says. Datamatics' gender diversity is at par with the best in the industry, with 60:40 male-to-female ratio.
And it has always been a priority to develop the right kind of leaders for tomorrow. Almost 80% of our supervisory and managerial staff are homegrown.  According to Loly, hiring for and nurturing competencies to extend organization's leadership philosophy beyond management and control toward empathy helps team members decompress from the always-on pressures of work and empowers employees to innovate and make decisions at every level.