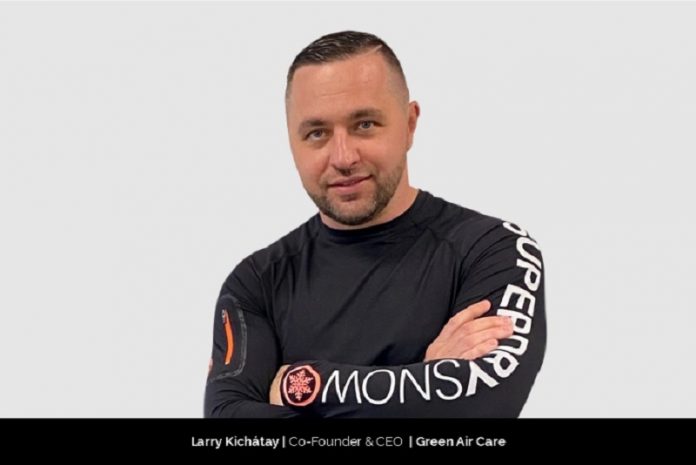 With the spirit to put a smile on peoples' faces and experiment with new technologies to leave no regret in life, Larry Kichatay, the Co-Founder and CEO of Green Air Care, has achieved milestones on his inspiring road to success. He believes that life is too short to have regrets and the things that anyone does defines his personality and character. So, to do something good for the community and mark his presence, he followed this idea with his wife's cousin and founded Green Air Care.
Initial steps to success
Larry immigrated to the US with his family when he was thirteen years old. At a very young age, he understood the sacrifices of his parents and made his goal to not let his parents down and regret the decision. He graduated at the top 3% of his business school and was recruited by Accenture a year before graduation.
After spending four years at the Consultancy, he left to start his first online business in 2006. He adds, "I took a two-week trip to Europe, returning back to no job, no home (I asked to move back with my parents to do the start-up), no salary. I have burned the bridge, and that decision alone propelled me to be fully vested in the success of the company. That has paid off – more importantly, in the experience gained and self-worth, creating a sense of determination that is hard to crush."
Before the advent of Green Air Care, he was running an online promotional business for about four years. This was a website that he set up with his partner to sell customized USB drives, and it has grown to over $20M in sales in just over four years. The company was doing well and growing rapidly.
Within the same time frame, his wife's cousin immigrated to the US and was keen on exploring the job market for opportunities. Larry adds, "He identified HVAC and duct cleaning as an opportunity that he wanted to pursue and asked if I can help him due to my prior experience in business development."
He expresses that he took that as a challenge to work in an uncharted field with no experience. So, he experimented with the opportunity and took a break from his current business. As a surprise to Larry, both members were able to grow their fleet from two trucks to twelve trucks in the first year, servicing almost a thousand homes every single month.
In four years, they became one of the fastest-growing Carrier dealers in the Chicagoland area. Moreover, they were ranked number three in Illinois for residential rebates by ComEd and last year were ranked 2909 in the Inc5000 fastest-growing private companies in America. According to Larry, what started as an experiment became one of the best decisions of his life.
Hurdles along the way
Being new to the industry, Larry expresses that the lack of knowledge in the HVAC industry was the first bag pulling them down. He adds, "Neither I nor my partner Erik knew how the industry works. We did not know the terminology, parts, sales process, rebates, financing options, basically zero. It's my feeling that our vendors were laughing at us every time we called them with the most basic questions."
However, both of them buckled up and learned all the things at a fast pace. He explains that being the outsiders in the industry allowed them to make intelligent decisions and grow their business exponentially.
He states, "We were not tied to doing things, just because they have always been done that way – we wanted to innovate and do things how we thought they should be done in this new world of technology, millennials, social media, and the likes."
The next biggest challenge that they faced is to hire the right employees for their business. Larry expresses that there is a severe shortage of qualified technicians as the young generation is not that enthusiastic about making their career in the HVAC industry. On top of that, the existing workforce is retiring, which is further fueling the shortage.
To encourage the millennials to follow the industry, they are trying to make employment opportunities at Green Air Care. He states, "We have purchased an entirely new fleet of trucks to ensure our people drive nice, clean vehicles – given that's where they spend the majority of their time. We also offer equipment purchase programs for our Techs, ensuring our Techs have all the right and good tools to make their work enjoyable and of good quality. Training is also paramount, especially for our younger Techs, who we want to grow internally for the continued success of the company and them individually.  Our job becomes making our company a place people don't want to leave, but if they do – we are always happy for their new opportunities."
Reshaping the HVAC industry with Green Air Care
Larry states, "Green Air Care offers residential and commercial heating and cooling services for the Chicagoland area. We are factory-authorized dealers for Carrier corporation and pride ourselves being three-time Carrier President's Award winners, a distinction given to only top 5% of Carrier dealers in North America."
As every home is different, and while HVAC companies normally try to push the most expensive equipment onto consumers, they take pride in offering customers exactly what they believe is the best option for them, based on their professional knowledge of the equipment.
He adds, "We always try narrow down the options for consumers based on what we know, what offers the best value, most efficient, most savings down the line and qualifies them for utility rebates – which we take care of instead of pushing that administrative step onto consumers. Over the years, more and more people are looking to finance their large purchases, and we ensure we have programs in place to satisfy all customers, including those with sub-par credit scores."
According to Larry, the industry is highly competitive as many smaller companies entered the industry at a fast pace. Smaller companies have a significant advantage with the small overhead. So, they have to constantly identify smart and innovative solutions to attract more clients to their business.
He states, "We constantly do our research on what our competition is doing, what they are marketing and their overall value proposition and then try to differentiate ourselves to stand out.  We may like something others are doing and replicate. Others do the same when something works for us. Overall, this competition drives innovation and change and ultimately helps the consumers get better pricing, better value, better service – so technically everyone wins."
They strive to build an environment where people don't "hate" their Mondays because they have to go to work. People are empowered to make a difference by suggesting new ways of doing things. Innovation is the key to success in any industry, including HVAC, which has been stagnant for many decades now.
Life as the CEO of the company
Wearing the hat of the CEO, Larry always delegates functions in such a way that the business functions as a system, not dependent on one or few individuals, eliminating bottlenecks. He adds, "My job becomes making high level decisions or approvals and taking responsibility for the decisions of my team. If I can make 2-3 important decisions or actions a day that propels our company forward, I consider it a productive day."
He believes that the team at the company plays a crucial role in exploiting new heights in the industry. He expresses that while hiring, he makes sure that the new members feel that they are entering a space where they can grow individually and contribute towards the betterment of the company.
He adds, "It's always the fresh look at processes from new hires that is most impactful, and we seek that feedback. I always tell people, if you don't share what bothers you or share it only after work at your kitchen table or the bar, then I can't do anything about it."
He expresses that everyone has to take responsibility for what happens in their life and if they find themselves not happy where they are or what they do. So, they need to stop digging the hole and make changes to lead them to where they want to be.
He adds, "It is difficult to determine what needs to be done and how to do it. You can't answer the questions if you don't know what to ask."
Also, on a personal level, Larry feels the same way and finds inspiration in self-development books. He states, "Reading books can get you A LOT further and A LOT faster. When you can take a life experience from someone who has succeeded or has done something that inspires you, you basically get their short cheat-sheet on what has worked for them and what mistakes they have made.  Your network literally begins to grow as you begin to understand how these people you admire function, how they think, how they speak and how they make decisions."
He further states, "For the most part, majority of us know what we need to do to be more successful, healthier, happier – yet most of us don't know where to start. These inspirational books provide us the roadmap and confirmation that this has worked for others and why it may work for you. Even if you take and change one thing in your life from every book, this will propel you forward to becoming the person you inspire to be. Books, the right books that is – provide that guidance and inspiration."
On a casual note, Larry jokes that the secret combination for their success is that they are young, smart, and good-looking. However, in reality, it is a combination of different things. He adds, "Hiring from outside of the industry has been rewarding for many different reasons. Tuning our marketing and being focused on what we offer has been critical. Inspiring and rewarding our key employees has paid off many times over. We have always been fair and transparent with our vendors and consider them part of our extended team. Just like in anything else in life, it's the small things that count."
Balancing the professional and personal life
Larry tries to balance his time and be productive at both the professional and personal front. He devotes time to his work which he loves to do, and makes time for his loving family too.
On the professional front, he makes himself available for the technicians in the morning while all the trucks are loading to dispatch. He likes to organize his critical works and for that, he makes a daily to-do list and weekly to-do list and following these allow him to be more productive at work.
On the personal front, he makes time for his family. He never takes work back home, which allows him to devote his time truly to his wife and children. He smartly uses the weekends. He takes care of the things in the office that were missed during the week and indulges in family activities for the rest of the time.
Future plans for the company
Till now, Larry feels that everything is fantastic. He expresses that the industry offers a plethora of challenges but also tons of opportunities. In the next few years, he believes there will be significant growth opportunities due to the elimination of the R22 refrigerant. Also, the movement of people to working-from-home standards will create a greater demand for home comfort and air quality needs.
Green Air Care has established a significant market share in this area, and they intend to grow that brand to be associated with HVAC needs in Chicagoland. He adds, "We intend to capitalize on that momentum and expand our offerings to attract more commercial business. We already have qualified personnel and teams in place, making us confident in the complex scope of work. We also intend to grow the size of our fleet to be able to service our growing list of customers that are signing up with our Preventive Maintenance Program, ensuring peace of mind for our customers."