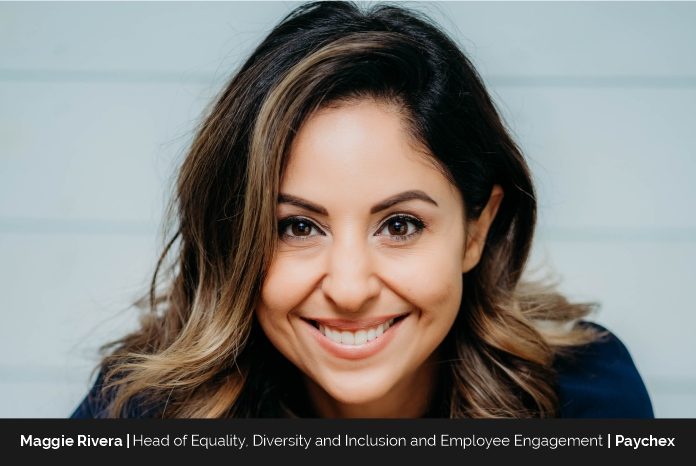 Maggie Rivera is the Director of DEI & Employee Experience at Paychex. In this role, she acts as a leader in the company's commitment to diversity and inclusion in the workplace for the employees and client interactions. Maggie claims that nothing moves her more than being a voice at the table representing those who have been underrepresented and she is extremely committed to uniting and inspiring communities.
Maggie uses the word "dynamic" to describe herself and her work which consists of extensive experience in the field of DEI implementation. She is a leader with boundless energy and enthusiasm who rallies others around the DEI cause.
Path to a promising career in DEI
Maggie humorously states that she did not choose DEI; DEI chose her.
Maggie started off as a part-time teller right out of high school and quickly advanced through retail banking to community development banking before becoming a part of DEI. Initially, most of her time was spent in black and brown communities, and that is when the company reached out to her to consider a DEI role. Maggie happily grabbed the opportunity and was very engaged in her work; however, she knew that there was no upward mobility for her at the current organization. Thus, when another bank came courting her to get back into a revenue-generating role (recommended by her mentors), Maggie took it.
Soon after, the George Floyd incident happened, and, like many, Maggie found herself in a place of deep introspection. She had made her career so that she could advance her upward mobility, and gain wealth, only to find herself on the sidelines at a time when the world needed experienced DEI practitioners. It was then that she took the decision to leave money on the table and go back to DEI.
"I knew fighting for underrepresented demographics and underserved communities is where I belong, and I've never looked back," states Maggie.
Before joining Paychex in August 2022, Maggie was the DEI Strategy Manager at U.S. Bank, where she worked on developing the strategy and goals to accelerate and improve representation, engagement, development, and retention. She created a best-in-class leadership development program in partnership with Dr. Robert Rodriguez, designed to break the middle manager glass ceiling for the Hispanic segment, which received national recognition.
One of Maggie's most outstanding achievements was the development of a mesh wi-fi system which was incorporated into districts that lacked broadband infrastructure. Her concept was picked up by the Cleveland Foundation and Digital C, who later partnered with multiple organizations to break down the digital divide in underrepresented communities.
Achieving success by elevating those around her
"I have learned that success is to be measured not so much by the position that one has reached in life as by the obstacles which he has overcome while trying to succeed."- Booker T. Washington
All of us don't get to start from the same starting line, nor are we afforded the same accessibility, equitability, and inclusivity. Equality of outcomes depends on the equality of opportunity—access to education, employment possibilities, expression of sexual orientation, and religious beliefs, to name a few. However, for those who were not afforded these opportunities, Maggie believes that we have to do our best with the cards we were dealt.
Maggie's younger years were tough. She grew up in extreme poverty and was chronically homeless for some time. This lifestyle had indirect consequences, such as adversely impacting her education, emotional stability, health, and cognitive growth. However, through sheer grit, determination, and mentorship, Maggie worked through those obstacles one by one.
Later in her career, when Maggie started working in Community Development Banking that focused on supporting low to moderate-income communities, she found herself in rooms with brilliant people with the hearts and means to make a difference but lacked an understanding of what a day in the life of poverty actually meant. That's when Maggie realized she could have a true impact on underserved communities.
"I knew I 'was successful' for I was making a genuine impact in people's lives. I realized that my accomplishments meant a lot more because of the work I had to do to get a seat at that table," states Maggie.
Paychex and its services
Paychex is a leading provider of integrated human capital management solutions for human resources, payroll, benefits, and insurance services. By combining innovative software-as-a-service technology and mobility platform with dedicated, personal service, Paychex empowers business owners to focus on the growth and management of their business.
Backed by 50 years of industry expertise, Paychex serves more than 730,000 payroll clients, in the U.S. and Europe, and pays one out of every 12 American private sector employees.
"At Paychex, we strive to simply help businesses succeed. Never has it been as complicated as it is today to navigate the changing federal, state, and local legislation and regulations while attracting, recruiting, and retaining top talent. We're continually designing products and leveraging data science to reduce the effort for our clients, their employees, and their families," explains Maggie.
Earning the title of 'World's Most Ethical Companies'
Paychex has six values that define its culture, and integrity is one of those six. As a result of this commitment to their value of Integrity and Ethics, for 14 years, Paychex has been named as one of the 'World's Most Ethical Companies' from Ethisphere, the global leader in defining and advancing the standards of ethical business practices.
In 2021, Paychex introduced a new environmental policy that included plans to achieve its goal of reaching net zero greenhouse gas emissions by 2050. Most importantly, Paychex puts a strong emphasis on diversity, equity, and inclusion. The company achieved 100% pay equity in the US, expanded employee resource groups implemented a bridge program to connect women and people of color to executives, joined the CEO Action for Diversity and Inclusion, and added oversight to the company's DEI strategies to the charter of the Governance and Compensation Committee of the Board of Directors.
A regular day as a DEI leader
In her role, Maggie builds and executes the Corporate Communications, Creative Services, Culture, and the enterprise-wide, evidence-based DEI strategy. Overseeing these four functions, her days are typically jam-packed with meetings and presentations with colleagues from the organization.
Maggie's job role is so dynamic, and no two days are the same. In a single day, her activities can span from working on an enterprise-wide strategy to talking with the mayor about a community DEI initiative to working on a video with her creative services and communications team.
"Never a dull moment," she exclaims.
Maggie Rivera's best leadership honor
Throughout her career, Maggie has been fortunate to receive many recognitions, such as Cleveland's 40 under 40, YWCA's Women of Achievement award, the Hispanic Association on Corporate Responsibilities (HACR) Young Hispanic Corporate Achiever award and was featured in the second edition of Hispanic Stars Rising Volume II as a contributing author. However, the best recognition she says she received as a leader comes from the individuals who have shared the impact she has made in their lives.
"Although awards and recognition are great, the impact you make matters most. There's nothing better than helping someone achieve their goals and dreams," states Maggie.
Influencing generational change
In the U.S., women make up half of the labor force and are outnumbering men in earning bachelor's and master's degrees. Yet, men are far more likely than women to rise to the most prestigious leadership roles. "The way society defines leadership is still based on an outdated model that shuts women out," she asserts.
Traditionally, power and societal norms structures thought of as masculine, and no one viewed them favorably for women. Today, women's career expectations and earning power may have surged, yet attitudes toward female breadwinners or working women in general, lag.
The visibility of women's success stories in all walks of life needs to be increased to offer girls a more comprehensive selection of role models. Women leaders have passion, ambition, determination, empathy, and a strong sense of ownership to do what no one else does. Maggie believes that together all women need to create pathways for the women to come, just as the women before did.
"We have a duty to role model, sponsor, mentor, and inspire women to dare greatly. We need to lean into the collective power of the pack. Traditionally women have been taught to be competitive with one another because there was only so much room at the top. The way to win is by raising each other up to truly change the equation," she explains.
Leading by Example and Work-Life Balance
Work-life balance is hard, and Maggie is still working every day to manage this.
Maggie tries her best to eat healthy by doing a food prep ritual every Sunday for the whole week. She wakes up extra early to exercise and meditate before waking her kids up for school. She also strives to make the most of her weekends by going to museums, ballroom dancing, hiking, or just Netflix and chilling with her husband. Maggie also consciously creates blackout times when she can ignore office requests and take time for herself and her family.
"I am a work in progress, but I am making strides," she proudly states.
Maggie motivates her employees by ensuring that they have a good open dialogue about expectations and deadlines. They have weekly meetings where they address all deliverables. She has also instituted a SharePoint planner to keep everyone on track.
"I have a wonderful staff of professionals who are all subject matter experts. I try to lean on them for their areas of expertise and let them use their creative juices when appropriate. By them taking ownership of the projects, they are more motivated to deliver the best for the company," says Maggie.
Being successful while being authentic
Maggie's goal as a businesswoman is to be successful while being her authentic self. She aims to never shrink herself and play the "female role" or be too tough to prove herself.
"I want to come to the table as who I am. I am confident to stand next to any male or female counterpart as I know that I can bring a lot to the table. I am talented in what I do, and I stay aware and informed," states Maggie.
Maggie's advice for all women in business is there will be days that will test you and times when you want to quit. During these times, it is most important to remember why you started doing what you are doing and be grateful you can share your expertise. Recognize that you can bring a fresh perspective and new ideas to your company. She also recommends seeking out other women to share ideas, problems, concerns, and networks. Women helping each other is key to women's success.