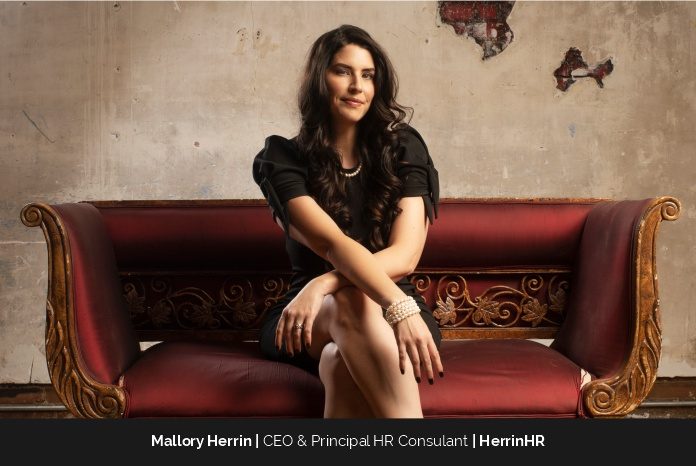 Mallory Herrin, the CEO and Principal HR Consultant of HerrinHR, is an experienced human resources consultant and industry-recognized thought leader, serving small and mid-size businesses. As a consultant, Mallory is responsible for guiding the human resources function for a wide range of clients across a variety of industries throughout the United States. She creates and implements HR strategies for each of her clients across all areas of HR based on forecasting business needs, to support her clients' short-term and long-term goals and growth plans.
As a leader, Mallory believes success is finding happiness in making a positive impact in the world, both in business and in life. "We spend so much of our time at work, and it is a fantastic avenue to make a difference. When you are successful in your job, feeling good about the work and how you contribute to the bigger picture, it carries over into your personal life and can have a profound impact," she says.
No matter an individual's position, anyone can make a positive difference. It might be the way you interact with a customer or co-worker, providing them support or a resource that makes their day easier. Maybe it's work for a non-profit that is working toward community improvement. For Mallory, it's all about creating positive work environments that help businesses achieve their goals while providing a place for employees to thrive. She finds happiness and a sense of accomplishment and pride in that, and that's what she calls success.
HerrinHR and its growth under Mallory's successful leadership
HerrinHR has grown tremendously since it was founded in 2019. Mallory started this company just with general HR consulting services and executed her strategic plan very thoughtfully. Not only has their team and client base growing, but so have their service offerings, which include recruiting for professional, management, and executive level positions, live training sessions (in person and virtually), group benefits, fractional HR leadership, and now a full Human Resources Outsourcing (HRO) offering that includes payroll processing and robust HRIS technology through a joint venture with Smarter Benefits Solutions.
"We've been able to grow through key strategic decisions, and by ensuring we have the right people on our team to support the services we offer in a way that upholds our high standards for excellence," explains Mallory.
The start and flourishing journey of Mallory's career
"Though I had previously held some HR duties, I didn't really think of myself as an HR professional until the first position I had with HR in the title," Mallory says. She was in a leadership position at a small multi-state organization in her early 20s where she was in both accounting and HR. She started there in accounting, and then took over payroll, and then HR was added to her duties.
"I quickly realized upon taking over the HR department that HR was my real passion. I saw the potential the HR function has to be a strategic partner in the business and how those in HR are able to shape the workplace and even the future of work, while also driving business results and being a resource to both company leaders and employees," she states. Upon realizing what HR can really do, and how effective HR strategies can make a real difference both for the bottom line and for the individuals in the workforce, Mallory knew that HR was where she belonged.
The best recognition she claims she has received as a leader isn't any of the formal awards she's been given. "To me, the best recognition I've received is the feedback I've received from my team. It's more than the compliments they give me about my leadership – it's the effort and passion I see that they share with me. It's in knowing that they are actively engaged, focused on continuous improvement, and all in," she explains. Their commitment, work ethic, and attitude propel the business forward and that tells Mallory she must be doing something right as a leader.
Adversity builds character.
There are always going to be ups and downs. It's all about how you handle setbacks and challenges. Choosing to learn from challenges and take action to overcome those challenges is vital for progress. "In my early career, I was my own roadblock. I had to learn professional maturity, and I'll give you an example. I had a wonderful boss that I initially thought was out to get me. Every time I submitted a deliverable, she would send it back to me and nit-pick it. I viewed it as a personal attack at first, but when I finally had a conversation with her, she explained to me how important it was to make sure everything was as polished as possible, due to the recipients of the deliverables and the reflection it would have on me and my work," explains Mallory.
She soon realized that the negative perception she had of her boss was completely unfounded and that her own professional immaturity was the only reason she held onto that perception for so long. "It really turned my thinking around and taught me a lesson in always striving for quality and excellence," she further states.
Life before and after becoming the CEO of HerrinHR
Mallory has responsibilities both as a CEO and as the Principal HR Consultant. As CEO, she's responsible for strategic planning, business development activities, motivating and leading employees, and keeping their growth on course to achieve their vision for the future of the business.
"I still love HR and don't want to completely step away from it. As Principal HR Consultant I work with clients directly on all things HR. Recruiting, training, compliance, strategy development, total rewards design, etc. All of our work is customized for our clients' unique needs so it can be anything from writing a handbook to providing guidance on employee issues, or revamping a compensation structure," explains Mallory.
As a successful CEO, Mallory claims that she has achieved more than she had dreamed of, at least when she was younger. "I have a beautiful family, a successful business, a career that gives me purpose and I've even written a book. But I'm always working toward more and looking for the next step," she says. Mallory is a constant learner and looks to the future. She thinks a lot about how she can advance the HR profession, shape the future of work, make a positive impact in the world, and take HerrinHR, as well as her client's businesses, to the next level.
Future plans for HerrinHR
"HerrinHR is going to continue to grow, especially in our recruiting and HRO services," states Mallory. They already provide services nationwide, but their future includes really being recognized as an elite, all-in-one HR services provider on a larger scale. They already have a fantastic reputation in the market and a phenomenal client retention rate, so Mallory plans to ensure they continue what they are doing as they grow.
She states that her personal goals are to enjoy as much time as she can with her family, maybe write another book, and to continue her volunteer work as a Court Appointed Special Advocate (CASA), Goodwill Industries of Dallas Young Advisory Council member, DallasHR volunteer, and an HR mentor to young women.
Maintaining a balance in the fast-paced world of recruiting can be tough.
HR work doesn't just end at 5 pm – candidates may need to be interviewed after working hours or on weekends, and employee issues or emergencies can arise at any time. Mallory's team and she stay available, while still prioritizing their families and personal interests in their off time. "We make it a point to have fun while we work and to keep any off-hours work to a minimum, though we will absolutely go the extra mile for our clients and of course for recruiting candidates. I have a team that are so passionate and excited about the work they're doing, that they want to work on the weekend. I make sure I remind them that downtime is important too, in order to be our best selves both at work and at home," she says.
Mallory keeps herself and her team motivated in a number of ways. First, she is transparent with them. She tells them where they are headed, what's coming for them, what their challenges are, etc. She also makes sure that they celebrate their successes and recognize everyone's contributions. Ensuring that their team knows what their mission is and how their work achieves that is a great motivator. "Our work for our clients really does make a difference, and that keeps me motivated every day," she states.
She also believes in setting employees up for success by providing professional development opportunities and resources, keeping an open-door policy, and giving the team flexibility in their work, whether that's flexibility in their work arrangements (such as remote work) or allowing and encouraging them to expand their skills and knowledge in the areas of HR that they really enjoy. Mallory tries her best to make sure that everyone has the opportunity to be creative in their role, and she stays out of the way. "We meet regularly, individually and as a team, so that we can keep a sense of community, but I don't micromanage," she says.
Mallory's advice for aspiring entrepreneurs is to be prepared for the hard work and long hours that it takes to get a business off the ground and to embrace the learning opportunities and challenges that come with building and scaling a business. Make a strategic plan, be clear about your mission and vision, and let that guide you. It's important to be proactive and diligent in knowing what's happening in your industry, being clear on what differentiates you from your competitors, and upholding your values.
Finally, she also recommends finding the right team members. Business results are achieved through people, and they are your greatest asset. Get the right people in the right roles and treat them well and you can achieve your business goals.